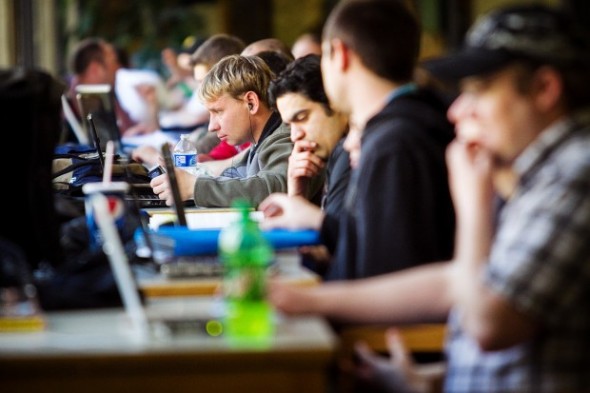 When I began writing my parent's guide "How to Get Your Kid in College and Live to Tell the Tale," my goal was to help parents maneuver through the maze that can be the college and scholarship search. Recently I have joked to my college YACs (young adult children), family and friends that perhaps I need to write another guide, this one called "How to Help Your Kids Keep Their College Scholarships."
Find out now: How much life insurance do I need?
It is very difficult as a parent to send your child off to college. You can do your best not to become a helicopter parent, but sometimes you have to step in even though they are officially "grown-up." What we learned with two children in college is that they are still a work in progress, as we all are. As a parent you still have to be engaged and prepared to help them make any needed course corrections even after they've started college.
Related Article: 3 Most Important Money Lessons to Teach Your Kids
While both of our children are on full-scholarships there have been some frightening realities for them. This includes learning that you can't try to be a party-animal and a scholar. Something will suffer. There is also the battle of the budget to consider if your are helping your child even in the smallest way.
My husband and I have three guiding principles regarding our "college kids" that we think will help them move more into adulthood and autonomy, while providing them with the support and intelligent direction they may need:
Freshmen Account Access
Once your child is 18-years-old you cannot access their college grades or accounts online without their password. That also means you cannot add to their online school accounts should you need to add money to their account. Discuss with your child and set parameters, but I think it is important at least through freshmen year that you have access to their account.
"Take my money, take my advice"
I love this saying from my husband. We provide our two students with a small weekly allowance since they are on full scholarship, but we also pay for their holiday trips home and other expenses from time to time. Each of them works during the summer and are urged to save as much of their money as possible for the school term. If they need more than their allowance then they have to plead their cause to us.
Related: What Will It Cost To Go To School?
That means they have to justify that this is legitimate expense or they can save their allowance until they can afford it. The goal is for them to think more in terms of "needs" versus "wants." Usually the prospect of explaining why they have to have the latest name brand clothing helps them edit their requests.
The Endless Scholarship Search
Both our children are in a perpetual scholarship search mode as there are so many expenses that come with college that are not covered by even full-award scholarships. Even once they are awarded a scholarship, your student should continue to search for dollars. It can be kept in a college account for them which can help with summer classes, and additional books and materials they will needed. Some of the awards can be used for personal expenses as well.
Related Article: 5 Fabulous Scholarship Sites
Photo Credit: Daily Herald