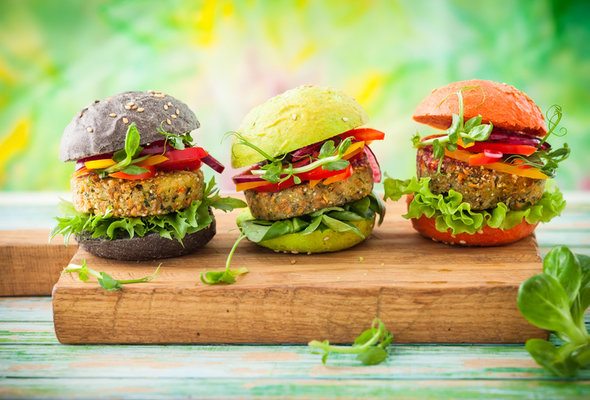 Maybe you've been thinking of going vegan, but are concerned about the cost. One of the most frequent complaints about eating vegan, or trying a more plant-based diet in general, is that it is more expensive. For those who are just starting out, or slowly changing your diets, this may be true. However, those who have successfully overhauled their diets have learned it doesn't have to be expensive. Here are five tips for eating vegan on a budget.
Find out now: How much do I need to save for retirement?
1. You Don't Have to Shop at High End Grocery Stores
Your decision to add more vegetables and plant-based foods to your diet may make you feel like you have to shop at Whole Foods. This is not true. You can still shop at the same grocery store or markets you have always frequented. While Whole Foods or some other high-end, organic markets will have the most exclusive items, all grocers have produce and other staple items to accommodate your new lifestyle. Check the produce and frozen food sections first.
Related Article: How to Save Money on Groceries
2. Buy Local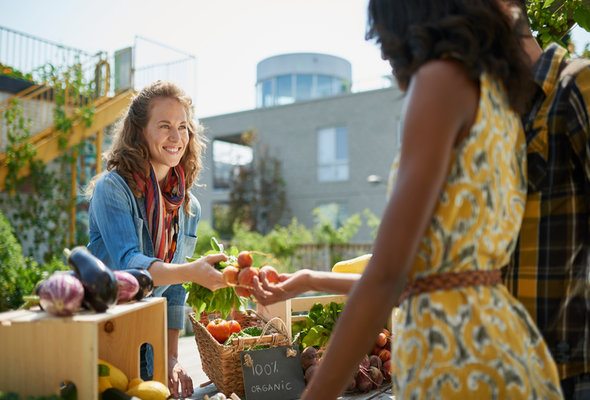 One of the best ways to save money on produce and plant-based foods is to buy locally. Check out a nearby farmer's market to get the best deals. Local produce tends to be cheaper because you don't have to pay for the added markup of transporting the food hundreds or thousands of miles.
As a bonus, you may find that local produce that is not marked as organic, may actually be grown organically, and the local farmers just have not paid to get the "organic" stamp of approval from the FDA. Buying your food locally is a great way to help support your community farmers and growers, save money and be environmentally friendly, as well.
3. Buy in Bulk
As you explore the new recipes and foods offered by the vegan lifestyle, you will likely find there are a number of staple foods you will return to over and over again. Many of these foods can be bought in bulk to save money. These food include dried beans and legumes, rice, quinoa and even frozen and canned vegetables. Buying in bulk will also help save time, as you will not have to keep running back to the store week after week to restock your cabinets.
4. Prepare Meals at Home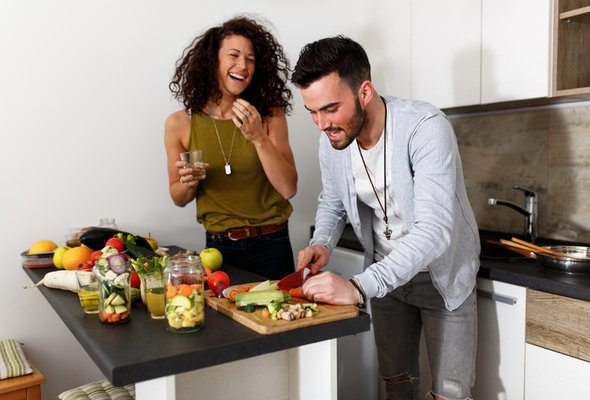 As veganism and vegetarianism, as well as overall health consciousness, becomes more popular in the U.S., more restaurants are offering plant-based options. However, these prepared meals come at a higher cost. As with eating the standard American diet, prepared food will almost always be more costly, than food you cook yourself.
Creating a weekly meal plan, can help you organize your daily meals, so you know what you need to get when you do your grocery shopping. Taking one or two days out of the week to prepare meals to take to work, or to be able to grab on the go saves both time and money.
Related Article: Top 7 Cheap and Healthy Food Swaps
5. Grow What You Can
Growing your own food not only allows you to save money, but it allows you to know exactly what is going into your food. Not everyone has the space or time to grow a full garden. However, starting off with a small pot of herbs on a windowsill can be very fulfilling and rewarding. Growing your own herbs will allow you to have fresh options to add flavor to your meals or beverages, without having to constantly buy them.
Bottom Line
If you have decided to go vegan, or otherwise heavily incorporate plant-based foods in your diet, there are ways to do it on a budget. Eating healthily does not have to be expensive. It's also good to remember that even if you have to spend a little more money at the grocery store, you may end up saving money in the long run, if your healthy eating habits save you from common diseases such as diabetes, heart disease, high blood pressure, etc.
Photo Credit: ©iStock.com/Sarsmis, ©iStock.com/julief514, ©iStock.com/SolisImages