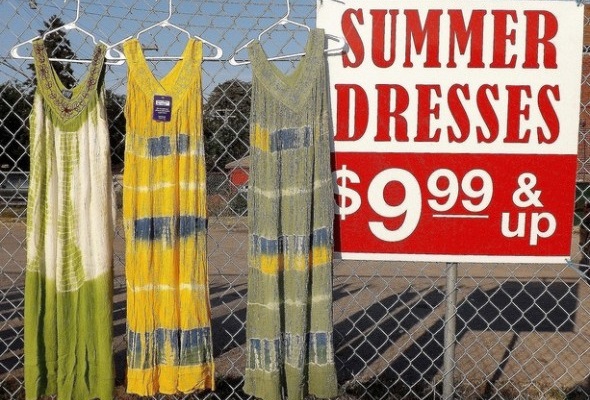 Shopping seasonally can add up to big savings but you'll need to do your research before you hit the stores. Certain things are always cheaper at different times during the year and with the weather heating up, there are plenty of deals to be had. Whether you're in the market for a new computer or you're looking to do some home renovations, here's what you'll save the most on this summer.
Best Buys for June
Tools – If you're trying to find the perfect gift for dad, early June is a great time to stock up on tools. Prices tend to hit their lowest point just before Father's Day, with smaller tools going for up to 50 percent off and higher-end equipment marked down as much as 25 percent.
Refrigerators – Depending on the model you choose, a new refrigerator can cost you several thousand dollars but buying in June could snag you a deep discount. Retailers typically start marking down refrigerators and other appliances to make way for newer models around this time, with prices slashed by hundreds of dollars.
Gym Equipment and Memberships – The new year is probably the best time to buy gym equipment since retailers tend to push these items after Christmas but if you're jumping on the fitness bandwagon late, you can still save on your workout gear. If cost has kept you from joining a gym you're also in luck. June is traditionally a slow month for sign-ups and gyms frequently advertise specials to get new members in the door.
Dishware and Cutlery – By the time June rolls around, wedding season is in full swing and retailers are running plenty of sales on items that are the top of newlyweds' registry lists. Even if you aren't getting hitched you can still score big savings on that fancy China you've had your eye on.
Where the Savings Are in July
Furniture – July is prime time for buying new furniture since stores are trying to make room for the new models arriving in August. If you don't have the cash to buy in July, you can hold off until January when discounts on furniture also abound.
Swimwear – If you've been putting off buying a swimsuit, July is the best time to get on for less. In some markets, swimwear starts hitting the racks just after Christmas so by the time Independence Day rolls around, retailers are looking to clear out their leftover inventory.
Patio Furniture – The end of July is when you should start looking for last year's patio furniture to go on sale. By this time, retailers are starting to push back to school items so you can get a great deal on things like outdoor tables, chairs and even grills.
Computers – If your laptop's conked out, waiting until July to buy a new one is a smart move. Retailers typically run sales on computers and equipment all summer long but the closer it gets to the start of the school year, the lower you'll see prices go.
Hot Deals for August
Summer Apparel – With the summer winding down, it's time for stores to make room for the latest fall fashions which means you'll save on everything from shorts to t-shirts to sandals. Depending on where you shop, you may be able to all your summer gear for as much as 70 percent off.
School Supplies – If you want to stock up on pencils, notebooks and paper, August is the time to find these items at rock-bottom prices. Check to see if your state offers a tax-free weekend for even more savings on all the back to school basics.
Linens – If new sheets or bedding are on your shopping list, you can find plenty of sales on these items in August. Retailers typically include them as part of back to school specials since there are so many students headed off to college around this time.
When you're pinching your pennies it pays to shop smarter. Timing your purchases carefully ensures that you get the most bang for your buck on everything you buy.
4 Tips for Avoiding the Summertime Money Blues
Photo Credit: pinehurst19475