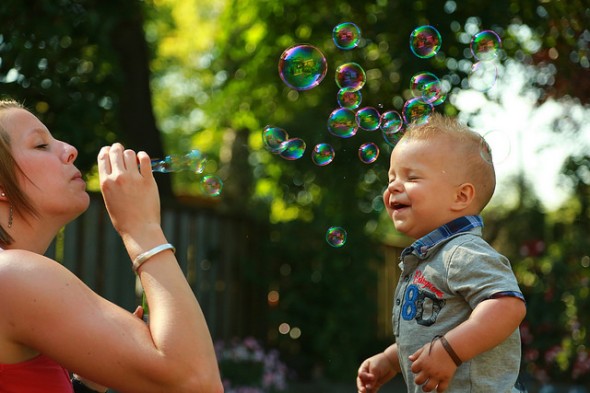 The things that make a city good to live in are pretty different if you're an adult or a kid. Children don't care much about property tax rates, for example, but if there isn't anything fun to do after school they probably won't be very happy. With that in mind, SmartAsset took a look at the hundred largest cities in the country to assess which were the best to spend a childhood in.

What Neighborhood is the Best Fit for Me?
Methodology
To get to the heart of this important issue, we broke childhood down into four categories: Fun, Health, School, and Adults. Each city was rated from 0-10 in all four categories, as described below. The final Childhood Rating was converted to a 100-point scale, weighing all four categories evenly; a city scoring a perfect 100 would have been ranked first in each of the four categories, as well as in every single one of the 20 separate variables we examined in producing the ratings.
Fun. To determine which cities are the most fun, we collected data on nine separate forms of kid-specific entertainment and recreation: arcades, amusement parks, bowling alleys, candy stores, toy stores, playgrounds, public swimming pools, ball diamonds and public park land. After ranking every city in each of these nine areas, we assigned a score from 0-10 based on the city's average ranking—a hypothetical Fun City, ranked first in every category, would score a perfect 10, and Boring City, last in every category, would receive a zero. (This is the same technique we used with the three remaining categories described below.) The top five "most fun" cities were: Pittsburgh, Pennsylvania; Cincinnati, Ohio; Omaha, Nebraska; Jacksonville, Florida; and Boston, Massachusetts.1
Health. A healthy childhood is a happy childhood. We considered three indicators to analyze the quality and availability of a city's healthcare: percent of children without health insurance, the child mortality rate and primary care physicians per 100,000 residents. Additionally, we looked at two measures of environmental quality: average daily amount of atmospheric particulate matter and the annual average percent of population affected by a water violation. In calculating the final health score, we gave 80% weight to the three healthcare measures, and 20% weight to the environmental indicators.
School. While kids certainly aren't unanimously in favor of attending school, it's an important part of their lives and one which has a significant impact on the quality of a kid's childhood. To analyze the quality of schools we looked at data on district test scores in math and reading. The final score was based on a city's average ranking relative to the rest of the cities on the list.2
Adults. The fourth factor encapsulates all of the things that adults do that have a direct impact on children's lives. Another term for this factor might be fun-independent quality of life. To capture this effect, we ranked every city by its violent crime rate, property crime rate, foreclosure rate and poverty rate. To generate the final score we gave extra weight to violent crime and poverty.3
The Top Ten Cities to Be a Kid
Using the methodology outlined above, SmartAsset found the best places to be a kid.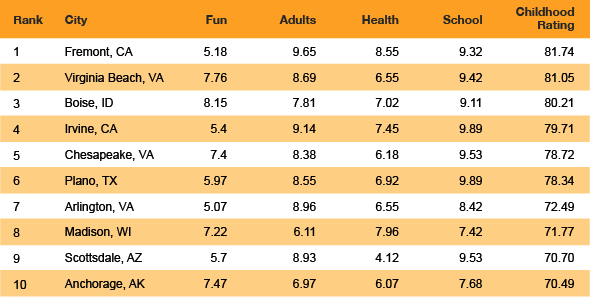 1. Fremont, California
Located on the San Francisco bay, just north of Silicon valley, Fremont is—officially—the Number One Best City in America to be a Kid. With nearly half of its total landmass devoted to public park land, it's got more than enough shady corners and green spaces for a kid to spend a full childhood exploring. Halloween's not a bad time to be in Fremont either; the city ranked 8th in candy stores per capita. What really separated Fremont from the rest of the pack, however, was its performance in the other three, non-fun factors: it ranked in the top ten in Health, School and Adults. Simply put, a kid would be lucky to grow up in Fremont, California.
2. Virginia Beach, Virginia
Finishing a close second, Virginia Beach has a strong claim that it is a great city to be a kid. It placed third in playgrounds per capita, sixth in amusement parks per capita and ninth in arcades per capita. There's plenty of fun to be had here, and we haven't even mentioned the beaches, including what is, at 35 miles, the longest "pleasure beach" in the world (according to the Guinness Book of World Records). Not a bad place to build a sand castle.
3. Boise, Idaho
The only inland city to crack the top-five, Boise is nestled against the foothills of the Rockies in southwestern Idaho, and packed with fun ways for a kid to burn some time: its score of 8.15/10 was fifth overall in the Fun category. Also known as "The City of Trees," Boise boasts the tenth highest number of toy stores per capita of any of the cities we examined—the perfect place for a kid to celebrate her birthday.
4. Irvine, California
Irvine, California, in southern California's Orange County, rated as the fourth best city to be a kid on the strength of its high-quality schools and safe streets. It had the lowest violent crime rate of any city on the list, the third lowest property crime rate and the top-rated school system. It is also the only planned city to make the top ten, which contributes to its highly rated park system: over 20% of Irvine's land mass is devoted to public parks.
5. Chesapeake, Virginia
One of the geographically largest cities on the list, Chesapeake, Virginia is not lacking in things for a kid to do. The "Fun Forest" playground in Chesapeake City Park is a three-acre dream land of slides, bridges, swings and other such attractions. If that's not enough, Chesapeake also scored a top ten ranking for amusement parks and arcades. It's almost too much for a kid to handle–but not quite.
6. Plano, Texas
Plano is only the ninth most populous city in the state of Texas, but it's easily the top Texan city in which to grow up. It has terrific schools—tied with Irvine, California for tops on the list—and a good health care system. It's child mortality rate is also the second lowest among America's major cities.
7. Arlington, Virginia
Just across the Potomac from Washington, D.C., Arlington, Virginia is home to several notable landmarks, including the Pentagon and Arlington National Cemetery. Lacking, perhaps, the civic background to appreciate these important places, most kids would probably rather spend an afternoon at a playground. Lucky them: Arlington has 3.4 playgrounds for every 10,000 residents, the fifteenth highest rate of all the cities we examined.
8. Madison, Wisconsin
Home to the University of Wisconsin, Madison is not only a great place to be a kid—it's also the third best college town for adults to call home, according to a separate SmartAsset study. Kids and adults alike will appreciate its high number of bowling alleys: with 4.5 for every 100,000 residents, it has the highest per capita bowling alley rate of any city on the list. That's a strike!
Best (and Worst) College Towns to Live In
9. Scottsdale, Arizona
Scottsdale, Arizona, the self-proclaimed "Most Western Town" in the west, is also Arizona's most kid-friendly city. With almost 29,000 acres of park land, Scottsdale offers more than enough space to explore on a sunny day (of which there are plenty).
10. Anchorage, Alaska
From the desert southwest to the subarctic north of Alaska, where Anchorage makes a strong claim to be called the world's Funnest City North of the 45th Parallel. With top ten rankings in amusement parks (10th), toy stores (third) and park land (first), Anchorage rated as the 14th funnest big city in America and the 10th Best Place to Be a Kid. Considering its average annual snowfall of 75.5 inches, it's also undoubtedly the number one city for sledding—just remember to bundle up!
The Worst Ten Cities to Be a Kid
Using that same criteria, these are the worst cities to be a kid, of those we studied.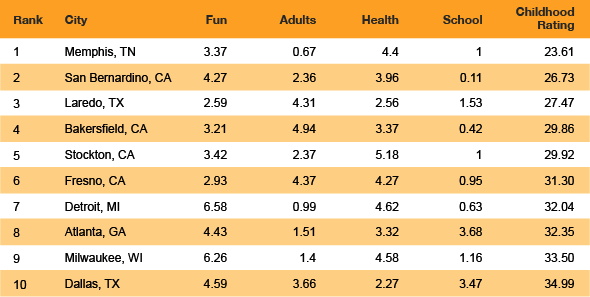 1. Memphis, Tennessee
Memphis is world-famous for its music: it played a prominent role in the development of rock-and-roll, gospel and the blues, and offers a multitude of bars and theaters to catch a great show any night of the week. Unfortunately for the kids, most of these venues are adults-only, and Memphis didn't break the top thirty in any of the nine areas we included in our Fun category. It rated near the bottom in arcades, amusement parks, bowling alleys, candy stores, playgrounds and park land. Those are numbers that would make any kid feel like singing the blues.
2. San Bernardino, California
One of four California cities to land in the bottom ten, San Bernardino was hurt by poor ratings in several areas. It has the lowest rated school system of any city we examined and a poverty rate of nearly 30%—fourth highest overall.
3. Laredo, Texas
Just across the Rio Grande from Nuevo Laredo, Laredo was originally founded in 1755 as part of the Spanish colony of New Spain by Don Tomás Sanchez. Laredo rated in the bottom ten in bowling alleys, candy stores, park land, playgrounds, swimming pools and ball diamonds.
4. Bakersfield, California
Bakersfield is the "Oil Capital of California," and the county seat of the most productive oil producing county in the country. Unfortunately, all that oil doesn't mean much for the kids; Bakersfield was in the bottom fifty for eight out of the nine types of kid-specific entertainment and recreation we examined.
5. Stockton, California
Like two of the other cities that landed in the bottom ten (San Bernardino and Detroit), the city of Stockton has filed for bankruptcy within the past two years. It's municipal woes may have contributed to its low score in the School category and to its low percentage of park land—with only 1.7% of its total area devoted to public parks, it has the third lowest ratio of any of the cities we examined.
6. Fresno, California
Formed during the California Gold Rush, Fresno was named after the ash trees that lined the shores of the nearby San Joaquin River (Fresno is the Spanish word for this type of tree). Fresno has the fewest toy stores per capita of any of the cities we examined.
7. Detroit, Michigan
Detroit's economics woes have been well-documented over the years, and issues with its school system, along with high crime rates, contributed to its low overall score. There is a bright side, however: Detroit scored very highly for Fun; it ranked 20th in candy stores per capita, 13th in ball diamonds per capita and fifth in playgrounds per capita.
8. Atlanta, Georgia
Atlanta is the cultural, political and economic capital of Georgia. It is the home of several professional sports teams, served as the host of the 1996 Olympic Games and is widely considered one of the premier cities in the south, if not the entire United States. With property crime and violent crime rates among the ten highest of all major U.S. cities, however, it is not a great place to be a kid.
9. Milwaukee, Wisconsin
Located on the shores of Lake Michigan, Milwaukee struggles with high crime rates, as well as high poverty rates. It does offer some diversion for kids, however: with 18 arcades, 23 candy stores and 47 bowling alleys, its metro area rated 19th, 18th and third, respectively, in those areas.
10. Dallas, Texas
With over 1.2 million people, Dallas is the ninth most populace city in the U.S. and the second largest in the state of Texas (after Houston). It slipped into the bottom ten thanks to low ratings for its health care system: it has the fourth highest rate of uninsured children and ranks in the bottom thirty for child mortality and primary care physicians per capita as well.
The Biggest Cities
It's a widely held assumption that big cities are no good for kids, but does the data support that theory? Dallas was the only million-person city to crack the top or bottom ten. America's ten largest cities, including San Jose, California (which should hit 1,000,000 inhabitants some time this year) scored as shown below.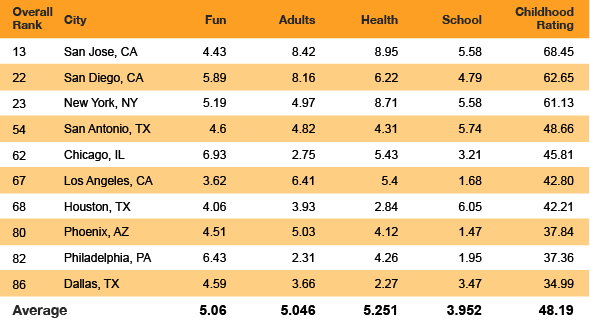 These numbers indicate that there is nothing particularly bad about growing up in a megapolis, at least in comparison to other major cities. On average, America's ten largest cities scored a 48.18, only slightly below the average for all of the cities in our rankings, and the only category in which they were rated significantly lower than other cities was School. (This adds fuel to a different popular opinion: that the public school systems in massive cities are by and large dysfunctional.) Interestingly, New York City, which is often considered a terrible place to grow up, ranked 23rd, in the top quartile of all the cities we examined.
Fifteen Fastest-Growing Cities in the U.S.
Sources: US Census Bureau; FBI Crime Data; countyhealthrankings.org; The Trust for Public Land – Center for City Park Excellence; The George W. Bush Institute – Global Report Card
Photo Credit: flickr
---
1. Several cities were missing data on one of the nine categories. In order to include these cities in the rankings, they received zero points in the categories for which they lacked data. This had an insignificant impact on the final Childhood Ratings.
2. Data on education was unavailable for the following cities: Baton Rouge, Louisiana; Lincoln, Nebraska; Omaha, Nebraska; and Washington, D.C. While these cities were considered for scoring the other three factors, they were not included in the final Childhood Ratings.
3. Data was unavailable in this category for Honolulu, Hawaii. While Honolulu was considered for scoring the other three factors, it was not included in the final rankings.