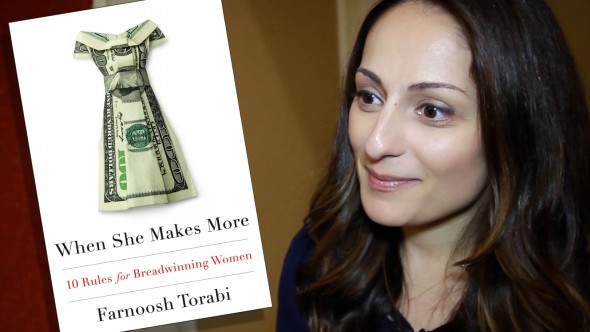 Farnoosh Torabi has been tackling the topic of money for more than a decade. The personal finance expert and TV personality is a contributing editor at Money Magazine and frequent contributor on The Today Show. She's also a wife who makes more money than her husband. In this edition of SmartAsset Talks, Farnoosh tells us why this unusual but increasingly common situation became the (very personal) focus of her latest bestselling book, When She Makes More.
Find out now: How much do I need to save for retirement?
Farnoosh told us that even as the breadwinner of her own family, this was one area of finances where she didn't feel like she had the answers. She looked at existing data and conducted her own study to help figure it out. The resulting ten rules for breadwinning women are outlined in her book.
Data showed that some of the issues for families with this dynamic include a higher chance for divorce and a higher chance of cheating. Farnoosh tells us making more than your husband can also leave a woman feeling overwhelmed, "It's a big responsibility. And then you're not giving up a lot of your wifely and motherly and sisterly and girlfriend duties. So it's a lot."
Even though it may seem like a book geared for women, Farnoosh calls When She Makes More a book for couples. In it she also addresses the issues that come up for men in this type of relationship. For more information on what Farnoosh found out about that plus the reaction she's getting to this topic in general, be sure to check out the above video.
SmartAsset Talks to J. Money of Budgets are Sexy (Video)
Thank you so much to Farnoosh for joining us at SmartAsset Talks! This is an ongoing vlog (video blog) series with some of your favorite bloggers and personal finance experts. Keep checking back here for interviews – once a week we post them right here on the SmartAsset blog.
Related Video: SmartAsset Talks to J.D. Roth
Photo and Video Credit: Walter Tyler