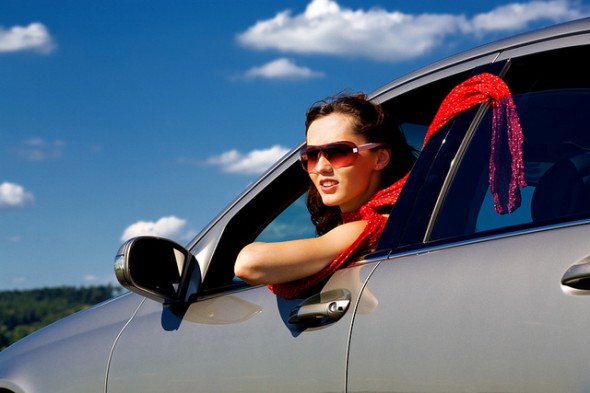 If you're looking to trim your budget, shopping around for a better deal on car insurance is a good first step. While reducing your coverage is one way to lower your bill, it could end up hurting you in the long run if you wind up in an accident. If you're looking to keep your existing coverage but pay a little less, it may be worth it to consider a usage-based policy. Depending on how much you drive, you could end up saving hundreds or even thousands of dollars a year by making the switch.
Find out now: How much do I need to save for retirement?
How It Works
Typically, car insurance premiums are calculated based on several factors, including your age, gender, driving history, credit score and the make and model of your car. Your actual rates are based on statistical data for other drivers who have similar backgrounds. For example, young men tend to have higher premiums compared to older females. With pay-as-you-drive insurance, your premiums are based on your actual driving patterns.
When you sign up for a usage-based policy, your car insurance carrier installs a monitoring device on your vehicle that records information about how far you drive, where you drive, the time of day, how fast you go and how often you brake. The car insurance company reviews this information and calculates your premiums based on your perceived level of risk. If you drive more frequently or you engage in bad driving habits, such as speeding, your premiums will likely be higher.
Related Article: How to Shop for Auto Insurance Online
Who It Benefits
Pay-as-you-drive insurance typically offers the most advantages to those who don't drive as often or who are stuck paying high rates because they're young or have a poor credit history. Depending on which insurer you use and where you live, you may be able to save anywhere from 30 to 40 percent on your car insurance each year based on your usage. Some insurers will even give you an extra 5 to 10 percent discount just for signing up.
Related Article: 4 Car Dealer Tricks You Need to Know Before You Buy a Car
Who Offers It
Currently, pay-as-you-drive insurance policies are only available from selected insurers in certain states. Some of the companies that offer usage-based coverage include Geico, Allstate, Progressive, Travelers, State Farm and GMAC. Both GMAC and State Farm only extend this type of coverage to drivers who are subscribed to OnStar services. A handful of states, including North Carolina, Indiana, California and Massachusetts, do not allow drivers to enroll in usage-based coverage.
Protecting Your Privacy
The biggest concern associated with pay-as-you-drive car insurance is privacy. Different insurance companies track different information but ultimately, you don't have any control over how this information is used. Some of these tracking devices may also allow for GPS capability, which would make it possible for your insurance company to know exactly where you're going. While this could be useful for roadside assistance, it's been argued that this information is irrelevant to how your premiums are calculated.
Certain car insurance companies, such as Progressive, have opted not to enable GPS tracking for this reason. In an attempt to protect their customers' information, Progressive also only requires drivers to keep the monitoring device on their vehicles for a short period of time rather than indefinitely. The company also guarantees that it will not sell your information to outside companies.
Is It Worth It?
If you're not accident prone and you don't travel that often, then signing up for a usage-based plan could add up to some serious savings. Just keep in mind that with certain policies, you may be required to stay under a certain mileage limit to keep your low rate.
If you end up going over, you could get hit with a hefty surcharge that would significantly offset any savings from switching. If you're worried about how your driving or personal information may be used, you're probably better off sticking with a traditional policy.
Related Article: 5 Car Games to Kill Road Trip Boredom
Photo Credit: instantcarinsurance