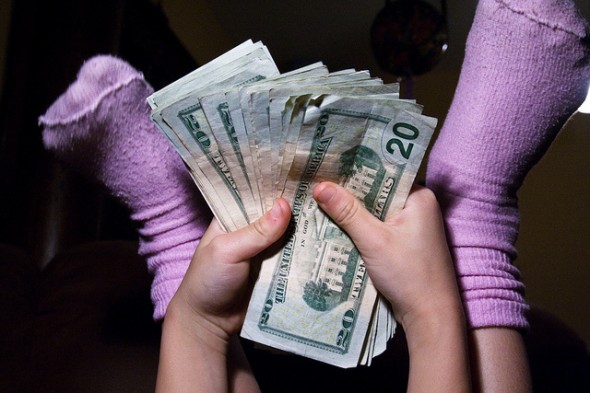 In life, money isn't everything. But having enough of it sure can make a difference. By finding ways to increase your income, you might be able to pay your bills more easily, pay off debt or save up for future financial goals like buying a house. Progress on all of your financial goals will be much faster if you can find a way to increase your income without increasing your expenses. Here are a few ways to do just that.
Check out our 401(k) calculator.
Ask for a Raise
As long as you are happy at work, there's no reason why you should immediately look to find a new job to help you make more money. Instead, consider asking for a raise in your current position. But before you storm your boss's office, it's a good idea to do some research.
Try to find out what others in your position are making so you have some leverage. You should also be prepared to explain to your boss why you deserve a raise. Tell him or her what additional projects or responsibilities you've taken on since your last raise. You can also politely point out that your worth to the company has increased due to the additional knowledge and experience you've gained since then.
Apply at a New Company
If your discussion with your boss about a raise doesn't turn out in your favor, perhaps it's time to look for a new job. Use your network to see if any other companies are hiring for positions similar to yours or a step up from your current position. Just make sure you use proper etiquette when applying for new jobs and don't take advantage of your current employer's time and resources by applying for new jobs while you are on the clock at your current job.
Find out now: How much house can I afford?
Get a Part-time Job
Sometimes finding a new job with a different company in your area can be difficult or you might be unable to pick up and move to find a new job. When this happens, taking on a part-time job might be the next best thing you can do to earn more money. It's often a good idea to pick something in a different field than you full-time job so you don't get burned out or bored doing the same things every day. (Plus you might have a contract that doesn't allow you to work for other competing companies.) It's also important to find a part-time job that won't interfere with your full-time job as that's still usually the largest chunk of your income. Sacrificing quality of work at your full-time job because you are exhausted from working your part-time job just doesn't make sense.
Start a Side Hustle
There are times when it's not possible for you to fit a part-time job into your schedule. Maybe you have kids at home that can't be left unsupervised in the evenings and weekends, and taking them to a babysitter doesn't make financial sense as it would eat up the majority of your extra income. Times like these are perfect for you to put some of your hobbies and creative skills to use. Find a hobby or skill you are passionate about that you can use to make money. Ideally this should also be something you work on at home in your spare time. Side hustles are meant to be flexible to fit your schedule.
Is a Part-time Job the Secret to Getting Out of Debt?
In the end, making extra money is only worth it if you aren't having to sacrifice your work-life balance and the quality of your work at your full-time job. Beware of part-time jobs and opportunities that sound too good to be true, but also don't be afraid to step outside of your comfort zone and get creative to increase your income.
Photo credit: flickr