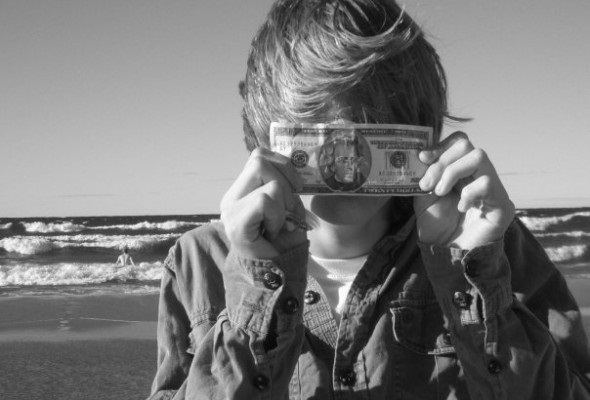 Summer break is long. Parents are finding that out now, as those seemingly endless August days stretch on. Summer break can be especially long for those children who are old enough to want money yet too young to land even a part-time job washing dishes at the local family-owned restaurant. Think of all those 14- and 15-year-olds who are whiling away their summer days playing video games and binge-watching reruns of Glee on Hulu Plus.
3 Ways to Get Your Kids to Save
Parents, though, can turn the last weeks of the summer break into educational ones, teaching their 13-, 14- and 15-year-olds about the value of money. They can even help these young teens earn dollars even if they can't land a job at the local McDonald's.
Here are five tips to teach the youngest of teens about money, and prepare them for the days when they can earn real dollars at a summer job.
Make Them Earn Their Keep
Young kids can be paid for doing work, whether around their own home or throughout the neighborhood. For example, you might pay your 14- or 15-year-old son for work around the house like scraping and painting your porch railing, watching your younger kids or trimming the backyard. Set an hourly wage as if this were a typical job.
You can also encourage your early teens to set up a lawn-mowing or babysitting business as a way to earn money outside the home.
Then, when young teens want to buy a new video game or even nab a fast-food lunch with their friends, they can calculate how many hours they'll have to work to afford that copy of Just Dance 5 or that grilled chicken sandwich with fries and a milkshake.
Open a Checking Account
Young teens who have earned money need somewhere to keep it. A checking account in their name is a great choice. Not only does this give teens a chance to earn interest — though, this interest will probably amount to just pennies a year — it also gives them a goal. Many will want to grow the amount in their checking account as quickly as possible. Some teens might even keep that first checking account through their college years and into young adulthood.
Which Checking Account is Best for Me?
Plan the Family's Spending
The goal here isn't to have your teens crafting your household budget. It is for your teens to learn just how expensive those frozen pizzas they scarf down each day can be. Each week, for example, you could sit down with your teens to go over the family budget for the week. Show your teens what you'll be spending money on during the week. Ask your teens what they think the family needs to spend on during the same week.
This will teach teens at an early age the importance of budgeting and the negative consequences that come with blowing a budget.
Research Summer Jobs for Next Year
As your teen gets closer to 16 it's important to research which jobs might be available to them next summer. This research can help teens determine which kind of job they'd most like to hold.
Remember, too, that summer jobs are often in high demand. Teens might have to apply long before summer vacation starts to land the best of next summer's jobs. The more prepared your teens are — and the quicker they act — the more likely they are to land that plum, and well-paying, summer job as a lifeguard, landscaper, etc.
Volunteer
You can teach your kids about work by registering them to volunteer at your local food bank, soup kitchen or nursing home. Volunteer work won't boost your young teens' coffers, of course, but it can teach kids about the values that employers hold dear. Teens can learn that they can't just skip a day at work because they're tired – they've made a commitment to be there. They'll also learn about the importance of arriving to work on time and turning in quality work once they're there.
3 Most Important Money Lessons to Teach Your Kids
A positive recommendation from the director of your food bank can also go a long way toward impressing summer employers next year.
Photo Credit: flickr