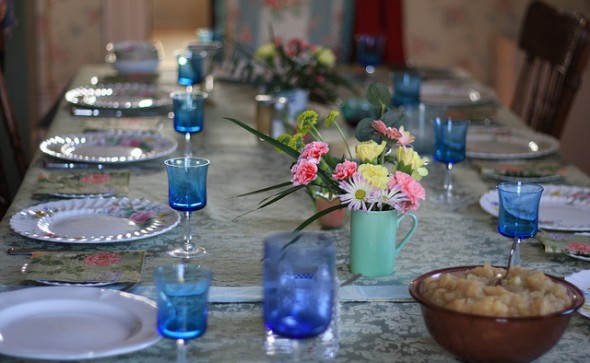 When I was growing up, Easter was a huge occasion. Our extended family would gather together and celebrate with a large dinner. Around Easter time, the Poconos were thawing out and the first signs of spring were starting to appear. If we were lucky it would be a warm enough day for all of the kids to be outside playing after dinner. The years went by, I grew up and started my own family. I also began to take over the holiday dinners. Although I loved cooking, baking and entertaining, it invoked a sense of dread when thinking about paying for all of the food, decorations and kids baskets. The bill usually ended up on a credit card.
Hosting your family and friends at Easter shouldn't be a budget buster. There are many ways that you can make amazing Easter memories with your family without going into debt to do it.
Host an Easter Breakfast Instead of Easter Dinner
Hosting Easter dinner is expensive, especially for a large group. Between the main dish, sides and desserts, you could easily go broke. Host an Easter breakfast or brunch instead. It can help you cut costs and still enjoy the company of family and friends. Try having a waffle or crepe bar as your brunch theme. Both are easy and inexpensive to make. You can set out the fixings like fresh fruit, whipped cream and sauces they can use to personalize their waffle. Throw in side dishes like hashbrown casserole, biscuits and gravy and bacon and you are all set.
Keep it Simple
Just because you are on a budget, doesn't mean that your family can't have a wonderful Easter. Keep it simple. Don't spend your budget on fancy decorations and centerpieces. Make your own with flowers from the garden. Re-purpose items around the house to dress up your table. When making your meal, stick to the basics. You could also have your guests bring something like a side or dessert. Most people will offer to bring something, so this is your opportunity to take some of the burden of cooking (and paying!) off of your plate.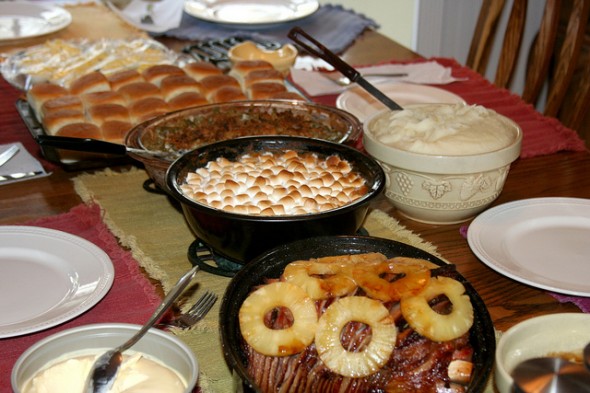 For Smaller Families, Eat Out Instead
For the budget conscious, eating out is not usually a good idea. If you have a small family, it actually makes more sense to go out for an Easter breakfast or brunch. Since we don't celebrate Easter with our families now that we have moved far away, it's only the three of us. I have easily spent over $100 on getting the ingredients for our party of three on other holidays.
The restaurant down the street from us offers a $15 gourmet brunch on Easter. There are many restaurants that offer dinner specials, too. Not only will you not waste time in the kitchen preparing a meal for just a few people, you could also save some money. Even if you have a large group getting together, see if each of the individual families would like to pay for their own group. It might be less expensive and far less hassle than putting on their own festivities.
The most important part of Easter is to spend time with your family and friends. Whether it's Easter breakfast in or Easter dinner out at a restaurant, keep the focus on being together instead of on how much money you spent on the preparations.
Do you have any tips for throwing a frugal Easter dinner? Share with us in the comments below!
Photo Credit: Loimere; Richard Elzey