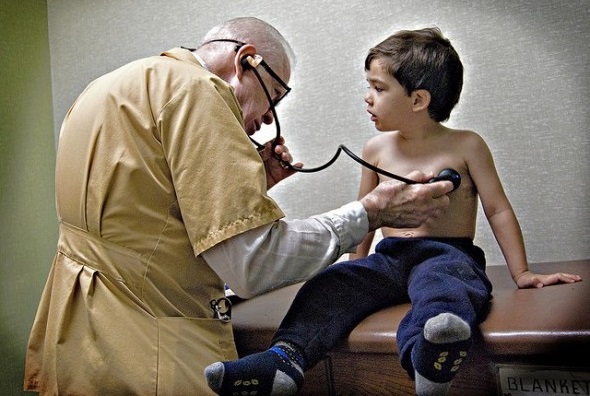 If you don't have health insurance, you're not alone. According to the U.S. Census Bureau, nearly 50 million Americans lacked health insurance in 2010. Cost is a major obstacle that prevents many people from having health coverage but it doesn't mean you can't get affordable medical care. Whether you just need a check-up or you have a minor illness, there are some money-saving options for getting the care you need.

Find out now: How much do I need to save for retirement?
Research Charitable Care Services
A visit to the doctor's office could cost you as much as $200 if you don't have insurance but there are thousands of places you can go for free or low-cost health care. The National Association of Free & Charitable Clinics (NAFC) is a nonprofit organization that helps financially disadvantaged people find free and charitable health clinics in their area. Currently, there are more than 1,200 clinics nationwide that offer a range of services, including medical care, dental services, prescription drug services, vision services and treatment for behavioral health issues.
The federal Hill-Burton program encompasses a network of 163 facilities that are obligated to provide care for free or at a reduced cost. This includes hospitals, clinics, nursing homes and certain other types of health care facilities. You have to apply to receive help from the program and whether or not you qualify is based on your family size and income.
Try a Retail Clinic or Urgent Care Facility
If charitable care services aren't available where you live, you might be able to get help from a retail clinic. There are a number of retailers, including Walgreen's, CVS and Wal-Mart, that offer on-site clinics where you can get inexpensive health care. Typically, these clinics are staffed by nurses or physician assistants and they provide basic services like flu shots, immunizations and sports physicals. Some programs may offer discount programs for certain types of prescription drugs.
If you're sick or you have a minor injury, you can save money by heading to your nearest urgent care facility instead of the emergency room. Generally, urgent care centers can provide walk-in services for patients who aren't experiencing a life-threatening situation. These facilities tend to have more flexible hours than a traditional doctor's office and the cost of visiting one is much less than what you would pay at the ER.
Visit a Direct Primary Care Provider
With health insurance premiums expected to increase, more and more Americans are turning to direct primary care providers to cut their medical costs. Instead of paying money to the insurance company, you pay a monthly fee directly to the doctor. Typically, the fee is around $50 to $60 a month, which covers your basic primary care. In some cases, the fee may also cover x-rays, lab tests and treatment for minor injuries.
If you're thinking of switching to a direct primary care provider, you should keep in mind that they're not available in every state. Some programs also limit who can participate. If you need to see a specialist, have surgery or you're hospitalized, you'll have to pay for these costs out-of-pocket.
Check Out Your Local Health Fair
Health fairs are a way to get routine medical and dental care for free. These events can be offered by schools, hospitals, clinics, dentist offices and there's no charge to attend. Depending on who's sponsoring the health fair, the types of services you can take advantage of include cholesterol screenings, blood pressure tests and dental checkups.
Health fair providers may also provide free health screenings to test for things like diabetes, certain types of cancer and sexually transmitted diseases. If you're concerned that you might be at risk for a serious health condition, taking advantage of free or low-cost health screenings can ensure that the problem is detected as early as possible.
Consider Signing Up for a Discount Program
Medical discount programs are a money-saving option if you can't afford health insurance but you don't want to pay full cost for health care. Depending on the type plan you enroll in, you can save anywhere from 10 to 40 percent on things like office visits, hospitalization, vision care and dental care.
There are also separate discount programs just for prescription drugs, which can be helpful if you're struggling to afford your medications each month. These programs can save you up to 75 percent off your prescription drug costs. Generally, the discount applies to both generic and brand-name drugs but only certain types of drugs may be covered.
Some medical and prescription drug discount programs are free while others require a small monthly fee. Just keep in mind that if you do sign up for one of these programs, it shouldn't be considered a substitute for regular health insurance.
Take Advantage of Government Resources
A final option for getting affordable health care is to look into government-funded programs, like Medicaid and Medicare. Medicare is designed for low-income individuals and families who are over 65 or permanently disabled. Your eligibility for Medicare is based on your age, income, family size and disability status.
The Medicaid program covers things like prescription drugs, doctor's visits, emergency care, long-term care, vaccinations, hearing care and vision care for qualifying individuals. The program is open to children, pregnant women, senior citizens, families and individuals with disabilities. Whether or not you can receive Medicaid is also based on your age, income and family size.
The Bottom Line
While it's best to have traditional health insurance, it may not always be possible financially. If you're on a tight budget and you don't have insurance, it's important to know what your options are when it comes to getting affordable health care.
Photo Credit: Laura4Smith