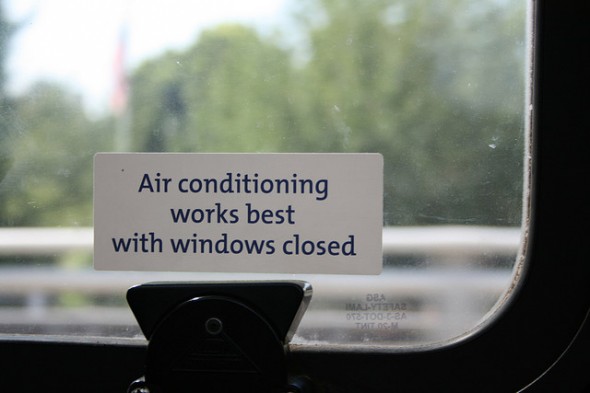 Summer is less than a few weeks away and temperatures are already climbing. It will soon be time to run your air conditioning around the clock. While the AC is a necessary creature comfort, you'll want to do everything you can to keep it affordable. According to the U.S. Department of Energy, heating and cooling your home takes up more than 54% of your utility bill. However, there are ways to minimize costs. SmartAsset rounded up these tips to help you crank that AC with the least guilt possible.
Find out now: Do I need mortgage insurance?
Check the thermostat
Turn the temperature down on your thermostat so it reaches the "cool" setting. Within moments, your AC should turn on and provide a stream of ample cooling. If not, it may be time for a call to the service repairman. Get on this as soon as possible, because you don't want to get stuck without air conditioning when it gets too hot. AC technicians will be on more house calls then so it will be harder to schedule an appointment.
Replace your AC filter
After many months without use, the first thing you need to do is change the filter. The typical AC filter needs to be changed once a month for optimal performance. A filter acts as a barricade between debris and the air conditioning mechanism, so it is vital to keep on schedule. Those with allergies should be particularly mindful of their filter change frequency.
Thoroughly clean the unit
Since your outside unit is susceptible to the elements, it is important to closely inspect and clean it with a brush and cloth. Clear out any obstruction on the grills and around the unit. Make sure to power it down entirely, then spray the air conditioner coils with a hose. Consider using a commercial air conditioner cleaner. For window ACs, use a vacuum brush to clean off the coils. On an external unit, the fins serve to dissipate hot air from the unit as quickly as possible. Make sure to use a brush to delicately clean each fin.
Invest in some new tools to help make cooling less costly
According to the California Energy Commission, upgrading from your old mercury switch thermostat to a digital, programmable one can help you to save $100 annually. They will also help to optimize your AC's performance. Consider installing ceiling fans, which are relatively cheap to operate. They will help to circulate air throughout your home. Ceiling fans can also reduce dependency on your AC, such as when there are cooler days than usual.
Keep the condensation lines clear and clog free
Central air conditioning units have evaporator coils that deposit moisture, which needs to be eliminated from the unit. A condensation pipe then transports the water away into a drainage area, by gravity or via motor pump. Make sure this pipe is free of any dirt or blockage. If the fluid backs into your air conditioner, it can incur expensive damages, and destroy parts of your home. Make sure you have a plumbing snake handy, or an industrial vac. Cap the pipe on one end and vac through the other end. You can take added maintenance steps, such as sending an algaecide, or a bleach and warm water solution through the pipe.
Upgrade your current model
Each year new ACs are being manufactured, which are less wasteful than those made previous years. Look for energy-efficient ACs, which can help you to not only save money, but also benefit from its enhanced features. While you're on the hunt, make sure you find an AC unit that is the proper capacity. The biggest units will not necessarily be the most suitable for your needs. For instance, one too big will cycle on and off more frequently than an adequate-sized unit, making it susceptible to malfunction. On the other hand, undersized units work harder to bring the cool, which results in component wear and tear. Look for high Seasonal Energy Efficiency Ratio (SEER) ACs, where the minimum allowable amount is 13 SEER for central AC units.
Make sure your equipment is installed properly.
A properly installed window unit will ensure it works properly. There will be less likelihood that cold air leaks out of cracks or crevices. Bolster the unit from underneath, and/or tightly secure it from inside using brackets. For outside units, use a level to make sure that the slab on which it rests is even. This will ensure the contraption operates efficiently. If it is not level, apply some gravel underneath.
Do a quick checkup on the rest of your home
If you've got central AC, take a quick tour around the house to make sure all related components are in proper working condition. For example, the attic insulation must be full and compacted. Spot check the air ducts and repair any breakages, which can cause air leaks. Sealing ducts can help you to increase efficiency by up to 20%. Finally, make sure that all your windows and doors are insulated properly. In some cases, caulking or weather stripping may be necessary.
Block out the sun
During the summer months, sunrays can be intensely brutal. When you're not home during the day, it's a good idea to obstruct sunlight from your living space. Shut your window coverings — this will not only block the sun, it will also add a layer of insulation, trapping cooled air inside longer. Consider investing in solar window films such as those offered by 3M, which offer effective sun control.
Photo Credit: Atomic Taco