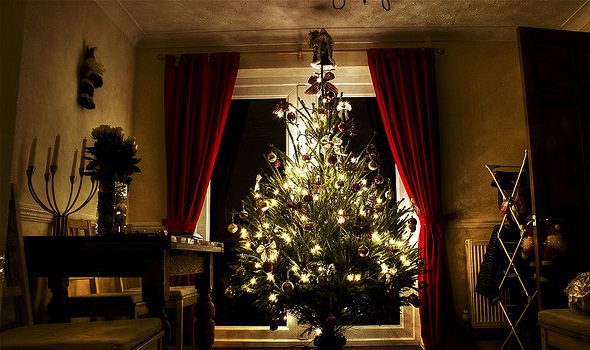 There are few words that go together as well as Christmas and overspending. But there are alternatives to ending the year with piles of debt. Of course no one wants to feel like a Scrooge in the midst of a holiday season that celebrates giving across faith traditions as well as among the purely secular. SmartAsset has some tips so you can save money and celebrate this Christmas season.
Check out our student loan calculator
Buy Early
There is for some a thrill that comes from the last minute hustle and bustle of holiday shopping. I confess to being one of those who refuses to shop for Christmas presents more than a week before the big day. That means I usually spend more than I should. Retailers, both real and virtual, also know that impulse purchases tend to be larger than planned purchases. They use that to their advantage with big flashy displays of must-have stuff you don't really need.
You can beat the compulsion to buy expensive impulse items by shopping early. Rather than using Black Friday as a starting point for your holiday shopping consider making it an ending point. Shopping early reduces the danger of succumbing to fever of budget busting impulse purchases. Cool, calm and collected shopping has the added bonus of time to carefully consider the recipient of each gift and selecting one or two that are perfect.
While it may be too late this year, keep this tip in mind all throughout 2014! Still you can shop in the early weeks of December to avoid the crush of the final days before Christmas.
Taking Your Cue from Secret Santa
Treating your family and friends like co-workers is a great way to save money on the holiday. Workplace Secret Santa gift exchanges operate by setting limits on what can be spent on gifts. The best Secret Santa exchanges have minimums as well as maximum limits ensuring that no-one feels slighted or taken advantage of.
Following the Secret Santa principles when shopping for family benefits your holiday gift giving in two ways; first it helps to create a budget. Setting and sticking to a comfortable and realistic budget for all your gift shopping is a great way to control costs. No matter whether you build your budget from the top down (total amount you want to spend for all) or bottom up (how much you want to spend on each person) stick to it.
Second it ensures that everyone feels equally special. If the reason you exchange gifts with family is to express your love for them and not as a display of wealth than it is the thought that goes into the gift that matters most and not the cost or quantity of presents.
Socks and Underwear
Every family has a gift or two that is given every year just because. In our family my mother gave us all socks and underwear after we became adults. We adult children of course purchased all kinds of kitchen gadgets that never got used, wall hangings that were never hung, knickknacks of every description all just because we felt compelled to have something to give.
An alternative to just because is to agree to not at all or pooling. Adult children buying for parents can each pool their budgeted amounts and buy one truly useful collective present such as dinner and theater tickets. A single collective gift that will be enjoyed is far less expensive than something that never gets used no matter the cost of the item.
I.O.U.
The best holiday deals are after the holidays so why not wait? Before or after there are children who are rising at dawn to see what goodies Santa left why not consider I.O.Us for holiday treats. Using sale flyers, catalogs, newspaper ads or crayons give everyone on your list a picture of what you will be getting them in the coming weeks.
Waiting until Little Christmas or the Twelfth Night of Christmas to actually exchange presents ensures that the recipient has had an opportunity to say thanks but no thanks to the promise of a lime green and neon yellow cashmere turtleneck sweater saving them the trouble of having to return it and you wasting your money.
The more important advantage of waiting until after Christmas is that contrary to what retailers want you to believe their best deals don't happen until after the holiday. The reason is simple that they got top dollar in the pre-holiday buying frenzy and now need to unload excess inventory.
Photo Credit: ShedBOy^