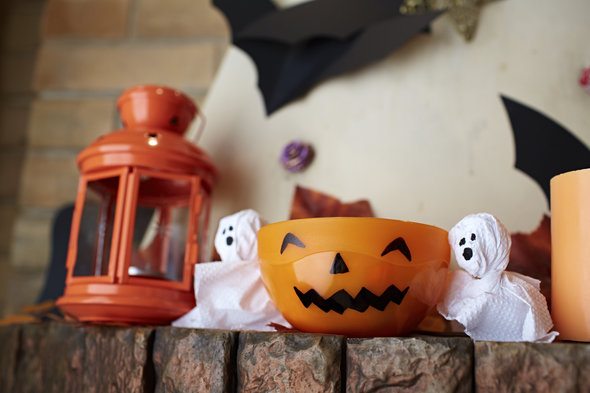 Just because you have a small space, doesn't mean you can't think big when it comes to decorating for Halloween! There are so many fun and inexpensive ways that you can decorate your apartment. Whether you want to add some spooky-chic or turn your entire apartment into a haunted house, we have some great ideas to get you started!
Find out now: How much do I need to save for retirement?
Where to Get Inspiration
Apartment Therapy is a favorite resource for small space living. They always have great tips and tricks for decorating small spaces in general. If you are looking for tons of design inspiration and a place where you can organize and pin your inspiration, Pinterest is my favorite site. You can find ideas on the web and "pin" them so you can reference later or you can search other people's inspiration there, too. Right now there are tons of great Halloween ideas that you can adapt to your small space. Here are just a few of my suggestions:
Vinyl Decorations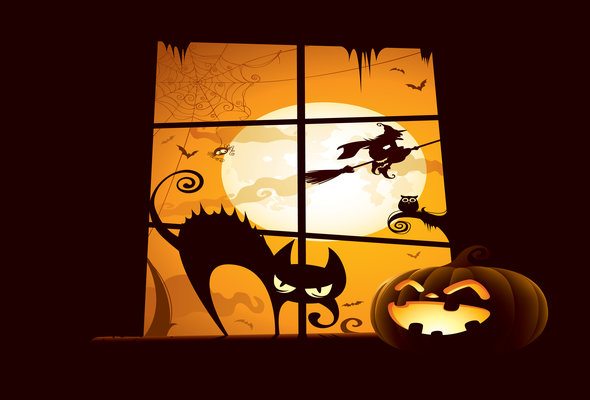 You can find vinyl decorations for windows and more anywhere from a dollar store to Etsy. Vinyl decorations are great because they can be reused over and over. They also store easily. Most of us who live in apartments and small homes are at a premium for space. You can take these vinyl decorations and place them on windows, mirrors, walls (in some cases) and even on things like your drink glasses, vases and canisters. If you are lucky enough to have access to a Cricut or Silhouette die cut machine you can make your own. If you don't have one yourself, hit up your crafty friends to see if they will let you borrow theirs.
Upcycle Your Decorations
If you are on a budget or want to work with materials you already have around the house, upcylcing is the best way to do it. A pair of black fishnet stockings hanging out in the back of your drawer could be an awesome pumpkin or gourd covering or can be used as faux spider webs in the corner. Use an old flannel shirt and jeans stuffed with newspaper or fabric (instead of hay) to make a scarecrow. Mason jars are always great to decorate with for all seasons. You can paint them in Halloween colors, wrap them in gauze to make them look like ghosts or fill them with candy corn. They store easily in your cabinets and if you don't paint them, you can reuse them for other holidays with different embellishments.
Perishable Decorations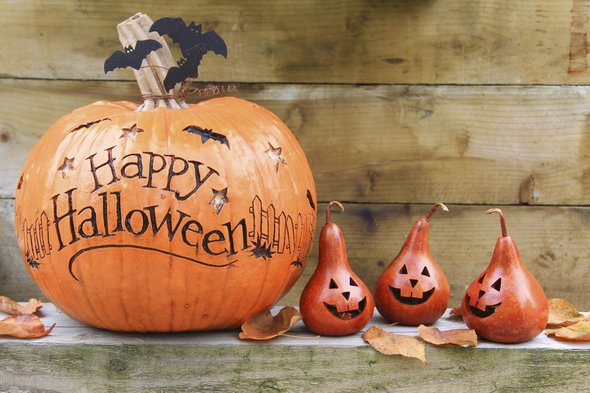 So you don't have to store your decorations, try items that can be used and then returned to nature. I found some great ideas using pumpkins on Pinterest. There are so many "no-cut" pumpkin decoration ideas. If you aren't carving the pumpkin, you can store it inside for quite sometimes (and won't have to deal with fruit flies). Dip your pumpkins in glue and roll in silver or black glitter, grab a spray can, or stencils and go to town. After the season is over, you can cut them open and use the inside contents of the pumpkin to make pumpkin seeds and other pumpkin recipes. Just be careful if you use paint or other chemicals in the decoration as you won't want to eat the insides after using them. Fill a canister with candy eyeballs, make a garland of finger cookies or popcorn strand. Use paint or airbrush edible spray to color the strand black and orange. Use fabrics, like sheets, you may have around the house to create a spooky atmosphere.
Don't go and buy a ton of decorations that you will then have to store in your tiny space. No one knows more than me what a commodity closet space is in a small apartment, so don't fill yours with decorations you will only use once a year. Use what you have already and get creative!
Do you have any ideas that we may have missed? Leave us a comment below? I have created a Pinterest board with some inspiration for small space Halloween decorating, if you need somewhere to start!
Photo credit: ©iStock.com/mediaphotos, ©iStock.com/ori-artiste, ©iStock.com/HannamariaH