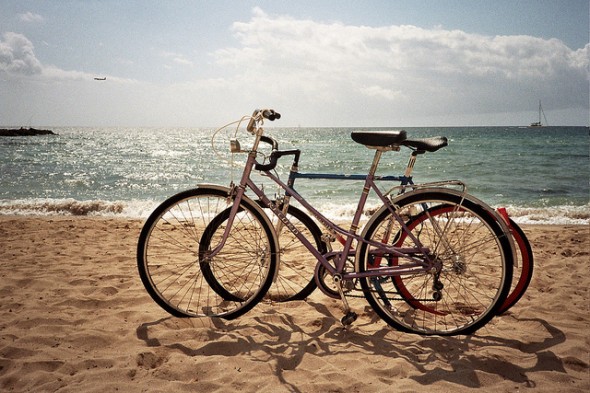 The lazy days of summer are here, and if you haven't started planning your vacation yet, now's the time to start. Whether you're going to hit the beach or see the sights abroad, having fun doesn't necessarily mean you have to spend a lot. If you're worried about breaking the bank while you're away, it helps to know what vacation expenses tend to be the biggest money drains. We've put together a list of things that travelers frequently pay more for, along with some tips to help make your summer getaway more affordable.
3 Tips to Scoring a Totally Free Vacation
Flights
Depending on where you're headed on vacation, airfare can eat up a huge chunk of your travel budget. Even if you're able to score tickets at a rock bottom price, the cost of flying can easily be inflated by fees – like baggage fees, change, cancellation and reservation fees.
Think Twice Before You Pay These 5 Annoying Airline Fees
If you're trying to save on air travel there are a couple of things you can do to shave a few bucks off the cost. For instance, booking your flight in the middle of the week rather than on a weekend or opting for a flight with multiple stops can be good ways to snag a lower fare. Planning your trip prior to the beginning of the season or waiting until the tail-end can make it cheaper to fly. Catching a flight to a neighboring city and driving the rest of the way to your destination could also help you save.
Using a rewards credit card for purchases could help you earn points or miles that can be redeemed for air travel. When you're shopping around for a rewards card, look for one that fits your spending style. Certain cards offer points or miles only on certain purchases while others allow you to earn rewards everywhere you go. Just be sure to read the fine print to make sure there are no blackout dates or restrictions on how you can use your rewards for travel.
Related: What Card is Best for Me?
Banking Fees
Using your credit or debit card may be a convenient way to pay for things while you're on vacation, but you could end up incurring some nasty fees. Generally, banks charge their customers anywhere from $2 to $5 when you use a foreign ATM to make a withdrawal. You may also have to pay an additional service fee to the bank whose machine you're using. If you're hitting the ATM multiple times for quick cash, those fees can really add up.
Even if you're planning to charge all of your travel expenses to your credit card, you're not safe from fees. Many card issuers charge foreign transaction fees when you use your card overseas. These fees can range from 1% to 5% of your total purchase, making a night on the town or souvenirs for the family that much more expensive. If you know you'll be using credit for certain expenses, look for a card that doesn't charge this type of fee.
Travel Insurance
Getting into an accident or falling ill while you're away from home can seriously disrupt your vacation plans and you could be feeling the financial fallout long after your trip is over. If you're worried about the potential for something to wrong, having travel insurance can give you some much-needed peace of mind. The key is to make sure you're not paying more for coverage than you need.
How to Avoid Scams When on Vacation
Airlines, travel agents and car rental companies all offer some form of insurance but you could already be covered. Many credit card issuers offer travel insurance to members that can protect you against illness, accidents and other catastrophic events. For example, some companies include liability coverage at no cost when you use your card to book a rental car. If you're not sure what you're covered against, it's a good idea to call up your card issuer first before buying pricey travel insurance elsewhere.
Hotels
Where you choose to stay can have a significant impact on how enjoyable your trip is as well as how much you pay. While staying at an all-inclusive resort may seem like the ideal vacation experience, it's not always that great for your wallet. Opting for a smaller hotel or motel over a larger chain may mean you have to forgo certain amenities but you won't be losing out when it comes to your cash.
If you're going on vacation with a large group of friends or family, renting an apartment or home and splitting the cost is also a budget-friendly move. Generally, vacation rentals come fully furnished and include everything you need to make your stay as smooth as possible, including linens and dishes. You'll also have the added perk of a full kitchen, which means you won't have to spend money dining out for every meal.
6 Easy Ways to Save for Your Summer Vacation
Saving money on vacation takes creativity, willpower and in some cases, a little luck. Working out a travel budget before you go can help you keep your spending in check but it also helps to know what the biggest travel budget traps are.
Photo Credit: flickr