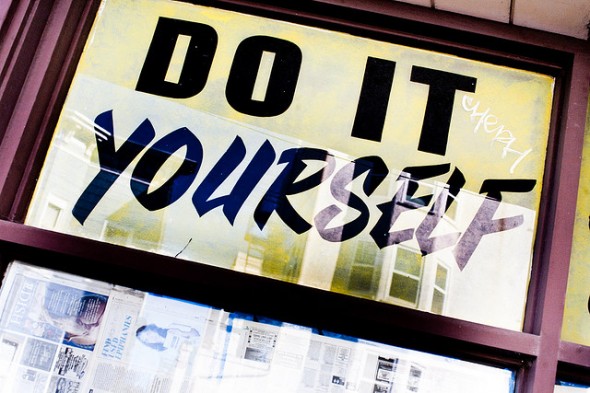 Saving money is tough and if you're like most on a budget, you're always looking for new ways to save . One of the challenges I'm faced with on a daily basis is deciding between doing things myself or hiring outside help to do it for me. There's really no task that you can't outsource these days but where do you draw the line?
Find out about startup economics
Since most of us work 40 hours a week, there are just some chores that we don't want to do when we get home. We've all got pretty busy schedules and the last thing on our minds at the end of the day is doing laundry or cleaning up the apartment. I've been known as a do-it-yourself guy all my life but lately I've started to make some changes.
Do It Yourself as a Second Income
One of the keys to financial independence is finding multiple sources of income. If you're looking for extra income, why not go ahead and take care of all the routine/mundane tasks around the house yourself? I've hired house cleaners before and they're pretty expensive, especially if you want good ones. There's really no point in paying someone $20-$40 an hour to clean when you can do just as good a job yourself (if you need the money).
Think about the wage you get paid at your day job and compare it to the hourly rate you would have to pay someone. If it's even remotely close, I think it's in your benefit to do the task yourself. Those of us on salary don't technically get paid for extra hours at work and for me, the 9th and 10th hours at my day job are a lot tougher than the 1st or 2nd hours. It would almost be refreshing to come home to a nice change of pace and get paid (sort of) for cleaning the house for an hour.
The Specialty Stuff
Everything we've talked about so far doesn't require a ton of special skills. Pretty much anyone can wash a car or clean a house but not everyone can install new plumbing or tune-up a bicycle. I think most people would probably be pretty quick to hire someone to help with these types of things but you'd be surprised just how doable these seemingly complex tasks can be.
We're living in the golden age of 'do it yourself' since there is an abundance of free resources online that can help you tackle nearly any project. I've used a combination of specialty forums, YouTube videos and similar online media sources to help me tackle some pretty tough projects. Don't be scared to go asking for help, there are a lot of kind and knowledgeable people out there who love to help out newbies.
Will I Do it Again?
I like to look at the value added of each project I'm considering. Since I'm a homeowner, a lot of my do it yourself conundrums have to do with home repair. I tend to outsource one time things like cabinet installation or new counter installation since I'm probably only going to have that done once every 20 years or so. It just doesn't make sense spending a bunch of time learning how to do it and then forgetting it.
Other things like plumbing and even electrical wiring are issues that come up all the time. So for me, it's worth it to invest my time and energy learning these trades so that I can handle any future problems. The first time around might take a while but I guarantee the next time that problem comes up you'll be much faster at solving it.
So What Should I Do?
It's all well and good to think about how much money you can make or much money you can save by doing everything yourself but your time has value too. It's hard to quantify exactly how much our time is worth but there are probably a lot of things you'd rather do than clean up around the house and wash your car.
Ultimately, it's up to you to prioritize what makes sense to do it yourself and what you should hire help for. There's no shame in hiring help if you need it but don't be scared to give it a go yourself first.
Photo Credit: Thomas Hawk