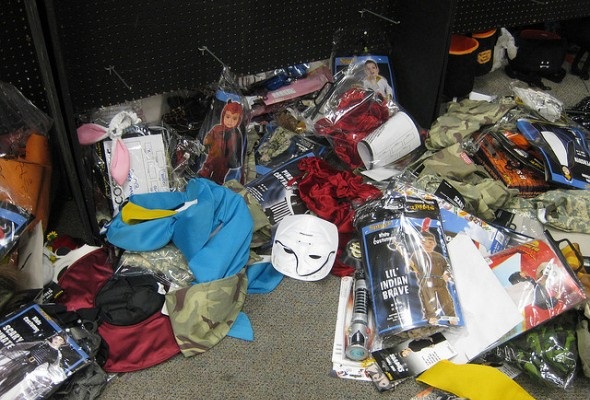 Halloween costumes are a lot like wedding dresses. You get all dressed up for one day and after that they live in the back of your closet forever. There are so many other ways you can use that old Halloween costume to give it new life.
Find out now: How much life insurance do I need?
Here are some suggestions on what to do with your old Halloween costumes:
Host a Themed Party
Who says that you can't host a costume brunch or parents night out and dress up? Hosting a themed party can be fun, it lets you use that costume more than once and gets rid of all that extra candy. Get together a bunch of your friends and their kids and pick a theme.
I recently went to an 80's themed 40th birthday party. The best part was I just reached in the back of the closet and grabbed an old costume I wore the year before and slipped it on.
Don't feel like having a formal Thanksgiving dinner? Mix it up this year and have your family wear their costumes instead. Don't forget to check out our article HERE for some ideas of how you can use the extra candy in your recipes too.
Repurpose
I love to repurpose. You can look around my home and closet and see many things on their second (and third and fourth) lives. Not only is repurposing thrifty but it's eco-friendly and a way to have something one of a kind.
Give new life to your old costume with just a little bit of creativity. Does your child have one of those slip on foam costume that's popular for toddlers? You can cut it apart after they wear it and make it into backpack or lunch bag. My son's slip over Cars 2 costume for this year will be reborn as a trick or treat container for next year.
Even if you don't know how to sew, you can use pieces of the foam costumes and cut it up to make stamps or let the kids make crafts for your family for the holidays. You take old costumes and make outfits for your pets, too.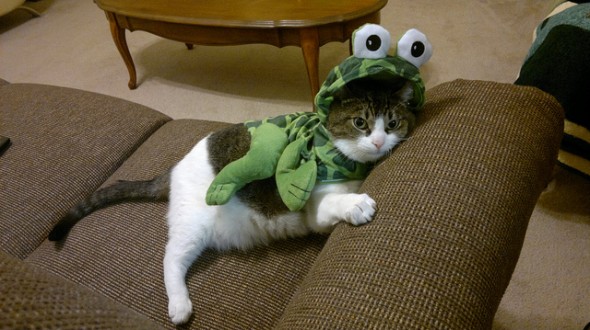 Reuse the fabric from this years costume and save it to make next years. Or you can use the fabric to create something else entirely. Extra fabric is always great for making reusable grocery bags, pillow covers or other home décor items that are easy to sew (some you can even sew by hand).
You don't even need to be crafty. Just grab an embroidery hoop at the craft store or thrift store and place your fabric inside. Voila, instant wall hanging!
Donate
There are so many kids in your community whose parents struggle with affording a Halloween costume. Instead of having your costume take up space in your closet, donate it to a charity that will place it in the hands of needy families for next Halloween. Contact your local women's shelter to see if they accept costumes (some may only accept certain times of the year). You can also try contacting a church in your area to see if there are families in need who will put that costume to good use.
Save and Sell
You can also choose to save your costume and sell it. Since it's difficult to find costumes all year round, people who need one off-season will usually look to places like Ebay first. You can list your costume online or save it until next fall and take it to a consignment shop. If you take it there now, you will risk it being marked down or given back as they usually sell the majority of their costumes during the early fall.
Host a Costume Swap With Friends
Get a bunch of friends together and bring a bag of you or your family's old Halloween costumes and swap. People do it with their kid's clothes, why not Halloween costumes? If there are any left over, donate to a charity or to the local thrift shop like Goodwill or Salvation Army. It's a great excuse to get together with friends and family and you will get your Halloween costume shopping out of the way for next year!
Do you have any other ideas what to do with your left over Halloween costumes? We would love to hear your suggestions. Leave us a comment below!
Photo Credit: coolmikeol; Wrathernaut