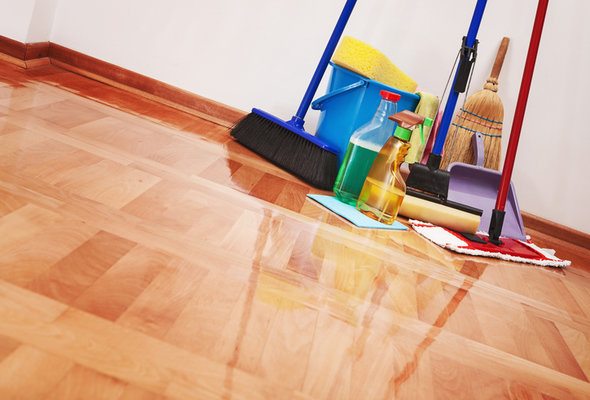 Have you looked at the commercial cleaners on the market lately? Not only are they expensive but they are filled with dangerous chemicals. Can you even pronounce half the ingredients listed on the bottle? I can't. Then you have the organic cleaners at your local Whole Foods. Although they don't have the chemicals that traditional cleaners have, you pay twice as much, forcing a lot of people to use the cheaper, chemical-filled brands.
Find out now: How much life insurance do I need?
The truth is you can complete spring cleaning of your entire house with three items most people have in their pantry – lemons, baking soda and vinegar. When I was growing up, on cleaning day, my parents house smelt like vinegar and lemons. My mom was organic before organic and all-natural was cool. You would never catch her buying a bottle of floor cleaner or bathroom foam at the store.
When I got my first apartment, I didn't take that wisdom with me. I turned to the chemical cleaners because I couldn't see how things that helped me bake and cook could compete with items made specifically with the purpose of cleaning. Fast forward a decade, I finally realized that the best (and cheapest) way to clean my home is the all natural way. If you are getting ready for your spring cleaning, try these homemade cleaners first. You may never look back and your budget will thank you.
Related Article: 5 Ways to Spring Clean Your Finances
Glass Cleaner
My mom's recipe was equal parts vinegar and water in a spray bottle. Although some people add alcohol or even cornstarch (yes, cornstarch), I still stand behind the tried and true recipe. Here's a tip for sparkling mirrors – wipe them down with newspaper (black and white) instead of cloth or paper towels.
Floor Cleaner
Mixing a half cup of distilled white vinegar into a bucket of hot water is a great floor cleaner. Not only will it clean and disinfect, you don't have to worry about your two and four legged children walking on it afterwards. Vinegar is completely non-toxic for pets and people.
Bathroom Cleaner
Distilled white vinegar is great at removing mold and mildew. Baking soda is also a great non-toxic abrasive cleaner. You can also get rid of soap scum, mold and mildew by wiping your tub down with vinegar and then using baking soda to scour.
Related Article: Does Shopping at the Dollar Store Really Save You?
Microwave Cleaner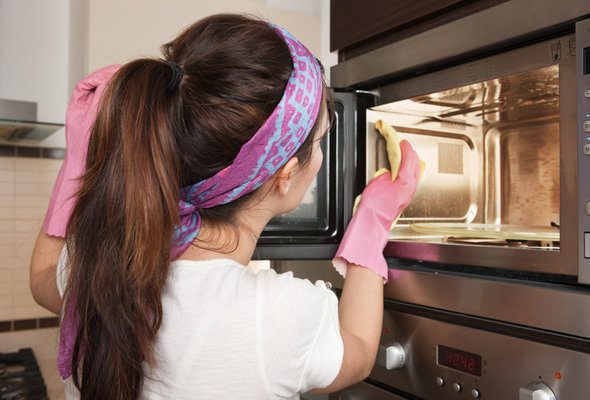 One of the most magical cleaning experience I ever had was with vinegar and a microwave. After my husband exploded another meal in my microwave and then left it sit and harden, I Googled easy ways to clean it that didn't involve elbow grease, an hour and a cocktail afterwards. I found an article that said to add 1/2 cup distilled white vinegar and 1/2 cup water in a bowl and place it in the microwave for a couple minutes (until it boils). When it was done, all of the stuck on food wiped off easily!
Stain Remover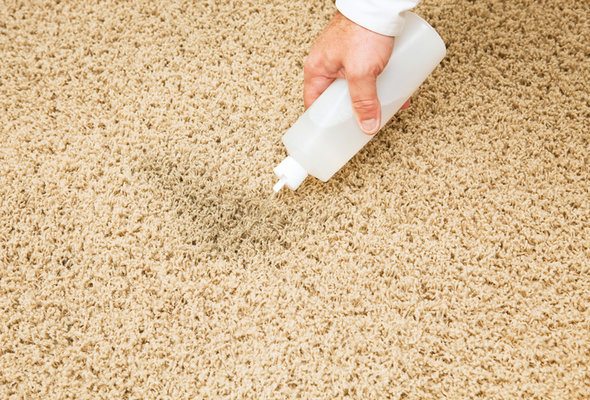 When we moved from our last apartment, we had a rust ring on our cheap counter top courtesy of an antique soap dish I found at a thrift store. I had given up and started estimating just how much our landlord would charge us for a new counter top when my mom asked if I had tried lemon and baking soda. I ran to the grocery store to get a fresh lemon and voila – it was gone. If you have a tough rust stain (or other stain) to get rid of, make a paste of baking soda and lemon, place it on the stain for a half hour and then scrub with a sponge soaked in hot water.
Odor Remover
Putting a box of baking soda in your fridge or freezer can neutralize odors. If you have a mystery smell that is lingering long after the thing causing it has been thrown away, baking soda can help keep the scent at bay.
Distilled white vinegar, lemon and baking soda are pretty cheap to buy. For pennies you can replace expensive cleaners. Your body will also thank you for going chemical-free.
Related Article: 5 Home Remedies to Save You Money
What DIY cleaners have you tried for spring cleaning? Share with us your homemade cleaning recipes below!
Source:©iStock.com/wabeno, ©iStock.com/craftvision, ©iStock.com/BanksPhotos