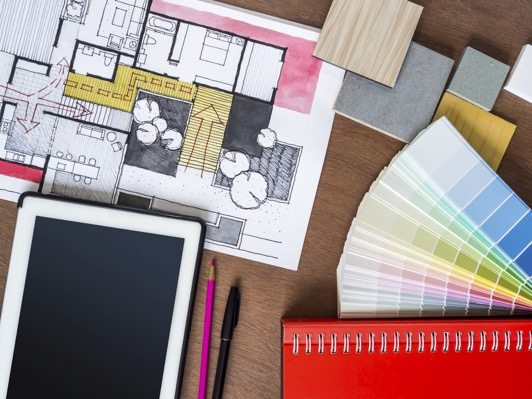 Sometimes you may look around your home and wonder how it ever got this way. Meanwhile you see gorgeous decor images all around you. Looking through Restoration Hardware, Pottery Barn magazines, and Pinterest boards can provide a lot of inspiration to spruce up your space, but sometimes they are too expensive to implement for your budget.
Check out our refinance calculator.
Fear not, there are many items with re-purposing potential already in your possession. The first step involves taking an inventory of all the decorating resources in your home. Categorize them into pieces that can be kept as is, those that need to be repaired or re-purposed and those that cannot be salvaged. Then, figure out how to change a piece's function or appearance to maximize the appeal of your space using our tips.
1. Organization is the key to decorating.
Highlight attractive shoes, jewelry, books or other objects around your home in shelves on a desk, table, or even on the walls to bring some beauty from the closet to the forefront. Also, use furniture with storage functions to increase organization and space.
Related Article: 5 Cheap Ways to Stage the Home You're Selling
2. A great space is pointless if no one can see it.
Improving the lighting in your home can make a big difference. Try spray painting an existing lampshade or buying a fresh one to ensure the best brightness without buying a whole new fixture or lamp.
3. You don't have to buy new.
Even if you can't afford a new couch or chair and are sick of looking at the same upholstery, try recovering it in a new pattern or throwing a simple painter's drape, blanket or scarf over the piece to improve the appearance. New accent pillows are also a cheap fix and there are dozens of affordable, fabulous options.
4. Focus on the windows.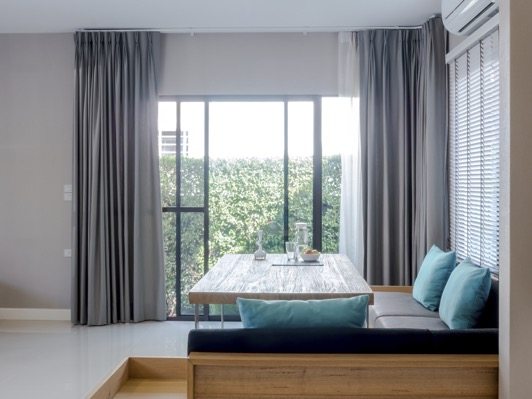 Window treatments are a great option to bring more light and beauty into a home. New curtains can make a huge difference in a space – and raising the curtain rod to the ceiling can bring new height to any room.
5. Hang things you already have.
If you can't afford art, try framing family pictures, children's artwork, posters from the past, or hang framed vintage mirrors to spruce up the wall and bring a new dimension to any room. This can have a much warmer and personal feel than some fancy artwork.
6. A little embellishment can go a long way.
Hang pictures with ribbon or throw a scarf or rickrack around your lamp and side tables to brighten the decor. Use wallpaper, wrapping paper or fabric remnants to line the backs of boring bookcases. Throw a fresh coat of paint with intricate and artful designs to bring a modern and comfortable feel to your home.
Related Article: How to Decorate a College Dorm on a Budget
7. Buy small, cheap items to update the look of your home.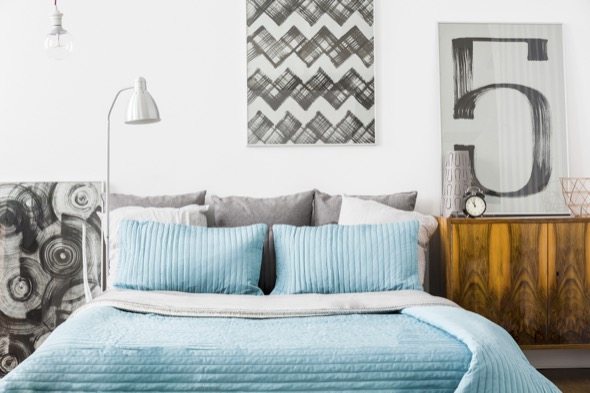 If your bedroom needs a lift, try updating the sheets or adding a new headboard instead of replacing the bed or any other furniture. Play with patterns and colors to create a bold new look.
8. Rearrange the room.
This is the easiest and most successful of all the tips. If you are sick of how a space looks and need to spruce it up, you don't need to spend any money at all. Just move the furniture around and try a new perspective with existing pieces.
A new perspective on your existing belongings can turn a home from drab to fab. I hated looking at my ugly storage boxes in my small apartment so I decorated them by collaging magazine cutouts and newspaper clippings. These simple approaches can make a big difference in home decor so be sure to make the most of every piece before breaking the bank on redecorating!
Related Article: Appliances Worth Investing In
Photo credit: ©iStock.com/Naphat_Jorjee, ©iStock.com/KatarzynaBialasiewicz, ©iStock.com/Naphat_Jorjee