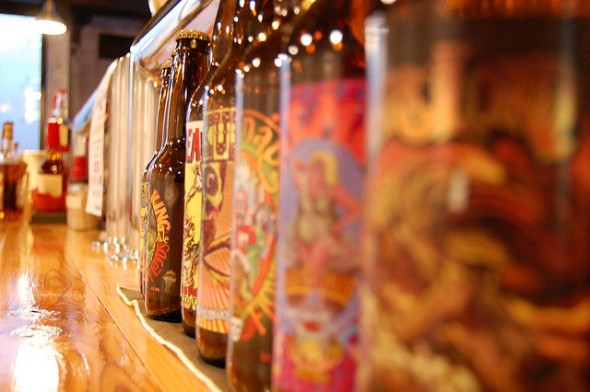 Rich, poor, or somewhere in between: every class of society enjoys a drink or two. Unfortunately, drinking well typically requires one to spend near-exorbitant (and sometimes downright flashy) amounts of money on a product that is, essentially, delicious poison. For the everyday imbiber, beer is a logical choice.
Check out our refinance calculator
"You have to work hard to deserve to drink it." -Ernest Hemingway on beer
Beer is readily available and also a cultural symbol attached with the working class. It's also cheap, but that often means you have to sacrifice taste and- let's face it- class. Since the well-documented rise in micro craft brewers, however, even hard-partying frat boys may have an inclination to turn their nose up at a 30-rack of cheap domestic. Luckily, there are a number of palette-pleasing, wallet-appeasing craft beers available.
Sixers Under $10
For whatever reason, spending under ten bucks on anything is such a huge selling pint, er, point (ba-dum, tss!). These breweries offer six-packs at the right price, and are best enjoyed in front of others who spent similar amounts for inferior products:
Dogfish Head 60 Minute
Anything by Great Divide
Boulder Beer Hazed and Infused
Anything by Flying Dog (a personal favorite)
Ye Olde American Stand-bys
Sure, Budweiser is near synonymous with "USA." 12-packs of Coors can still be found at almost every BBQ and college campus. Let's not forget, however, these very American brews that are easy on the wallet and offer up some blue-blooded nostalgia to boot. Here are a few classics from the experts at First We Feast:
Yuengling, founded in the mid-19th century, is the oldest brewery in the country. It's what history tastes like.
Saranac Black Forest was the first licensed for-sale beer following Prohibition. It tastes like freedom and the end of repression.
Point Special was the beer that Civil War troops enjoyed during a not-so-enjoyable period of time. It tastes, well, civil.
Resourcefulness is the New Thrifty
When all else fails, and you have no choice but to finish off that dreadful 30-pack of crappy domestic, get crafty with stuff in your fridge. There are simple hacks that can make your beer not only taste better, but be far more aesthetically pleasing than the Silver Bullet can. Sidenote: these beer recipes and cocktails make a great addition to the perfect (and money-saving) tailgate event.
Lime has made boring things lively for centuries. Beer is no exception. Lime beer cocktails are as easy to make as they sound, and can clean up nice in a salt-rimmed pint glass.
Even though Bloody Mary's get a ton of credit for being hangover cures and the best Brunch Booze, Micheladas are the go-to of many chefs. The spicy beer cocktail is an excellent way to get some "hair of the dog," and carbonation is a hungover person's best friend. There are many ways to make a Michelada, so experiment!
The Shandy rocks a hardcore summer rep, but I say everyone can use a bit of sunshine, any time of the year. Plus, all you need is a sweet carbonated beverage like ginger ale, or some good ol' lemonade. Finally, a way to have the endless summer!
Just to Get By
Let's be realistic: if you are strapped for cash, you could definitely use a drink. You've been working hard (or looking hard for work; amirite, freelancers?), and need to let off some steam. Fortunately, there are options for us perpetual penny pinchers that don't taste like the dorm days. We can drink to that. Cheers!
Photo Credit: NewBrewThursday