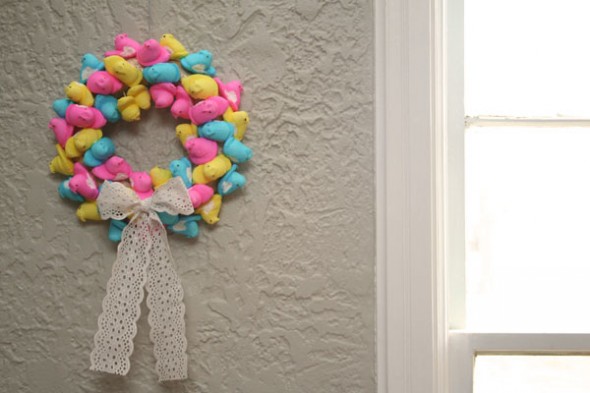 Spring is finally here after what seemed like the longest winter ever. That also means that Easter is right around the corner. Are you looking for crafts to do with the kids to get ready for Easter? Heading to the local craft shop and buying supplies is expensive. You can easily drop big bucks there. Why not look for inexpensive items in your home? Here are some fun crafts that are almost free, can be used to decorate your home and keep the kids busy.
Related Article: Decorating on a Budget: 8 Simple Ways to Use What You Already Have
Look in Your Fridge
If you are looking for a craft that kids love, look no further than your refrigerator. Most people have eggs in there. You can hard boil and dye them. If you are really crafty you can blow the yolk out of the egg.
If you do it correctly it leaves the shell intact so you can use it for some of the following crafts (for a demonstration, check out this YouTube Video from Modern Mom). To be thrifty, don't throw away what you blew out of the egg. Use it for baking or an omelet.
What can you do with the egg once it's hollow? The possibilities are endless. You can roll it in glue and dip it in glitter. (Don't forget to finish your project off with a spray of a clear topcoat or your whole house will be glitterific. Trust me on this one.)
You can also let the kids use their creativity and paint on the eggs or draw silly faces. My personal favorite? Eggs decorated like Angry Birds. You can make a decoupage egg by using decorative paper, magazine clips, paper scraps, sheet music or anything else that you could glue to it.
Hit The Hardware Store
I am a paint sample hoarder. You know, those pieces of card stock you can pick up for free at your local home improvement store? They live in my junk drawer and hang around in case my husband ever wants to tackle his honey-do list.
While I was surfing around on Pinterest, I found some creative Easter crafts made from paint cards that would be fun for kids. Head over to your local home improvement store and grab a couple or ask your friends and family if they have any sitting around in their drawers.
What can you do with these little cards? You can use them to make a bunting, wreath or place cards for your Easter dinner. It's pretty simple. You make an egg template, trace it on the paint sample, cut it out. Repeat about 50 times. If you have a few dollars to spare, you can look for an Egg shaped paper punch to do the work for you. You can also make a template shaped like a bunny or a chick.
Related Article: 5 Awesome DIY Gifts That Will Save You Time and Money
Raid the Candy Stash
If you are like us, you have way too many Peeps and jellybeans hanging around the house at Easter. Why not use some of them for your Easter crafts?
You can glue Peeps together to make a wreath, put them in clear vases as filler for a flower arrangement, or you can use them to make a topiary. If you are looking for more Peep ideas, check out this article from Dollar Store Crafts. Stock up during the clearance sales after the holiday to get the Easter candy cheap. Keep them in the closet for your craft projects next year.
Your kiddos will love these crafts and your budget will too. By using things you have or can get for cheap, you won't need to spend a small fortune at the craft store. You will have hours of activities for the kids and new decorations for the house!
Get creative – look for other materials around your house that you can re-purpose. You'll never look at a bag of jelly beans the same way again.
What's your kids favorite Easter craft? Leave your suggestions in the comments below!
Related Article: The Business of Pinterest- Is It a Marketer's Dream?
Photo Credit: triedandtrueblog.com