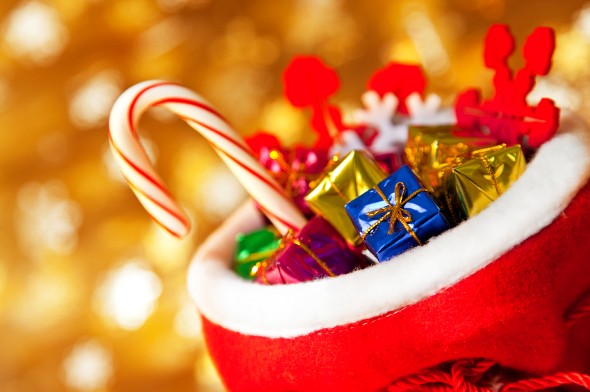 Christmas isn't all about the gifts hidden under the tree. For many of us, hanging stockings over the fireplace is an annual tradition. If you're guilty of filling stockings with lackluster gifts like pencils, candy and sticky notes, it's time to step up your game. Check out these seven great stocking stuffers that you can buy without taking on credit card debt.
Check out our credit card calculator.
1. Winter Accessories
Since the cold weather isn't going anywhere for another three or four months, everyone will need to dress in layers to keep warm. So it makes perfect sense to fill up your stockings with winter gear.
It's possible to find inexpensive gloves, scarves, ear muffs and hats if you're on a budget. And if you've blown your last paycheck on your other gifts, you can buy warm, fuzzy socks that cost under $10.
2. Portable Phone Charger
Is there someone in your family who always ends up with a dead cell phone? They forget to carry around their phone charger and when they do remember to bring it, they claim that there aren't any available outlets. The best way to resolve this problem is to stick a portable charger in your loved one's Christmas stocking.
Portable phone chargers are actually relatively inexpensive and if you search for one through a third-party retailer like amazon.com, you might not have to spend more than $15. If you have family members who spend a good part of their day stuck in traffic, a car charger could be an even better stocking stuffer.
Related Article: Have Yourself a Frugal Little Christmas
3. Cosmetics
Many women enjoy expressing themselves with makeup and other cosmetics. If you can't think of anything else to put in your daughter, sister or girlfriend's stocking, you can head to the nearest drugstore and stock up on lipstick, eye shadow, mascara and nail polish. Of course, this only makes sense for loved ones who wear makeup and think of it as a hobby. If you're not sure whether the woman you have in mind wears cosmetics, it's better to skip this idea. Otherwise, it could come across as an impolite suggestion, not a thoughtful gift.
Buying cosmetics from a specialty retailer isn't necessary because many supermarkets and convenience stores sell quality cosmetics that don't cost a fortune. And some businesses, like Sephora, hand out free samples. If your relative already has plenty of makeup, you could buy her a new makeup bag instead.
4. Card Games
Parents usually have their work cut out for them during the holidays. While they want to surprise their kids with the latest toys, they don't want to fall into a debt spiral that they can't escape.
A deck of regular cards or Uno cards could be fun stocking stuffers for your kids. They won't cost as much as video games and your children can use them to bond with the rest of the family.
5. Coffee or Tea Bags
If you have relatives who can't function without their morning coffee, you can put a few bags of coffee in their stockings this year. It's not hard to track down cheap coffee brands and you'll be saving your family members a lot of money and time in the mornings. Tea bags can be good gifts for the non-coffee drinkers.
The Attack of the Surprise Gift Givers- Last Minute Holiday Gift Ideas
6. Headphones
One general assumption is that the more expensive a pair of headphones is, the longer it'll last. While that tends to be true, there are headphones that you can purchase for less than $20 and keep for at least a couple of years.
Headphones can be nice stocking stuffers for people of all ages because they're items that people often lose or break. If you're planning to save up and buy someone a pricey pair of headphones, they can use the cheaper pair temporarily until you have more cash on hand.
7. DVDs
Chances are that everyone you know watches the majority of their movies on the internet through Netflix, Amazon Prime or Hulu Plus. Nevertheless, there are tons of old movies and shows that you might not be able to find through an online streaming service. A DVD can be another good item to shove into a Christmas stocking. And after all the other presents have been opened, it's a gift you can start using right away.
Bottom Line
The best stocking stuffers don't have to cost you a fortune. You can purchase some of the items we've suggested without dipping into your savings and taking on excess debt. And once you've filled your stockings with inexpensive but brilliant gifts, emptying their stockings will become a tradition your family members eagerly await.
Photo credit: ©iStock.com/dem10, ©iStock.com/urbancow, ©iStock.com/gpointstudio