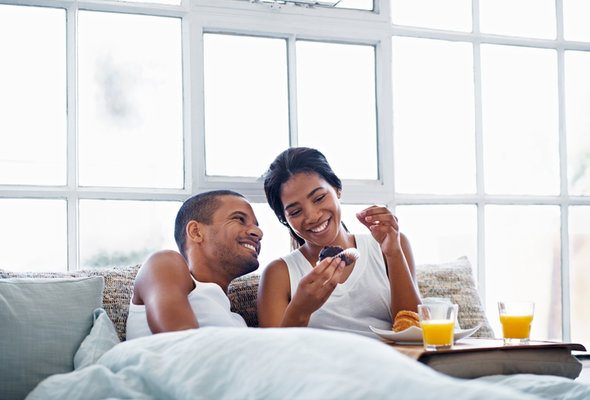 Valentine's Day can be the most romantic day of the year. Many people go out to a fancy restaurant and shower their love with gifts, candy and flowers. Because of this, Valentine's Day can be killer on the budget. What about those of us struggling to make ends meet? You still need to celebrate, but we have some suggestions how to have a romantic Valentine's Day without busting the budget.
Check out our student loan calculator.
Head Out For Dessert Instead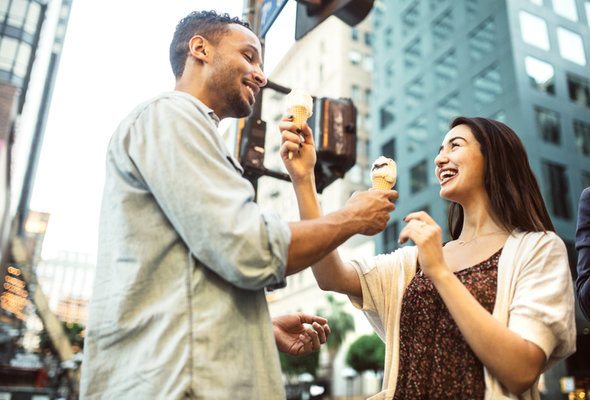 Dinner is so expensive and dessert is the best part of the meal anyways! To attempt dinner on Valentine's Day can be frustrating. If you didn't make reservations, you may be stuck in a chain restaurant vestibule with people you don't know and a small buzzer waiting for hours to get a meal. Instead, make a romantic dinner at home and then head to your favorite restaurant or café to have a special dessert.
My husband and I did this one year for our birthdays. I love our local fondue restaurant, but the budget didn't allow an expensive dinner. So we made a special dinner at home and went out for dessert instead. We spent around $20 instead of the $80 we would have spent on drinks and dinner. You will miss the crowds later in the evening at your favorite restaurant. Or if you choose a café, you can avoid the crowds all together.
Your Own Personal "Love" Tour
If you live close to where you met and started dating your significant other, you can plan a romantic tour of how you fell in love. Make stops at places that mean something to you – where you had your first kiss, where you met, the first place you said I love you. It's a way to bring back wonderful memories. To add to the experience you can take pictures at each "checkpoint". Gas up the car, grab some hot chocolate and snacks and go on a romantic mini road trip down memory lane.
Related Article: The Surprise Gift to Make Your Valentine Happy
Romantic Picnic in the Great Outdoors
If the weather permits, pack up some items to snack on and plan a romantic sunset picnic. If it's cold outside – grab a blanket, make a bonfire (with care) and pack some hot chocolate. If you are lucky enough to live where it's warm, you can skip the bonfire and head to a lake or other romantic spot where you can enjoy each other's company. Pack some food, bring a bottle of wine and bring some chocolate covered strawberries (try this recipe from Food Network).
Takeout Taxi and A Romantic Evening at Home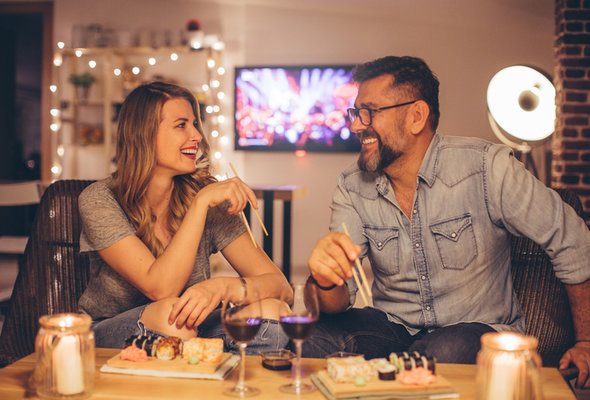 If the hassle and expense of eating dinner out on Valentine's Day isn't your cup of tea, why not order takeout from all your favorite restaurants? Do you like the appetizers at one restaurant but the deserts at another? "Make" your perfect meal. You will save money as you won't be buying drinks or leaving a 20% tip, plus you can enjoy a quiet low key night with the one that you love.
Try avoiding the crowds and craziness of Valentine's Day this year with one of our budget friendly alternatives. The important part is to spend time with your love. If you feel you absolutely must spend Valentine's Day eating a fancy dinner – start keeping your eyes peeled now for a Groupon or other daily deals at local restaurants (just make sure there are no holiday restrictions).
Do you have any tips on how you and your significant other can spend Valentine's Day frugally? Share with us in the comments below.
Photo Credit: ©iStock.com/kupicoo, ©iStock.com/RyanJLane, ©iStock.com/svetikd