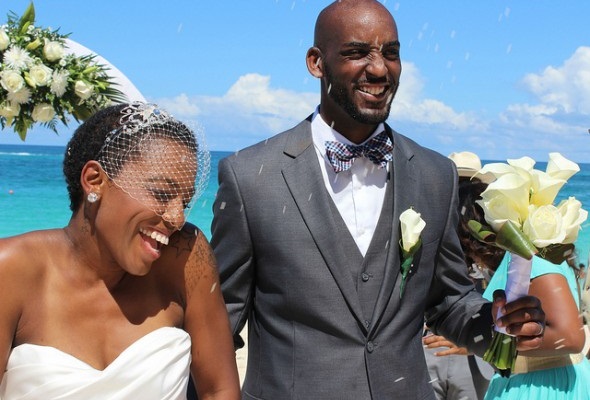 Ahhhhh, newlywed bliss is so divine. As any newlywed can attest, we wish that could last forever. While you and your new spouse may agree on what the future holds, you may have different ideas on how to get there. In order to keep some aspects of that wedded bliss alive, you've got to talk about your finances.
Find out now: How much house can I afford?
Having That Awkward Conversation
The key here is communication. Yes, it can be awkward to talk about money, especially when you're financial situation isn't that great. A recent study shows that 45% of people think discussing their credit and financial situations with a fiance would be awkward with 7% believing it would lead to a fight. What's interesting about that statistic is that Psychology Today cites one of the most common causes of divorce in the United States is fighting about money. But don't worry, newlyweds! You can reduce the fights later by talking now.
Related Article: Don't Get Tied Up in Knots Tying the Knot
Get on the Same Money Management Page
If you or your spouse is a bad money manager, that can lead to some very serious problems in the future. It may even be leading to problems already. It may be hard to confront your new partner, or even yourself about your own financial issues, but it's got to be done. If one of you or both of you is a bad money manager, it needs to be addressed immediately.
Here are some signs of bad money managing:
Always being stressed about money.
Living paycheck to paycheck.
Having multiple loans outside of a mortgage or education loan.
High credit card debt even with a good salary.
Have a Real Conversation About Your Situation
It's time to sit down and have that conversation. If you want to get out of debt, and learn to manage your money together, it's got to be done. Come up with a plan on how you will do that. Whether it's cutting out some amenities like eating out, or it's simply know what each other's financial situation really is, creating a plan will help.
Not all financial situations are easily fixable. Some of them aren't. But if you want to give your fledgling marriage a fighting chance, having a discussion as newlyweds about your finances and creating a plan is part of creating that foundation.
Related Article: The Expensive Honor of Being a Bridesmaid
Photo Credit: flickr.com/photos/myfriendisaac/