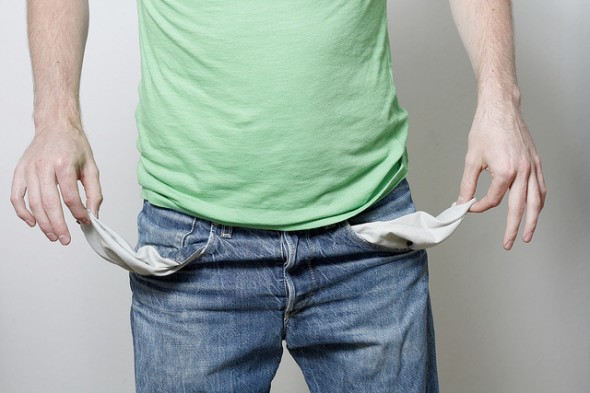 Everybody likes saving money but how you go about it can make a big difference in how quickly those extra pennies pile up. Clipping coupons and slashing your budget down to the bare bones can certainly help you grow your cash cushion but there are some savings habits that may leave you feeling shortchanged. If you've employed any of these tricks to try and save a few extra bucks, you could actually be costing yourself money in the long run.
Check out our budget calculator.
Buying Something Because it's On Sale
Buying things on sale is a great way to get a discount but a habit of buying things you don't really need just because they're marked down is a surefire way to end up with less cash in your pocket.
Even though something may seem like it's too good of a deal to pass up, you need to ask yourself whether you'd be buying that thing if it wasn't on sale. If the answer is no, then chances are you really don't need it in the first place.
Spending More to Get a Discount
One of the ways that retailers draw in customers is by advertising specials or deals that give you a price cut for spending a certain amount. For instance, you may qualify for free shipping if you spend $50 a more or get a 15% off on purchases over a certain dollar amount.
Taking advantage of these offers is a great way to save money but only if you were planning on spending that much in the first place. If you have a habit of loading up your shopping cart with stuff you don't really need just to qualify for a discount, you're not actually saving anything at all.
Using Store Cards for a Discount
Just about every major retailer these days offers its own store credit card but buyers should beware before signing up for one. Opening a store credit account to get ten or twenty percent off your initial purchase may seem like a no-brainer but it could turn out to be a costly move.
These types of cards tend to have much higher interest rates than other types of credit cards, which means if you're carrying a balance you'll likely end up paying more for the items in the long run even with the discount. If you'll only be using the card once for a major purchase and paying it off in full then you can save money using this method. Otherwise, it's better to steer clear of store credit cards altogether.
Paying for Coupons
Sites like Groupon and LivingSocial are magnets for shoppers who are looking for a deal but if you're not careful, you may end up getting less than what you bargained for. Deals are typically time-sensitive, so if you don't use that coupon before the deadline you're essentially throwing money away.
When you're cruising coupon and deal sites, you need to make a habit of reading the guidelines carefully before you make a purchase. You should also avoid the temptation to snag deals on products or services if you're not 100% sure you're going to use them.
Buying on the Cheap
More often than not, the old adage of "you get what you pay for" proves to be true. If you have a habit of trying to save money by buying the cheapest things possible, you may find yourself replacing those items faster than if you had just invested in higher-quality goods to begin with.
When you're shopping on a tight budget, you may need to pick and choose carefully those items that you're willing to pay more for and those that you can afford to spend less on. Bargain bin purchases may seem like a great find but they could cost you two or even three times as much in the long run.
Saving money is a marathon not a sprint and the more diligent you are, the faster you'll see your dollars and cents start to grow. The next time you come across an opportunity to save, you need to make sure that you're getting the most bang for your buck in terms of the effort and expense involved.
Photo Credit: flickr