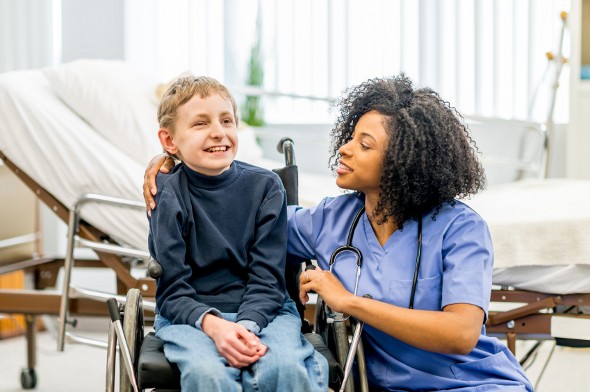 When you have a child or another dependent who has a disability, providing them with necessary care can be extremely taxing both emotionally and financially. In December 2014, the Achieving a Better Life Experience Act was signed into law with the goal of relieving some of the financial burdens that families of disabled beneficiaries face.
Find out now: How much do I need to save for retirement?
The act expands certain provisions of Section 529 of the IRS Code and allows for the creation of a new savings account designed for people with disabilities. Called ABLE accounts, these plans offer a number of benefits to savers.
How do ABLE accounts work?
Under the terms of the Achieving a Better Life Experience Act, the new ABLE accounts would work similarly to a 529 college savings plan. They'd be administered at the state level and family members or friends could contribute to the account on the beneficiary's behalf. The total annual contribution limit is set at $14,000 for 2015, which is the same amount as the current gift tax exclusion limit.
To qualify as a beneficiary, the person must have become disabled before he or she turned age 26. The person who owns the account on the beneficiary's behalf would be able to take distributions from the plan tax-free as long as the money is used to cover qualified disability expenses.
Contributions to an ABLE account wouldn't be deductible on your federal taxes, the way they are when adding money to an IRA account for retirement. But it will be left up to each state to decide whether to offer a tax break to residents who save money in one of these accounts. It's expected that each of the states will move pretty quickly to establish their own ABLE plans.
Top 5 Reasons to Have Disability Insurance
Do ABLE accounts impact public assistance eligibility?
Public aid programs like Medicaid, SSI and the Supplemental Nutrition Assistance Program are often used to fill the gap for many individuals with disabilities and their family members. Each state has specific guidelines for determining who qualifies for aid through these programs and one of those requirements centers on the amount of assets the disabled person has access to. Applicants are required to report any assets over $2,000 when applying for aid.
Going forward, any money saved in an ABLE account would not be taken into consideration when determining eligibility for government-funded assistance, up to the first $100,000. Once your account hits the $100,000 mark, the beneficiary would no longer be eligible for Supplemental Security Income (SSI) Benefits – which come via Social Security – but they would be able to qualify for Medicaid. If there's still money in the account after the beneficiary receiving Medicaid passes away, the state would require the account holder to repay any public benefits received.
How to Shop for Disability Insurance
How does an ABLE account compare to a special needs trust?
A special needs trust allows you to set aside money for the ongoing care needs of someone with a disability without affecting their Medicaid or SSI eligibility. Unlike ABLE accounts, you can set up certain special needs trusts regardless of how old your beneficiary is or when their disability occurred and there are no limits on how much money you can put into the trust. The funds can also be used to pay for expenses that ordinarily wouldn't be covered by Medicaid, such as grooming or personal care.
There's a trade-off, however, since money taken out of the trust on behalf of the beneficiary is subject to tax at their regular rate. Special needs trusts can be expensive to set up and maintain and if you don't have a substantial amount of money to put into it. An ABLE account might be a more affordable option. On the other hand, if you're fairly well-off, opening an ABLE account in addition to a special needs trust can reduce the amount of taxes you're paying on distributions for your beneficiary's expenses. In the end, it comes down to what your beneficiary's short- and long-term needs are and what you can afford to save.
Photo credit: ©iStock.com/Christopher Futcher