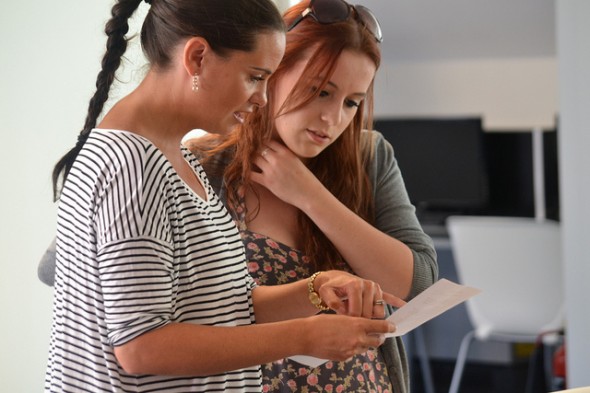 Student life is busy: school, internships, part-time jobs, friends, dating, and staying involved on campus. It may seem easier to worry about grades than your credit score, but college is a great time to start building credit. The key is to take calculated steps in becoming financially independent. Using a credit card can be a way to do that. Here's a list of tips for college students who are ready to begin establishing credit.
Check out our student loan calculator
1. Choose the right credit card for you
Understanding credit card features, benefits, and trade-offs all help you determine which card works best for you. Identify with parents or a counselor which aspects are important to you and find the card that matches those desires.

Related: Credit Card Offers for Students
2. Understand your card
You see the terms in all that junk mail sent to your campus address, but do you know what they mean? There are 3 key terms involved in credit cards: APR (annual percentage rate – how much interest you are charged in carrying over your balance from month to month), fees (annual, application, processing, cash advance, late, balance transfer – beware and look for a card with low annual fee or none at all), and rewards (cash back or bonus cash contingent on categorical shopping, expiration dates, quarterly enrollment requirements and earning limits). Credit card issuers are required to provide a simple explanation of the program before you apply so be sure that you know how to work the card to your advantage before you begin spending.
3. Make a budget
Set specific guidelines and spending limits for yourself and what can be charged on your card. Plan spending ahead of time so each purchase is properly thought out and kept track of. Keeping a spreadsheet on Excel is an easy way to maintain your budget and see the relationship between income and spending.
4. Use your credit card for small, recurring purchases
Responsible card holders pay on time. Use the credit card for small purchases that you make every week or month, like at the grocery store. These regular expenses should not be troublesome payments to make and will establish a balance of spending money effectively and intelligently.
5. Protect your card
Do not share your card information or let others use your credit card. Make sure to keep it in a safe place and out of plain sight while on campus or anywhere else. Most identity thefts occur by someone the victim knows. To avoid this, be sure to keep the information and the card itself well protected.
6. Stay on top of credit card payments
Always keep in mind when bills need to be paid. Keeping up with payments is the best way to build good credit and sets up a beneficial behavior that should be carried through life. Remember to never charge more than you can pay for when the bill arrives.
7. Unsubscribe from mailing lists that pressure you into spending
Staying on top of all the sales and deals in this world can be a full-time job in itself. Do not let temptation cause you to overspend and use your credit card more than you have budgeted for. Keeping off mailing lists that constantly remind you to spend money is the first step in avoiding the enticement.
8. If possible, find a job that pays in cash
Or track your back account on hand with phone and tablet apps. Having money on hand makes it easier to manage and keeps you from spending more than you have. Just don't forget to take notes and save for tax season!
Follow these steps and adult life should seem a lot less intimidating. Understanding personal finance is an important skill to obtain while in college in preparation for the future. A credit card is a valuable financial tool and managing payments is a big step for college students to learn responsible spending decisions.
Photo Credit: Gabbitas_UK