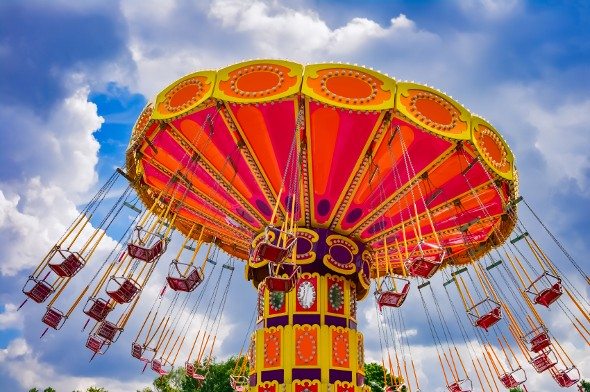 Theme parks are expensive. Entering a place like Disney World will cost you around $100 per person, plus tax. Once you're in the park, you'll likely pay a premium for snacks and drinks. But amusement park trips don't automatically have to cost you hundreds of dollars, particularly if you make an effort to find ways to save. Here are seven tips that can make your next trip more affordable.
Check out our budget calculator.
1. Track Down Cheap Tickets
If you're planning a visit to Six Flags or Sea World, the bulk of the money you spend during the day will probably go toward purchasing the entry tickets. Luckily, there are multiple ways to reduce the price you pay for admission.
For example, buying your tickets online instead of at the gate can significantly lower your entry fee. So can trying to land a discount through a group like AAA. Sometimes grocery stores and drugstores also offer cheap tickets to certain parks.
2. Take Your Own Photos
While you might enjoy the snapshot of the your son or your brother screaming while riding the tallest roller coaster in the park, it'll likely cost you a pretty penny. If you're working with a limited budget, you're probably better off taking your own photos. That means you might have to choose someone in your family to act as the photographer for the day or take turns playing that role.
3. Bring the Right Bag
If you're determined to spend as little as possible, it might be wise to bring a light backpack that can hold everything from cameras to sunscreen. If you don't come prepared or you bring a bag that's too small, you could easily end up wasting money on a locker. Every cent counts, especially if you're in the process of paying off credit card debt or student loans.
Try out our credit card calculator.
4. Pack a Lunch
Theme parks tend to mark up the cost of food and beverages. This tactic usually works. Even if people complain about having to pay too much for their pretzels, popcorn or pizza, they often buy them anyway. Otherwise, they won't have any access to food unless they leave the park.
Instead of starving yourself or buying the overpriced meals, you can make your own lunch at home and store it in a bag or a cooler. If the park doesn't allow you to bring in outside food or drinks, you can leave whatever you've made in the car. You'll just have to decide when to take a break from the rides so that you can eat.
5. Bring Your Own Bottle
It's important to stay hydrated during your amusement park visit, especially since you could be out in the hot sun for a long period of time. To avoid overpaying for bottled water, you can simply bring your own empty, reusable water bottle and fill it up at the water fountains in the park. Or you can check with the park restaurants to see if they offer free cups of water or at the very least, free cups of ice.
Related Article: The Economics of Disney World
6. Time Your Visit Carefully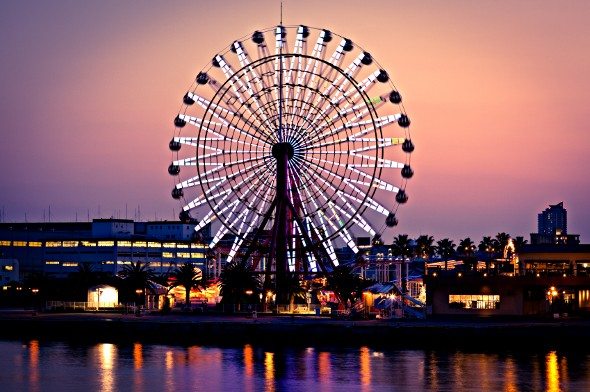 There's no rule saying that you can only plan a trip to a theme park over the summer or during spring break. In fact, visiting one during the fall or another off-peak time might be a good idea if you want a better shot at getting cheaper tickets. Plus, if there are fewer people inside of the park, the lines won't be as long and the experience might be more fun overall for you and your family.
7. Don't Get Tricked Into Spending More
Employees in the retail and food services industries are usually taught to upsell. In other words, they're often trained to offer customers specials deals in exchange for purchasing extra items. If you have to buy something at an amusement park, it's best to watch out for these kinds of tactics. Also, skipping the souvenirs or buying them at a shop outside of the park can be another effective way to save money.
The Takeaway
A trip to an amusement park doesn't have to cost an arm and a leg. If you plan ahead and think of ways to cut costs, you can enjoy your roller coaster ride without feeling the least bit guilty.
Photo credit: ©iStock.com/12ee12, ©iStock.com/Juanmonino, ©iStock.com/Olaf Loose