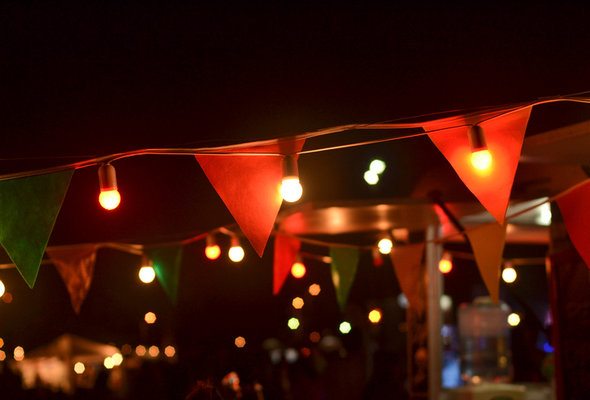 With summer holidays around the corner, barbecues and holiday parties will soon be upon us. However, there is absolutely no need to break the bank when entertaining friends and family. Here are our top seven recommendations for throwing a party while maintaining your wallet's composure.
Find out now: What card is best for me?
1. Use an Electronic Invite Service
Online invitation services make it easy to go above and beyond a simple plain-text email or a Facebook event—not to mention, they're a great way to save money and paper. The classic Evite.com offers a wide variety of free and easy-to-customize card templates for a many occasions, efficient guest list management, and party-planning tools for managing your budget. Pingg.com features stylish invites that can be issued via email, Facebook, Twitter, text message as well as inexpensive off-line mailing, and best of all, a potluck tracker to keep dishes organized.
2. Keep Your Guest List Intimate
While throwing an all-out festive bash may seem tempting, a smaller party is easier to plan and execute budget-wise and will allow you to spend more time with your guests. Mix up your guest list between old and new friends and singles and couples, and above all, focus on surrounding yourself with those whose company you enjoy.
3. DIY Your Decorations!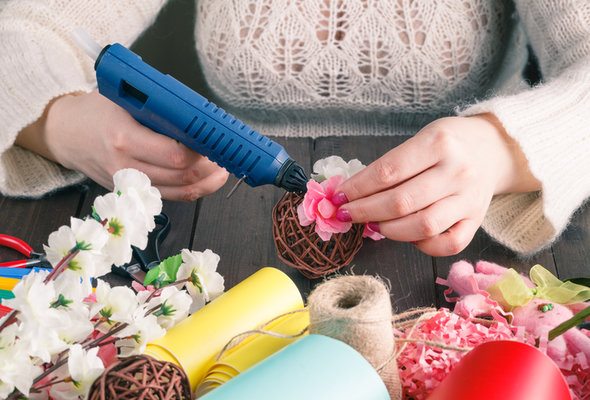 As the DIY décor boards on Pinterest will show you, you probably have far more crafting supplies in your house than you would think (a little gold spray paint goes a long way). It's a good idea to try to use decorations that can be re-used for different events, and focus on transforming your food presentation in simple ways.
Icicle-style Christmas lights strung around a spray-painted hula hoop make a creative outdoor chandelier. A seasonal centerpiece like pine cones, flowers or holiday ornaments arranged around tea lights in mason jars can add instant class to a buffet table.
4. Make It a Potluck
Tap into your friends' culinary talents and save money and time in the kitchen by asking your guests to each bring a small dish to share. Whether or not you choose to provide a main course or heartier fare, suggest that your guests bring easy-to-serve snacks and finger foods that can be arranged on your own serving trays and plates, and make sure to maintain a list of who plans to bring what. As mentioned above, Pingg.com makes that easy.
Related Article: How to Save When You Live Paycheck to Paycheck
5. Booze It Up!
You can utilize some of your food budget savings for creative cocktails! Signature drinks can make your holiday party one to remember and aid in controlling liquor costs. They can also help you build a base of common drink mixers that will come in handy for future parties.
You can browse through Pinterest or Delish, select two to three mixed drinks. It's best to make sure that at least one can be served without alcohol as well.
6. Don't Underestimate the Value of a Good Playlist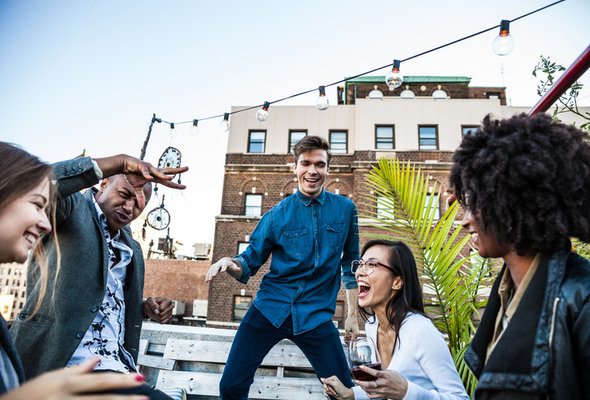 Besides having a good attitude and appealing snacks, nothing does more to create a welcoming atmosphere than music that you and your guests enjoy. Keep it low enough to accommodate conversation and loud enough that everyone can sing along with holiday favorites or well-loved classics. If you don't have time to carefully curate your own musical selection, browse through an extensive selection of playlists categorized by keyword, genre or artist at 8tracks.com.
Related Article: 7 Mistakes That Make Your Holiday Party Look Cheap
7. Leave Your Guests With Something Sweet
A smaller guest list also ensures that you can provide goody bags without breaking the bank. Homemade holiday treats like peppermint bark or cookies presented in cellophane bags wrapped with ribbons are a simple gift that will no doubt be appreciated by party-goers.
Bottom Line
These tips should leave all your bases covered for your holiday shindig, hootinannie, or box social. And you won't have to worry about racking up credit card debt.
Photo credit: ©iStock.com/AnionSuarez, ©iStock.com/AndreyCherkasov, ©iStock.com/LeoPatrizi