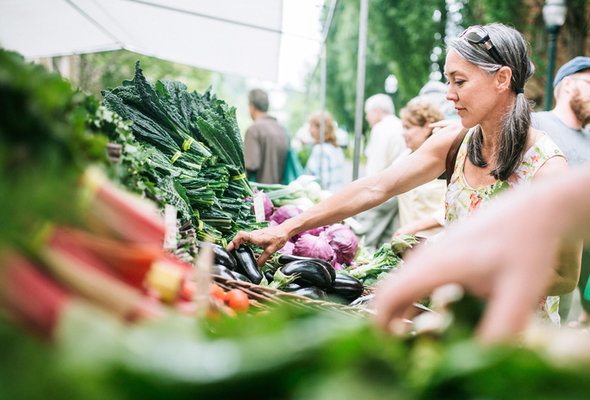 For three seasons of the year, my favorite two words are farmers and market. From May through November, they're everywhere. In cities and towns of every size and description, farmers gather to sell everything from firm green tomatoes that are perfect for frying to heritage-breed, hormone-free pork belly. Farmers' markets have been around for a long time and are more popular than ever.
Find out now: Which credit card is best for me?
There are some things you can do to get the most out of your next farmers' market experience, starting with how to find one close to home. The USDA has a directory of farmers' markets that allows you to search using different criteria that is important to you. Local Harvest is another resource for identifying local markets by zip code.
1. Cash is King
Thanks to mobile technology, an increasing number of farmers' market vendors are now taking debit and credit cards for payment. However, it's still a good rule of thumb to come with cabbage to pay for your escarole (cash to pay for your produce). Cash may also make haggling over prices a little easier.
2. Circle the Wagons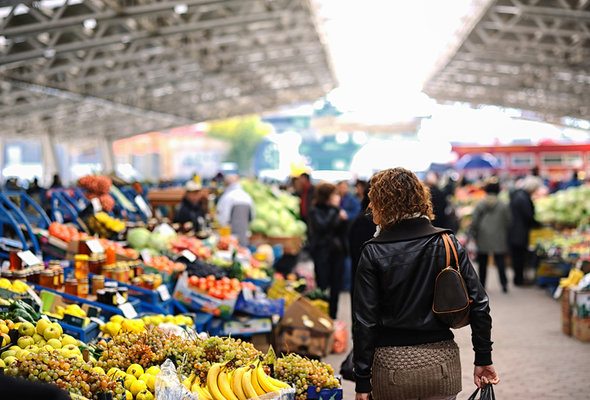 Unlike a trip to the supermarket where you make a bee-line to your desired aisle, effectively shopping at a farmer's market starts with getting the lay of the land. Pass through the market before you start buying. It's a good idea even to do this at the markets you shop regularly because vendors change and availability varies. Looking around first also gives you a chance to think about your food budget and make a list of what you want.
Related Article: Tips to Buying Organic on a Budget
3. Timing is Everything
The largest selection and freshest produce are available early. Meanwhile the best deals are available late in the day when vendors would rather sell their goods than haul them back home. The best time to socialize is midday when the biggest crowds show up, and you can do some people watching along with your produce picking.
4. Make Like a Boy Scout
Being prepared for a trip to the farmers' market starts with bringing your own heavy duty reusable shopping bags. Many vendors use brown paper bags that are environmentally safe, but don't hold up well. If you plan on buying fresh meat or seafood and running other errands after your market visit, it's a good idea to bring a cooler to stash your haul and keep it fresh.
Related Article: Top 5 Tips for Eating Vegan on a Budget
5. Don't Be Shy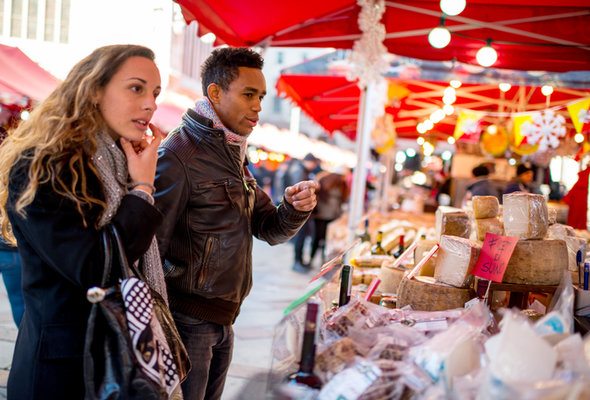 Farmers' markets are usually staffed by the same folks that grew the produce and raised the livestock for the meat. That makes them the most knowledgeable people about where your food came from. They can also be a great source of new and interesting recipes and uses. Taking the time to talk to vendors can also lead to recommendations of other items that you've never considered.
6. Take a Risk
Hand in hand with asking questions about how your food was produced is asking about products that you've never tried before. Farmers' markets are great places to discover everything from interesting new cheeses to Italian long beans and new uses for hog jowls. Take advantage of this by being open to learning (and trying- thank you free samples!) new things.
7. Time of the Season
Don't forget that your local farmers' market is not the Megamart supermarket. That means that the selection is going to be limited to what's in season, so plan accordingly.
Photo credit: ©iStock.com/RyanJLane, ©iStock.com/gmutlu, ©iStock.com/anouchka