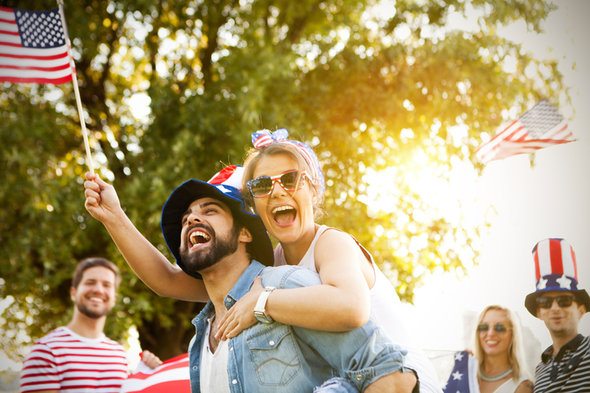 The fourth of July is a great time to get together with family and friends, throw some burgers on the grill and enjoy the fireworks. The only problem is that if you're not careful, the festivities could end up blowing your budget. When it comes to things like food, decorations or alcohol it's easy to overspend if you don't plan ahead. If you'll be hosting a July 4th bash this year, here are some tips for keeping the cost under control.
Find out now: Which credit card is best for you?
Don't Discount the Dollar Store
The dollar store is a great place to score deals on everything you need to plan a stars-and-stripes themed party. Whether you're looking for red, white and blue plates, cups, bowls, napkins, utensils or tablecloths, the dollar store has it all. If you're planning to decorate, you can scoop up balloons, streamers, garland, crepe paper and American flags for a rock bottom price.
Go Potluck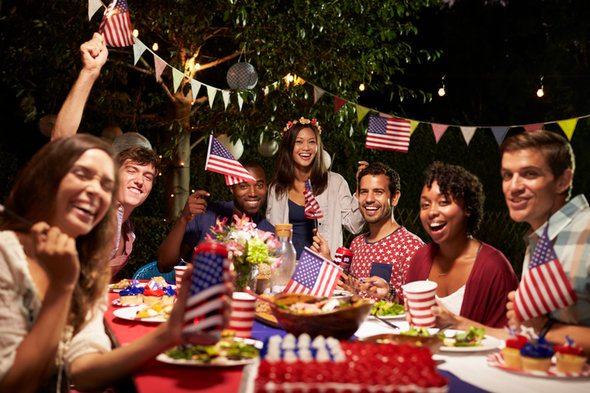 If you're expecting a fairly large crowd, preparing enough food to feed them all can be time-consuming, not to mention expensive. Opting to throw a July 4th potluck party instead is much better for your wallet and takes some of the stress out of having to plan a large menu. As the host, you'll need to provide the main dish but you can ask your guests to bring their favorite sides to share. Just make sure that if you're going potluck you ask everyone in advance what they're bringing so you don't end up with ten trays of macaroni salad.
Opt for BYOB
One of the things you'll need to decide is whether or not to serve alcohol at your July 4th party. If your gathering is adults-only, your guests may expect to be offered a drink but a trip to the liquor store can put a serious strain on your wallet. Encouraging guests to bring their own beverages is a good way to save some cash without seeming like a party pooper. If you do decide to serve alcohol, stick to cheaper options like beer or wine and limit how much you buy.
Skip the Bells and Whistles
Arranging a big fireworks display is a great way to end your party with a bang but it can do some serious damage to your budget. Instead of spending hundreds of dollars to put on a fancy light show, stick to the basics like sparklers. If your July 4th festivities aren't complete without fireworks, try to plan your party around free events in your area so you don't miss out.
Stick to Simple Fun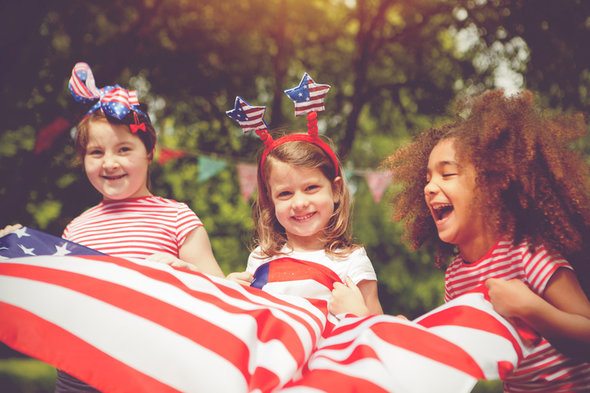 Keeping your guests entertained can be a challenge, especially if there are tons of kids running around. Planning some inexpensive fun and games keeps boredom at bay without breaking the bank. Depending on what kind of space you have, you could put up a volleyball net, hold a sack race, arrange a water balloon fight or give guests some frisbees to toss around. Instead of heading out to a store, check around the house to see what kind of goodies you've already got on hand.
Borrow, Don't Buy
You can't have a backyard barbecue without something to cook on and somewhere for your guests to eat. Before you shell out your hard-earned cash for a shiny new grill or some fancy patio furniture, ask around to see what you can borrow from friends and family. Chances are, you know someone who's get a few extra folding chairs or a table they'd be willing to lend you for the occasion.
The Takeaway
Hosting a large party can be emotionally and financially stressful but you don't have to spend a lot to have a good time this July 4th. All you really need is a little creativity and some careful planning to make your Independence Day celebration a fun and frugal event.
Photo credit: ©iStock.com/M_a_y_a, ©iStock.com/monkeybusinessimages, ©iStock.com/M_a_y_a