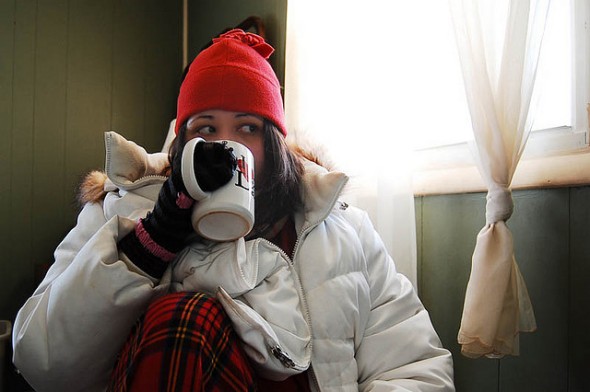 With winter weather, homeowners are sure to see their heating bills rise as they try to stave off the cold. Investing in a few minor home improvements can help keep your energy costs down when you feel the chill. Here are some money-saving projects you may want to tackle this winter.
Seal Up the Leaks
Cracks around windows and doors can eat up a big chunk of your heating costs. You can check for leaks at an exterior door by pulling it shut and looking for cracks where light shines through. If the leak is at your front door, check the rubber seal around the door frame and replace if it you see any cracks. If you've got an older home, you may want to consider replacing the door completely with an Energy-Star qualified model.
Check around the windows in your home carefully for minor cracks and invest in some inexpensive caulk to seal them up. If you've got older windows, it may be worth it to replace them with double-pane, energy-efficient models that hold the heat in during the winter and help your home to stay cool during the warmer months.
Upgrade Your Thermostat
Making the switch to a programmable thermostat keeps you from having to adjust the temperature constantly. It helps you save money since you choose when the heat kicks on and off. For example, you can set the heat higher during times when you know you'll be home and then program it to a much lower setting when you're away or when you go to bed.
If you want to take controlling your thermostat one step further, look for one that's linked to an app you can use through your smartphone or tablet. With just the touch of a button, you can set your thermostat from anywhere.
Improve Your Insulation
One of the biggest culprits for high energy costs in winter is a lack of insulation. If you've got a newer home, the walls should be sufficiently insulated. But warm air could still be escaping through the attic. You need to check the steps, trapdoors and vents to make sure they're properly sealed and install the appropriate type of insulation to hold heat in.
If your home is older, you'll need to find out what type of insulation you have and where it is to determine if you need more. Generally, you should be able to check the attic, walls and floors that surround an unheated space like a basement or garage to find out what type of insulation you have. You can also check insulation in the walls by removing the covers from your electrical outlets and shining a flashlight into the opening.
Get in the (Heating) Zone
Heating your entire home all winter doesn't make much sense if you're only using a few rooms. Establishing heating zones can cut down your energy costs without requiring you to bundle up when you're indoors. A zone heating system effectively lets you direct warm or cold air only to those areas of the home that you want it to go, keeping you comfortable without running up your electric bill.
If you don't want to take on the expense of upgrading your existing heating system, there are some inexpensive ways to create heated zones. For example, you could install heated flooring in your bathroom or kitchen to keep those rooms warm when you're using them. Electric fireplaces are another great way to heat a specific area and give your space a cozy feel without running up your utility bills.
Tune Up Your Heating System
Your car requires regular tune-ups and maintenance to keep it running smoothly and the same is true for your heating and air system. A tune-up usually involves having the system inspected by an HVAC professional who will clean it, check for parts that need to be replaced, perform safety tests, inspect the wiring and make sure all the parts are in good working order. For around $100, you can ensure that your heating system is working at peak performance this winter. That can drastically slash your energy costs.
Final Word
If cold air is creeping in, you're essentially letting money go right out the window. Spending a little time and money in making sure your home is ready for the cold weather can save you big this winter.
Photo Credit: jamelah