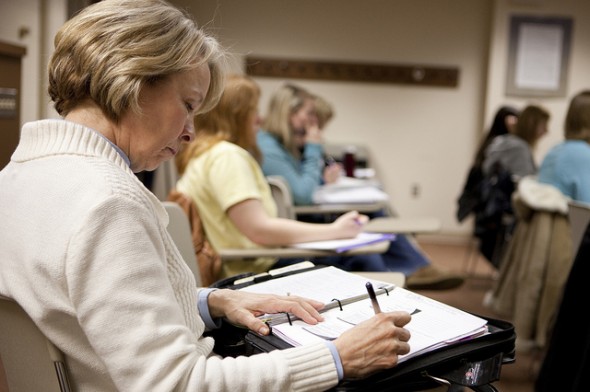 The word nontraditional can have many different meanings depending on the context in which it is used. For our conversation on continuing your education, it means a student between older than 24. These are people going back to school instead of continuing right after high school.
Related: What Will It Cost To Go To School?
One National Postsecondary Student Aid Study found that nontraditional students are more likely to get federal grants than traditional students, but it also found nontraditional students are less likely to receive private scholarships. That means if you are going back to school, or going for a graduate or professional degree, or certification you will have to do some digging to find those dollars. Here are five places you should begin.
The Association for Non-Traditional Students in Higher Education (ANTSHE)
This organization provides a wealth of information for nontraditional students. It also offers several scholarships that can help in your educational pursuits, However, the deadline is usually at the beginning of the year. You can still start preparing for next year. Learn more at their website.
The Osher Reentry Scholarship Program
Dozens of schools throughout the country participate in the program sponsored by the Osher foundation. The foundation helps colleges and universities help students who have had an interruption in their education of five or more years, but still have years of employability ahead. The target ages are 25-50-years old. Students can be full or part-time students. Both academic promise and financial need are taken into consideration. If you are looking at a return to school ask those in the financial aid office of schools you are considering if it participates in the program.
Related Article: 3 Secrets to Paying for College
State Senior Scholarships and Waivers
If you believe you are never too old to learn something new, then read on. Across the country colleges and universities offer everything from free tuition to seniors who want to audit classes to tuition waivers at public colleges and universities. If you, your parents, or even grandparents are interested, check with the college of your choice to find out what they offer. There are also service awards for those seniors who volunteer on a regular basis. The dollars are out there you just have to do some digging.
Scholarships for Women
There are all sorts of scholarships for women who want to complete their college degree or start one. There is one program, the Linda Lael Miller Scholarships for Women Program that has been opening doors for women for more than a decade. It offers grants to women 25 and older who have had obstacles that have stopped them from reaching their collegiate goals. The scholarship is sponsored by Linda Lael Miller, a best selling author of more than 100 books.
What's so cool about these grants is that they can be used not only for tuition, but for child care, transportation, educational fees and other expenses that are seldom covered by traditional scholarships. Applicants must submit a essay and must be legal residents of the U.S. or Canada.
Scholarship Clearing Houses
Nontraditional students have to dive into online sites in search of the dollars. There are a lot of high school seniors grabbing traditional scholarships. FASTWEB.com and SCHOLARSHIPS.com are two great websites for those older than 25 and searching for college funding. These websites will provide information on scholarship awards that cater to your specific need.
Related Article: 5 Fabulous Scholarship Sites
It is not easy to find dollars if you are a nontraditional student, but it is out there. You just have to do the work.
Photo Credit: Ray Cross