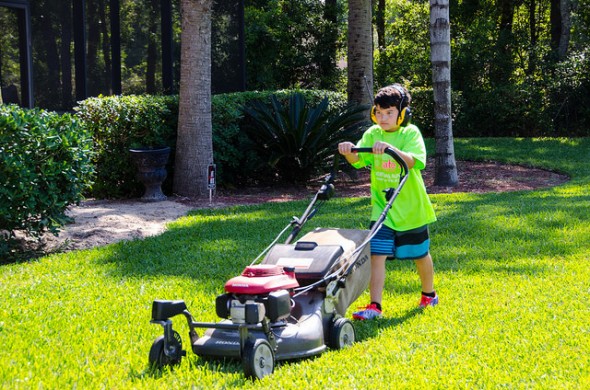 Once the initial elation of being out of school wears off, boredom begins to set in for many kids. This usually leads to frustration for parents. If you're tired of hearing your child complain about not having anything to do, there are plenty of ways they can keep busy while earning some extra pocket money in the process. Here are some great summer job ideas for kids of all ages.
Find out now: How much life insurance do I need?
Yard Helper
Even the youngest of children can lend a helping hand when it comes to yard work. If you've got smaller kids, they can tackle chores like picking up pine cones and sticks or helping you weed the flowerbeds. Older kids can handle the tougher stuff, like cutting the grass or edging out walkways. Decide how much each chore is worth and how often it needs to be done to keep kids accountable.
If you've got a teenager, they may be able to put their lawn care skills to work around the neighborhood to earn even more. Just remember that the money they earn may be subject to self-employment tax if they have more than $400 in net income. They'll need to keep records of what they make as well as any business expenses, such as equipment and gas, for tax purposes.
Teens and Taxes: What Parents Need to Know About Summer Jobs
Dog Walking/Dog-Sitting
It's important that kids get enough exercise, especially in the summer. Walking dogs is a good way for kids to stay in shape and make some extra cash. While it may not be right for younger kids, it can be an ideal fit for teens and tweens. Your child could also offer dog-sitting services for neighbors who are going on vacation and can't take along the family pet. Just be sure that you and your child are comfortable with the dog before leaving them alone unsupervised.
Personal Assistant
This is another great choice for older kids who are looking to make a few bucks over the summer. Chances are, there's someone in your neighborhood who could use an extra hand when it comes to tackling household chores or running errands. For instance, you may have an elderly neighbor who needs help with grocery shopping or know a busy stay-at-home mom that could benefit from having an extra person around. Younger kids can get in on the action by taking on tasks at home or doing chores for their grandparents. Hiring themselves out as a personal helper teaches kids responsibility while allowing them to be of use to someone in need.
3 Ways to Get Your Kids to Save
Tutoring/Teaching
If your child is an honor roll student who makes straight A's they can use those skills to their advantage as a tutor. Maybe you know someone with a middle schooler who's struggling with math or a first-grader who can't quite get the hang of reading. These are perfect opportunities for your teen or tween to put what they know to work.
Your child may also consider tutoring if they have extensive knowledge in an area outside of academics. For example, if they're experts at Minecraft they could organize a class where they teach other kids the finer points of play. If your daughter loves to knit, she could give lessons to other kids or even to adults who are interested in learning. Encouraging kids to channel their passions into something they can make money from can serve them well when it's time to enter the grown-up working world.
Creative Internships
While most internship programs are geared towards college students, there are some that are designed just for high schoolers. If your teen can't find an internship program that fits their interests, they may have to look for ways to create one of their own. Parents can help by connecting kids with people who have something to teach. For instance, if your child is interested in learning carpentry and you know someone who builds cabinets for a living, it could be a win-win for everyone. Even if the internship isn't paid, it can still be extremely valuable when it comes to acquiring job skills and gaining real world experience.
5 Skills That Can Help You Make Money in College
If your child is planning to join the workforce in some capacity this summer, check your state and local laws so you understand what, if any, restrictions there are. It's also a good idea to sit down with them regularly and talk about how they can make good financial choices with the money they earn.
Photo Credit: flickr