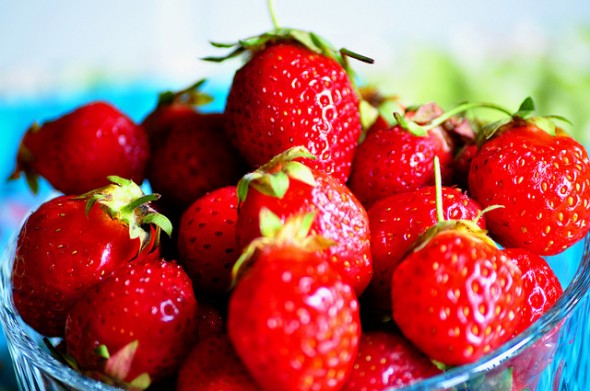 Spring and summer are my favorite times of year, but especially when it comes to the abundance of fresh produce. There is a bounty of fresh fruit just ready to be cut up into delicious fruit salads, grilled or added to dishes that are just as appealing to the eye as they are to the belly. And of course, more fruits are beneficial for our waistlines and overall health. However, spending more on fresh fruits can add up. If you are looking to continue to save, but not sacrifice on fruits it is important to know what fruits are most abundant and cheapest during the coming months. Here are five frugal fruits for spring:
Related Article: 4 Health Habits That Can Save You Money
Strawberries
Quick fun fact about strawberries: they are the only fruit in which the seeds grow on the outside, instead of the inside. Strawberries are loaded with vitamin C, which can help boost your immune system. In a study on strawberries, women who ate sixteen or more strawberries a week were found to have lower C-reactive protein, which is a signifier of the levels of inflammation in the body. Inflammation can cause pain and soreness, so eating strawberries can help reduce pain.
Pineapple
I remember the first time I had fresh pineapple. It was during my 9th grade Foods class and we were making fruit salad. Up until then, I had only eaten canned pineapples, and was not that much of a fan. However, the first time I had fresh pineapple, it was like a light bulb went off and I realized what I had been missing out on all those years. Aside from the amazing taste of fresh pineapple, they offer great health benefits as well. These benefits include anti-cancer properties from antioxidants, support heart healthy by fighting free radicals and helping to lower cholesterol.
Apricots
Apricots are a relatively small fruit that look similar to a peach. Most apricots are grown in the U.S. and their season lasts from around mid-April to the end of June. This powerhouse fruit is small yet provides a great deal of needed nutrition. Among other things, apricots contain vitamin A, which is necessary for a healthy immune system, reproduction, healthy skin, teeth and bones.
Related Article: 3 Ways to Eat Well on a Budget
Cherries
Cherries are another one of my favorite fruits. This small yet powerful fruit contains all types of nutritional value including fiber, antioxidants, and vitamins. Studies have found that about a cup and a half of cherries or cherry juice can help reduce inflammation and muscle soreness. Thus, for those of you who work out regularly and get muscle soreness, or suffer from arthritis, you may benefit from consuming more cherries or cherry juice.
Mangoes
Mangoes provide a number of beneficial properties, however, one interesting fact is that they can be helpful in providing aid in the event of heatstroke. The juice from green mango can be combined with water and some sweetener to create a delicious summertime drink to cool down the body. This is especially important as we move into the later spring and summer months. Mangoes (and other fruit) are mother nature's original method of cooling us down when we get too overheated.
Over the next few months the five fruits listed above will be at their lowest prices than at any other time in the year. Stock up, use what you need and freeze the fruit you don't want now for use in a few weeks. Fruit is great to consume as part of your meal, in a smoothie, or all on their own, and with amazing health benefits you will be doing your wallet and your health a favor.
Related Article: 3 of the Worst Ways to Save Money
Photo Credit: flickr