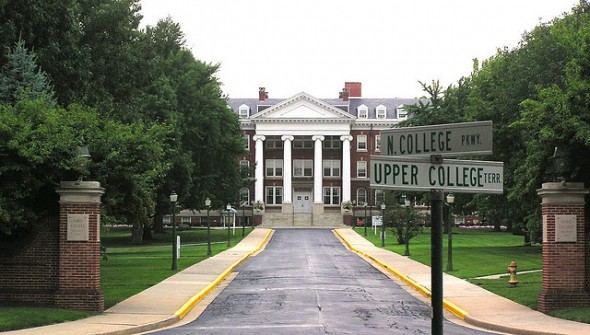 Deciding which college is the best fit is no easy task. There are all sorts of factors to consider which run the gamut from cost of the college and campus life to how big the institution is and what degrees it offers. You should consider them all before you and your child make a final decision, but there's got to be a starting point. Consider these 5 factors when picking the perfect college.
Check out our student loan calculator.
Costs
Of course the first plan of action is to help your child get an all-expenses paid trip to college. However, if she or he is not awarded scholarship dollars then cost will become even more critical. If you are footing the bill or your child will have to help pay for college then you both should consider state colleges and universities. Out-of state tuition can be a deal breaker. If your child is not eligible for any grants or work-study, staying in-state may be the best option.
Location, Location, Location
We've all heard that location is the key to selling real estate, but it also important in choosing the right college that is a good emotional fit. You may know your child perhaps better than anyone else. Is he or she a homebody or an explorer? Knowing the answer to this question can help determine just how far from home your child can go and not be overwhelmed or just "plain old" home-sick.
Size Matters
Perhaps your child is ready to attend a college or university that is larger than life and has the sprawling campus to prove it. One university in the midwest had a fall 2012 enrollment of more than 56-thousand students on its main campus alone. The challenge in choosing such a large campus is that your student may sometimes feel lost in the maze of masses.
You both should keep in mind that such campuses offer a variety of opportunities for your student to find their own niche. If your student is someone who likes a cozier, more easily accessible campus, a smaller school may be the best pick. Remember, large or small, the key to picking the college is making sure your child visits the campus, more than one time if possible before making a final decision.
Major Decision
Many students attend college without deciding on a major. If your child is certain of what he or she wants to study, let's say forensic science, then the college they chose to attend will be based on which college offers the best field of study in this area. If they are not certain of a major, this will not be a major factor in choosing a college.
Return on Your Investment
If you and your child are paying for college, you need to look closely at the return on the investment. We've all read about college grads struggling to find jobs. Your child should take a tip from 90's diva Janet Jackson and ask the college he or she is considering; "what have you done for me lately?" They should find out about the school's placement rate for their graduating students as well as how active their alumni association is when it comes to hiring qualified graduates. The goal is to translate that degree into dollars.
Photo Credit: Hoodian08