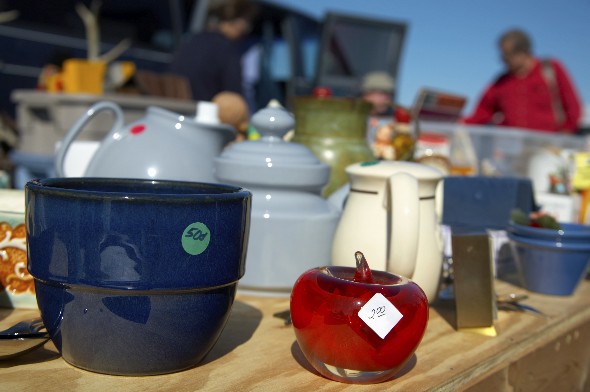 Lots of people don't like having garage sales. They consider them to be a lot of work for very little return. But for me, having a garage sale is almost always worth it when I tally up how much money I made for stuff I was going to get rid of anyway. Here are four of my secrets to hosting a successful garage sale. Hopefully they'll help you earn some extra cash the next time you hold one.
Find out now: How much house can I afford?
1. Choose a Prime Location
Just before I bought my house, my family hosted a garage sale at my grandma's house in our rural community. This was NOT the ideal location for a garage sale. She lives on a dead-end street that is kind of hard to find and the neighborhood is not known for its wealth. If I were a garage sale shopper, I probably would've skipped this sale.
Nowadays, we host all of our garage sales at my house. The location is just off of a main street in our town, so it's easy for people to find. The homes in my neighborhood are also newer, nicer and more expensive than the ones found in my grandma's neighborhood. This leads shoppers to assume that there will be some expensive and brand-name items at the garage sale.
Host a Rockin' Yard Sale & Make Some Extra Cash!
2. Select the Best Date and Time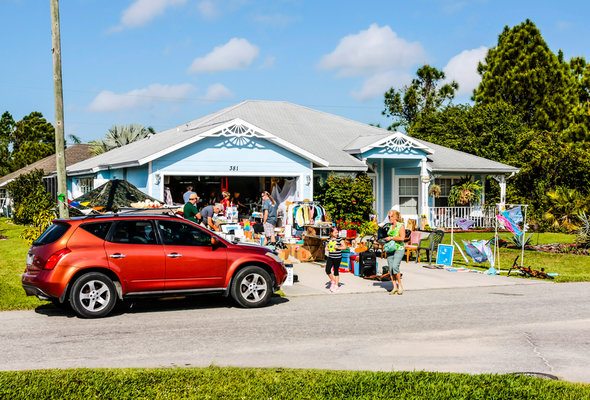 Having your garage sale at a good date and time also helps to bring in more traffic and sales. Typically, I hold garage sales in late May after graduations but before summer really sets in and it gets too hot to wander around outside. I also avoid having a garage sale during Memorial Day weekend.
My community has a city-wide garage sale day in June, but I don't have one at that time because I want my sale to stand out. If everyone is having their own sale, they won't be shopping at mine.
I tend to host my garage sales on Friday afternoons from 2 p.m. to 7 p.m. and on Saturdays from 8 a.m. to 12 p.m. Friday afternoon and evening garage sales seem to do very well in our community and give shoppers a couple of chances to come by. I also get to put out more stuff on Saturdays because I usually have more table room after selling a bunch of stuff on Friday.
3. Spread the Word
Advertising your garage sale is very important. If people don't know about it, no one will show up. Last year, we advertised the garage sale in the paper about a week prior to the sale. We also listed the sale on a local radio station's free garage sale page and posted about it in local Facebook buy, sell trade groups. I think putting the sale out on social media helped us get more people to come by and shop.
Another great thing about using social media is that you can post about a sale several times with photos of some of the larger or more desirable items. I posted on Saturday that we'd have new stuff at our sale, so several people who stopped by on Friday came back on Saturday.
Find Cash in Your Trash- How to Sell your Junk Online
4. Remember That Appearance Matters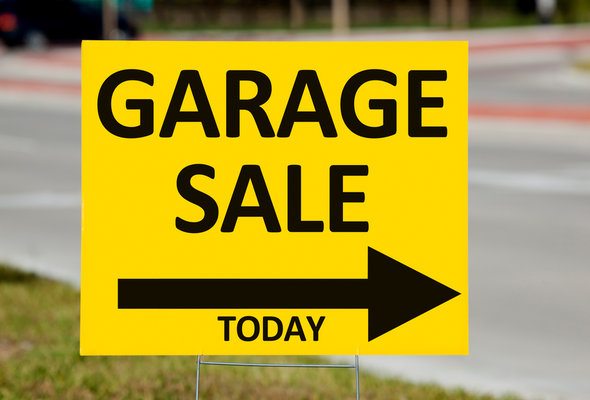 A garage sale is meant to get rid of your unwanted stuff. It's not a retail store with organized shelves, racks and tables. But, I do my best to group items together and to put the more eye-catching stuff outside the garage so that people who drive by will see it. I also display clothing on a rolling clothes rack so it can be hung neatly and it's easier for shoppers to flip through and see all the items.
It's a good idea not to sell or even display dirty or broken items. Taking just a few minutes to dust off your furniture and other items will make them as attractive as possible to potential buyers and hopefully bring in more money.
Photo credit: ©iStock.com/tacojim, ©iStock.com/csfotoimages, ©iStock.com/James Brey