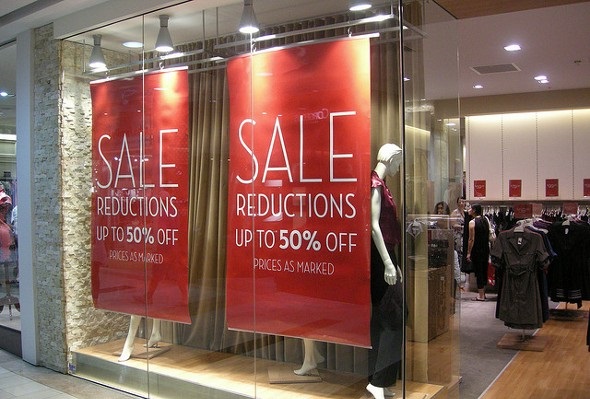 "Buy one, get one free!"
"10 for $10"
Sales like these can be hard to resist, especially if you are someone who likes to save money like I do. For years, I would get sales fliers in the mail for my local grocery store and other retailers, and I'd immediately begin scouring through the ads to find the best deals. But over time, I've learned that I should actually be wary of sales if I truly want to save money and live frugally. Here are just a few reasons you should be wary of sales as well.
Find out now: How should I save for retirement?
1. Flier Items Aren't Always on Sale
I work part-time at a retail store that puts out an advertisement twice each month. The flier often features certain styles of clothing or boots with sayings like, "Hot price!" They are careful to avoid saying "sale price" since the items in the flier usually aren't actually marked down. But many customers come in to find the items in the flier since they believe those items are on sale. What they don't realize is that the flier's price is the same as the price every other day of the year.
4 Sneaky Ways Retailers Trick You Into Spending More
2. Discounts Are Small
A lot of store sales are "percentage off" sales, which makes the sale look better but doesn't actually save you that much money. Does 20 percent off sound like more than $5 off? Since 20 percent is a bigger number, it can fool a lot of people into thinking they are getting a better deal than what they are actually getting.
One retail store I shop at had a rack of sale merchandise and they were offering an additional percentage off the already discounted merchandise. I found some jeans and I thought I was getting a really good deal. Then I peeled the sale sticker back to reveal the original price and found that they had only discounted the price from $75.00 to $74.99 before hanging it on the sale rack. The only deal I really got was the extra percentage off.
3. Sales Are Often a Gimmick
Stores host sales for a number of reasons. One reason is to get rid of merchandise so they have room on the sales floor to display new items coming in. Another reason stores offer sales is to increase their foot traffic. Often customers will come in to stores because of a sale and end up walking out with much more than they planned on buying. Sales people will almost always try to upsell you a more expensive product or one that isn't on sale.
How to Save When Hitting the Online Shopping Center
4. Avoid the Traps
The easiest way I find to avoid the trap of a sale is to ignore the advertisements when I get them in the mail or via email. Immediately throwing the ads away without looking through them, and unsubscribing from mailing lists and email lists are also great ways to avoid the temptation of sales.
Occasionally, it's still a good idea to take advantage of discounted prices, but when you do shop during a sale, it's a good idea to keep a list of what you actually need. A list can help you avoid overspending and buying things you hadn't planned on getting.
Photo credit: flickr