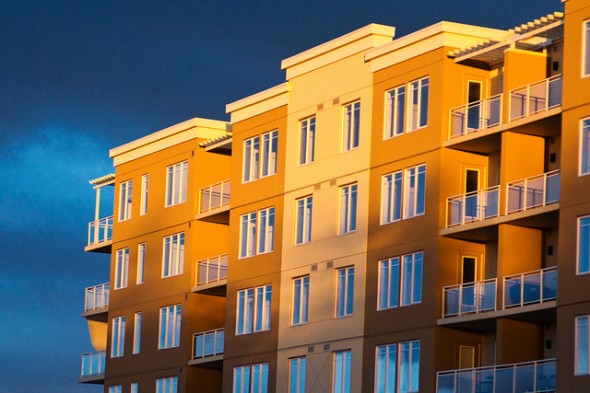 As an on and off apartment dweller myself, I know finding the right space for you and your family can be tough. I never realized how hard it was until we decided to move from our home in the Northeast to Raleigh, NC. We were looking for apartments and townhomes that were affordable and offered the best amenities until we could plant permanent roots. The truth is finding affordable apartment housing for families was tougher than we thought. Apartment communities we found either catered to college students or the 55+ crowd.
Related: Is It Better to Buy or Rent?
I thought that it may have just been the area we lived in, as it is notorious for retirees and home to three of the largest colleges in the country. But I quickly learned that our area isn't the only place where this happens. According to an article by Loan Safe, developers all over the country are targeting college students and seniors when building new communities. In the future, we will probably see more of these communities popping up. Why are so many developers catering to retirees and college students?
College Students Need Small Spaces with Big Living
College students are looking for low rent options. Unfortunately many feel pressured to live on campus because of the lack of affordable housing in their area. The houses they can afford aren't desirable and they often lack the social interaction that these students crave.
Communities are popping up around colleges that cater to those needs. New micro apartments with fitness centers, social activities and other amenities desirable to students are becoming the latest trend in the housing industry. One such development is near the University of Michigan called The Courtyards.
It's an 896 bed student community that offers modern furnished apartments with washers and dryers, full size kitchens, high-speed internet, outdoor grilling areas, a fitness center, private study rooms and even a small movie theater.
Related Article: The New Housing Bubble on Campus
Why target college students? Communities like this are fairly straight forward. There isn't a need for multiple floor plans or storage options. Studies have found that college students, who are used to living in small spaces anyways, are more comfortable with micro-living.
This allows the developer to have more units than if they were targeting the general population who are looking for more spacious digs. College kids are just starting out so they haven't had the chance to accumulate a lot of extra "stuff" (or a disposable income). This allows them to keep their living space small and simple.
Retirees Love Resort Living
On the flip side, developers are also targeting the senior demographic. This demographic has a different set of needs. Many are downsizing from larger homes and still have quite a few things, so micro-living isn't really an option for them.
Many have discretional income and don't want to be tied down to maintaining a home. Communities with amenities similar to cruise ships are desirable. Many have popped up with retail shops, restaurants, theaters, lounges, and comfortable living spaces.
Communities are also marketing to the progression of aging as well. You are finding independent living communities in close proximity to assisted living and skilled nursing. As you age and your needs change, you can move from one area to another, while not leaving your community.
Related Article: Cooperative Housing Offers Alternative to Retirement Home
Why are developers targeting seniors? The baby-boomer generation is aging and they need a place to live. Many have chosen to downsize for convenience and now have the income to enjoy their retirement years.
People are more active later in life than ever. Right now there is a 26 year low in the supply for this type of housing. So the need for more places like these is growing as more and more baby boomers age.
Whether you are a senior or student, finding the right housing to fit your lifestyle is important. With developers catering to your demographic, you should have no problem finding a new place to lay your head.
Related Article: The Hidden Costs of Downsizing Your Home
Are you heading to school or into retirement? Have you found that communities like these best fit your needs? We would love to hear your experiences! Share with us in the comments below.
Photo Credit: Jerry Bowley