What's the price of a sunny day? Well, if you're high-minded, you might say money can't buy the experience of the sun warming your skin. But in a more down-to-earth sense, residents of some places are paying less for housing and getting more sun in the forecasts than others are, and vice-versa. If climate is important to you, that may make a difference in where you may want to live. SmartAsset wanted to find out which US cities are getting the best weather deals for the price of a home.
What Neighborhood is the Best Fit for Me?
Methodology
We calculated the average annual mortgage payment for 92 US cities, using the National Association of Realtors' data on home prices and the ratio of mortgage costs to home value based on 30-year, fixed-rate mortgages at the current interest rate. Then we divided this value by the number of days when the sun is out for each of those cities, as provided by the National Weather service.
The Most Sun for Your Money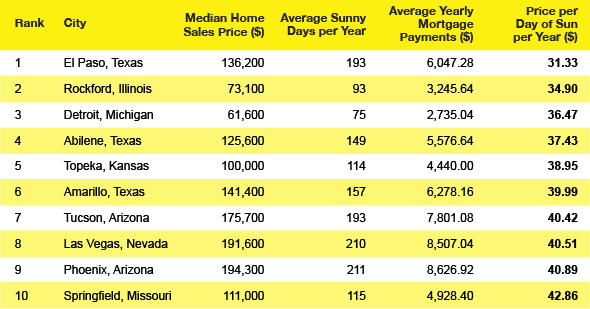 Unsurprisingly, the Southwest did very well, given that region's relatively low property prices and generally sunny climate. The Midwest also made some appearances in the top ten, mostly based on low housing prices. So if you are looking to get the most sun for your housing dollar, residents in these ten places pay the least for each day of sun:
El Paso, Texas
Located in the far west of Texas, just across the Rio Grande from Mexico, scenic El Paso gets 193 days of sun per year. The climate is mild for most of the year (except for the hot summer), and usually dry. Year-round average temperatures are 64.5 degrees Fahrenheit. The city has been in existence continuously since the 1660s and is now home to the headquarters of Fortune 500 company Western Refining, the Fort Bliss military base, NCAA Football's Sun Bowl (appropriately enough), and the largest urban park in the country. People living there pay only $31.33 for each sunny day in a year.
Rockford, Illinois
Rockford is only in full sun for about a fourth of the year – 93 days on average – but its annual days of part and full sun total 191, more than half the year. The city is known for having some of the most and most notable baroque-revival and art deco buildings in the Midwest. The median home sales price of $73,100 is low enough that people there are paying less than $35 for each sunny day.
Detroit, Michigan
The Upper Midwest is often associated with gloomy weather, but Detroit gets 75 days of full sunshine each year, and a total of 180 days of full and partial sun. Property values declined in the Motor City after it was hit hard by the economic crisis at the end of the last decade. This means average yearly mortgage payments are under $3,000 (the lowest on our list) and residents pay $36.47 per sunny day.
Abilene, Texas
Abilene's property values are about $10,000 lower than its distant neighbor El Paso, but it also gets a "mere" 149 completely sunny days a year. It makes up for it with a little bit of rain, hail, and perhaps even snow to break up the monotony and reduce the risk of drought, with 24.8 inches of precipitation a year to El Paso's 9.7 inches.
Topeka, Kansas
The infamous Tornado Alley runs through Topeka, but even with all that storm risk, Topeka gets 114 days of full sun each year, and a total of 211 of part and full sun. With an average home price of $100,000, Topeka residents pay just under $39 for each sunny day.
Amarillo, Texas
The "Yellow Rose of Texas," as the largest Panhandle city is called, is also known as "Bombtown" because it plays host to the country's only facility for assembling and disassembling nuclear weapons – an important and dangerous job for sure. Amarillo's number of sunny days is close to that of Abilene, with 157 in full sun per year on average.
Tuscon, Arizona
Tuscon tends to get more rain and have lower average temperatures than Phoenix does, since it lies a half-mile above sea level. The fact that the heat isn't terribly scorching must come as a relief to residents during the 193 days of full sun each year. And as small as the 14.9 average inches of rain may be, that's close to twice the precipitation of Phoenix!
Las Vegas, Nevada
Sin City gets plenty of sun – 210 days a year with full sun exposure and 292 with either full or partial sun. This is one of the highest numbers among major cities in the country. And you can almost guarantee that any Vegas outdoor event you choose to attend won't be rained out, because there are only about 5.4 inches of precipitation a year on average.
Phoenix, Arizona
It's quite an achievement to be notably hotter and sunnier than Tuscon is. Phoenix even manages to beat out Vegas in sunny days, with one more day of average sun per year than the gambling mecca, proving that sometimes the house doesn't really win. Phoenix also boasts the highest year-round average temperature of all the major US cities, at an even 75 degrees. It makes our top ten list with 211 sunny days but only comes in at 9th because of average yearly mortgage payments over $8,600.
Springfield, Missouri
Sometimes having both temperate weather and temperate home prices pays off. Springfield – birthplace of Route 66, or at least that name for the arterial highway – has 115 fully sunny days a year on average. This number rises to 211 when days of partial sun are added in. The average monthly mortgage payment of just under $5,000 means residents of Springfield are paying less than $43 per day of sunshine.
The Least Sun for Your Money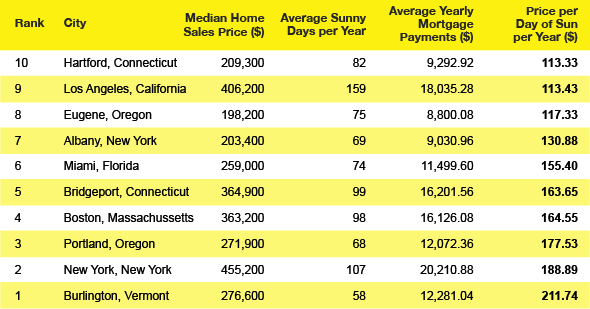 On the flipside, these are the places where each day of sunny weather is the most expensive. No matter the other merits of these places, a little sun comes at a premium when living here:
Hartford, Connecticut
Insurance industry hub Hartford is known as the longtime home of Mark Twain – and it's the sort of place he lived in for culture, not climate. Hartford gets 82 days of sun a year – about 20 less than the national average – and has average mortgage payments of about $9,300 a year, making a sunny day somewhat expensive at the cost of $113.33.
Los Angeles, California
Tinseltown is in Southern California, so the problem is not in getting enough sun – it has 159 days in full sun in the average year – it's the property values. The average home costs $406,200, so an average year's mortgage payments add up to more than $18,000 and $113.43 per sunny day!
Eugene, Oregon
The large majority of days in the Willamette Valley city of Eugene are cloudy or stormy – 209 days a year, in fact. Property values are not especially high there, but with so little sunshine, residents are paying $117.33 for each sunny day.
Albany, New York
The New York state capital suffers from the "upstate curse" – a mere 69 days of full sun a year. Combined with an average yearly mortgage payment of upwards of $9,000, this means sun is relatively expensive at $130.88 a day.
Miami, Florida
Miami is not as sunny as you may think – blame those Atlantic and Caribbean storms for its many rainy days, which lead to it having only 74 days of full sun a year. And while its property values aren't the highest in the country, they're still close to $100,000 higher than the average of the cities under consideration.
Bridgeport, Connecticut
Bridgeport, hometown of huckster and circus pioneer P.T. Barnum (who was once mayor), is near Hartford, and thus has similar weather… but also property values that are 75% higher. This means Bridgeport residents are paying nearly $164 per sunny day, making it fifth on our list of places where you get the least sun for your money.
Boston, Massachusetts
Boston can have brutally hot and sunny summers, but the rest of the year is relatively cloudy. Beantown property values are also among the highest in the nation, with about $16,120 in average yearly mortgage payments.
Portland, Oregon
The PDX has some of that much-maligned gloomy Pacific Northwest weather to contend with, and only benefits from 68 days of sun per year. It also has relatively expensive property, with home values topping $271,000.
New York, New York
SmartAsset's hometown, the Big Apple, doesn't fare too badly as far as sunshine goes, but having some of the highest property values in the country – $455,200 for the average home, which translates to more than $20,000 a year in mortgage payments – makes each day of sun expensive. New Yorkers are paying nearly $189 for each sunny day.
Burlington, Vermont
There are a mere 58 days of sun per year in the northwestern Vermont town of Burlington, thanks in part to the fog and mists of nearby Lake Champlain. Combined with $12,280 average yearly mortgage payments, this makes Burlington the most expensive place for a sunny day. Burlington residents pay more than $211 days for each sunny day.
3 Best Family Friendly Cities in America
Prices per Clouds
But what if you don't like the sun? "Good weather" is totally subjective – maybe you think rain is pretty, or maybe you're just very pale and don't want to be burnt to a crisp most of the year. You can get a bargain on the number of cloudy days just like you can for sunny days. It turns out the Midwest is your best bet when it comes to price per day of clouds.

It turns out clouds are cheaper to get than sunshine. These are the five cities with the lowest ratio of mortgage payments to cloudy days:
Youngstown, Ohio

The average home price in Youngstown is less than $65,000, and there are a staggering 205 cloudy days there, making it the cheapest place for a sunless day. This means residents are paying under $14 for every cloudy day.
Detroit, Michigan
Detroit is a bargain whether you're looking for the most sunny days or the most cloudy days. This is because it has some of the lowest property values among major cities in the country; and it has even more cloudy days than it does sunny ones.
Toledo, Ohio
Toledo's patterns of sunny and cloudy days are nearly identical to those of Detroit, though its property values are about $11,000 higher, meaning it runs just behind the Motor City. Residents of Toledo pay just over $17 for every cloudy day.
Rockford, Illinois
Rockford is the second city to appear on the low price lists for both sun and clouds. With 174 cloudy days a year for an average mortgage payment of $3,245 a year, its temperate weather with a mix of sun and clouds year-round makes it a bargain for any kind of weather.
South Bend, Indiana
South Bend is known for a famous university – Notre Dame – in an unincorporated community just to the north, and the Fighting Irish football team has a lot of practice playing in adverse weather: There are 193 cloudy days per year and the average year-round temperature is a chilly 49.7 degrees. South Bend residents (whether football fans or not) are paying $19.72 per cloudy day.
10 Best and Worst Cities for Healthcare Access for Your Money
Photo Credit: flickr