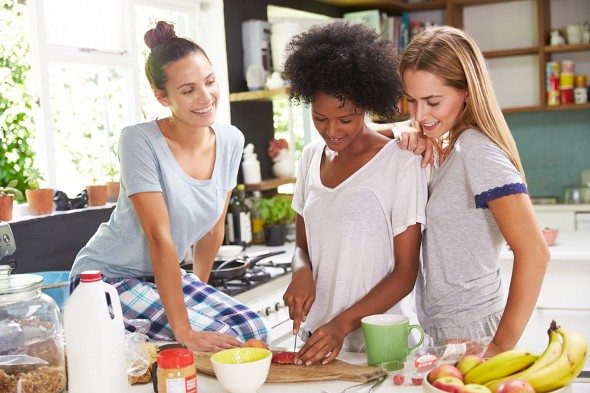 Living with a roommate in college can be tough. And if you thought those days ended when you graduated, think again. As rental prices rise at an alarming rate, renters in some cities are forced into communal living situations. Depending on where you live, sharing an apartment with a roommate might make the most sense, particularly when thinking about your short-term financial circumstances.
This is the 2016 version of this SmartAsset study. Read the 2015 version here.
Data & Methodology
SmartAsset wanted to know how much renters in different cities could save by living with a roommate. We looked at rental data from myapartmentmap.com for September 2016 (the website updates its data monthly). Then we pulled the average fair market rent for one-bedroom and two-bedroom apartments in each of the 50 largest U.S. cities.
To complete our study, we assumed that two roommates living in a two-bedroom apartment would split the rent 50-50. Then we subtracted the average cost of rent for one of these roommates from the average cost of rent for a person living in a one-bedroom apartment.
Let's use the city of Atlanta as an example. Average rental rates for one- and two-bedroom apartments are $1,247 and $1,585, respectively. Each roommate sharing a two-bedroom apartment would pay $792.50. That means that an Atlanta renter could save about $455 ($1,247 – $792.50) by having a roommate instead of living alone in a one-bedroom place.
Check out our rent vs. buy calculator.
Key Findings
Don't live alone on the West Coast. You stand to save thousands of dollars per year by splitting a two-bedroom apartment in many major cities in California and even in Portland.
Singles might like renting in the Southwest. Can't deal with roommates? You wouldn't save much money by sharing a space in cities like Tucson and El Paso. Living alone is less expensive in these places.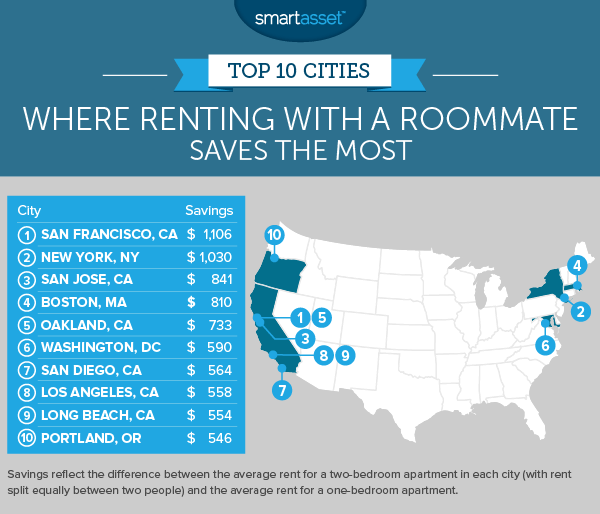 1. San Francisco, California (average savings: $1,106)
San Francisco is notorious for its sky-high rental rates. If you plan on spending 28% of your annual income on rent, you would need to make about $152,057 a year to afford a one-bedroom apartment in the City by the Bay.
Don't earn a six-figure salary? Consider getting a roommate and looking for a two-bedroom spot. It'll save you about $1,106 per month if you split the rent equally with your friend (or the person you found on Craigslist).
2. New York, New York (average savings: $1,030)

It's not uncommon for New York City renters to have roommates throughout their 20s and 30s. That's because you'll have to pay around $2,891, on average, if you want a standard one-bedroom apartment and around $2,587 if you want a studio.
Finding a roommate shouldn't be too difficult. Roomiematch.com and roommates.com could be two good places to start if you're not familiar with any other online roommate finders. Plus, you could always reach out to your social media connections to see if there's anyone else looking for a roommate in the Big Apple.
3. San Jose, California (average savings: $841)
The median household income in San Jose is around $83,787, according to 2014 data from the U.S. Census Bureau. That's 44.2% higher than the national average.
Renters looking for one-bedroom apartments in San Jose can expect to spend around $26,268 per year on rent. If that seems like a steep price to pay, you might need to find a roommate.
4. Boston, Massachusetts (average savings: $810)

Since we conducted the 2015 version of this study, the average rent in Boston has increased by 0.66%. A one-bedroom apartment in the city now costs $2,275 per month.
Compared to rental rates in places like Cambridge, average rents in Boston are relatively cheap. But getting a roommate could still be a good idea. The average renter who shares a two-bedroom apartment could save about $9,720 per year.
5. Oakland, California (average savings: $733)

Average rents in Oakland are rising at a rapid pace. And residents who'd rather buy than rent aren't much better off. The median home sale price is about $631,000, according to trulia.com. That's 13.1% higher than it was this time last year.
If you stick to renting, you could at least save yourself $733 per month by splitting the rent with a roommate.
6. Washington, D.C. (average savings: $590)

The cost of living in Washington, D.C. is quite high. The typical resident living in the nation's capital spends $17,976 per year on housing costs.
Living with a roommate in D.C. could leave you with nearly $600 in additional savings each month. If that doesn't sound appealing, you can look at apartments outside of the city where the rent is a lot less expensive. For example, average rents for two-bedroom apartments in Alexandria, Virginia and Takoma Park, Maryland are 34.5% and 72.9% lower (respectively) than the average market rent in D.C.
Related Article: The Income Needed to Pay Rent in the Largest U.S. Cities
7. San Diego, California (average savings: $564)
San Diego is known for having beautiful beaches and plenty of dog-friendly restaurants. Renting an apartment there likely won't be nearly as unaffordable as renting in San Francisco or San Jose. But tracking down a roommate might not be a bad idea, especially if you have a small budget.
8. Los Angeles, California (average savings: $558)

Thinking about renting in LA? Besides choosing a neighborhood to live in, you'll have to decide whether you want to ride solo or find someone to share a two-bedroom apartment with you.
The average fair market rent for two-bedroom Los Angeles apartments is $1,091 higher than it is for one-bedroom units. But you and your roommate could each save $6,696 per year by living together.
9. Long Beach, California (average savings: $554)

Long Beach is considered part of Greater Los Angeles. Average market rents for one-bedroom apartments in the area have risen by 25.2% since we looked at average roommate savings last year. As the demand for rental units steadily increases, the vacancy rate for rental units continues to fall.
10. Portland, Oregon (average savings: $546)

The Portland rental market isn't nearly as cutthroat as the markets in other big cities are. But that could soon change. Portland's population is growing quickly and people and businesses are flooding the city. It's currently facing a housing crisis due in part to the lack of policies needed to provide enough affordable housing.
If prices continue to climb, having a roommate in Portland may be unavoidable for many renters. On the bright side, shacking up with a friend in a two-bedroom apartment could save you $6,552 per year.

The data analysis for this study was completed by Nick Wallace.
Questions about our study? Contact us at press@smartasset.com.
Photo credit: ©iStock.com/monkeybusinessimages