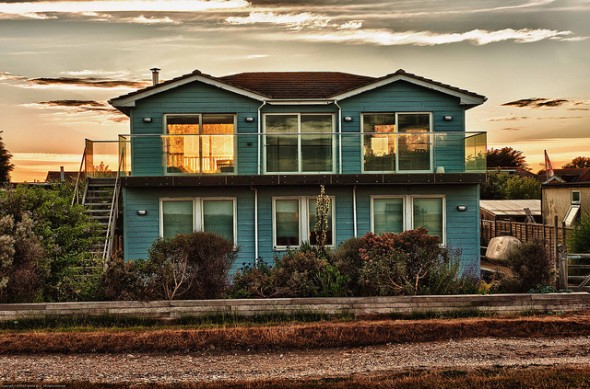 Buying a summer getaway may make sense if you always spend your vacation in the same spot and you're tired of shelling out money for hotel rooms. You even have the potential to make some money off your second home if you're able to rent it out during the times you aren't using it. Many of the same tax breaks that are associated with owning your primary residence also apply to vacation homes. Whether you've got your eye on a beachfront cottage or a cabin in the mountains, here are some things to keep in mind when it comes to your taxes on your vacation home.
What Counts as a Vacation Home
The IRS has a relatively broad definition of what qualifies as a vacation home or second home. Generally, it must be a permanent structure such as a house, condo, co-op, mobile home, house trailer, house boat, yacht, RV or any other similar property that's equipped with sleeping, cooking and toilet facilities. It doesn't have to be fixed in one place and it doesn't have to be located in an established vacation spot. Time-shares can also be considered a vacation home as long as it meets the requirement for a qualified home.
Deductible Expenses
For tax purposes, you're allowed to deduct qualified residence interest if you took out a mortgage to purchase a second home. That's on top of the interest you can deduct for the mortgage on your primary residence. For 2014, the IRS caps the amount of debt you can use to claim the deduction at $1 million or $500,000 if you're married and file separately.
If you take out a home equity loan or line of credit on a second home, the interest is usually deductible up to a certain limit. The amount of home equity debt you use to claim the deduction can't exceed $50,000 if you're a single filer or $100,000 for married couples who file jointly. The deduction generally isn't allowed if your home equity debt exceeds the fair market value of the property.
Buying a Vacation Home? Do These 4 Things First
Besides mortgage interest, you're also allowed to deduct state and local real estate taxes paid on a second home as well as personal property taxes assessed against items you keep at the home. For instance, if you own a boat or a jet ski that you keep at the vacation home the property taxes would be deductible. You can't claim a deduction for improvements or maintenance on the home, unless you rent it out for part of the year.
Renting Your Vacation Home
There are several things to keep in mind if you're planning to rent your vacation home. First, you have to live in the home for at least 14 days out of the year or 10% of the number of days you rent it out for it to be considered a personal residence. If you rent the home for less than 15 days total, you don't have to report any rental income on your taxes. If there are tenants in the home for more than 15 days you'll have to claim the rental income.
4 Questions to Ask Before Becoming a Landlord
You can still deduct your interest and property taxes as well as depreciation. You must divide your expenses between those incurred for personal use and those associated with renting out the property. Your deduction for rental expenses can't be more than the amount of rent you received. Personal deductions should be reported on Schedule A while expenses and income from using the home as a rental property are entered on Schedule E.
Selling the Property
If you decide to sell your vacation home at some point you may have to pay capital gains tax if you make a profit. Long-term capital gains tax applies if you owned the home for more than a year. You'll pay short-term capital gains tax if you owned if for less than a year. Losses resulting from a sale are not deductible.
You may be able to exclude up to $250,000 of the gain if you used your vacation home as your primary home for at least two of the last five years and the five-year period ended on the date of the sale. The exclusion limit doubles to $500,000 for married couples who file jointly but you both have to meet the residency requirement.
Let's Not Play Family Feud Vacation Home Edition
A vacation home can be the perfect escape when you need a break from the daily grind. With some careful planning, you can make owning a second property work to your advantage at tax time.
Photo Credit: flickr