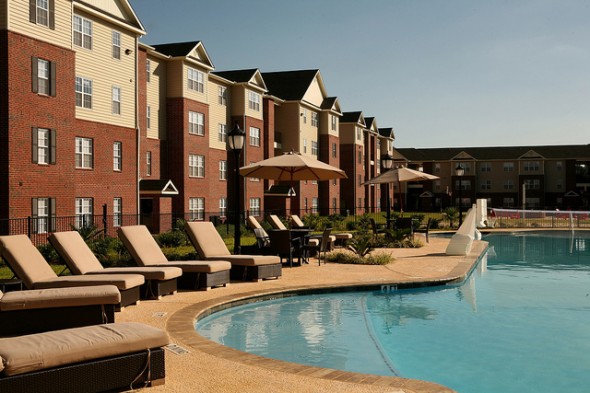 Private pool, granite counter tops and flat screen TVs. Fire pits, roof deck and tanning salon. State of the art gym, putting green and stainless steel appliances. These may sound like the amenities of a 5-star resort, but these are the new features of college housing.
Find out now: How much house can I afford?
The standard student life requirements of cinder block risers, cramped quarters, communal showers and basic, unattractive wood furniture are quickly becoming relics of the past. Increased college enrollment by the "echo boomers" – children of baby boomers – has led to a need for more housing on and around campuses. Both students and administrators say housing has become a central factor in college selection, trumping degree programs and beloved sports teams.
The Bubble
The Department of Education projects more than 3 million high school seniors will graduate in each of the next five years. Trends show many of them will pursue higher education. That's a lot of students enrolling in college and most of them will be looking for a place to live in between classes. Private developers are jumping in to capitalize on this burgeoning market.
Currently, residences to hold more than 30,000 students (all in private bedrooms we expect) are being built around campuses nationwide. To stand out, builders are increasingly relying on amenities. This rise in luxury living doesn't just apply to the off-campus dwellers. On-campus housing quarters are upping the ante also.
How, in this struggling economy with college prices rising each year, are parents affording to set their kids up in accommodations that resemble new luxury rentals in urban high-rises? The comfort, security, and community this kind of housing provides are key factors. Parents want to feel that their kids are safe. Students are drawn to the amenities and social environment fostered in luxurious on- and off-campus apartment complexes.
Real estate developers found this lucrative area for growth in a previously untapped market with low inventory, booming enrollment and this hunger for a luxurious lifestyle. While some schools turn to loan payments to finance new buildings, there is also a bureaucratic shift. School administrators have found that outsourcing non-academic aspects of the institution can save money. This has led to the sale of campus land to developers to build new dorms around several universities nationwide.
The Burst
These complexes are in danger if the market becomes over-saturated. Or, if the economy weakens, students may trade down and find cheaper housing elsewhere. Some students are looking to move home and save money as they and their parents struggle with student debt or even take classes online for convenience. Eventually, students used to living in the lap of luxury will graduate into "the real world" where private bedrooms and apartment complexes with amenities to satisfy every whim will be hard to afford with the salaries most entry-level jobs provide. Enjoy the luxuries while supplies last.
Photo Credit: Campus Crest