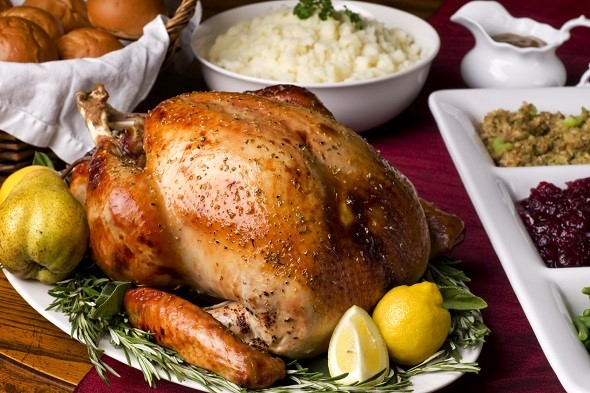 What's your favorite Thanksgiving dish? If you suffer from a severe sweet tooth, pumpkin pie may be your poison. Cranberry sauce is a classic, though opinions are divided on whether the berries should be fresh or canned. If you're cooking on a budget, we suggest sweet potato fries or butternut squash soup. And for many the best part of Thanksgiving is the leftovers.
Don't be surprised on tax day. Use SmartAsset's free tax calculator.
One thing almost all traditional Thanksgiving dishes have in common is that they are distinctly American. Foods like squash, sweet potato and turkey are all native to the Americas, which is why they've been appearing on Thanksgiving dinner tables for hundreds of years.
Even today, nearly every Thanksgiving item is predominantly raised in the U.S. Some states, however, have a bigger hand in producing our traditional Thanksgiving dinner than others.
To find the sources of the most popular Thanksgiving dishes, SmartAsset analyzed data from USDA's National Agriculture Statistics Service. We looked at the total 2014 domestic production of eight popular Thanksgiving items. We found the percentage production of each state for each item. Lastly, we separated the wheat from the chaff, identifying the top overall domestic producers for every good.
Key Findings
Thanksgiving is a national production. Popular Thanksgiving foods are grown from sea to shining sea. The south gives us pecans, green beans and sweet potatoes, while the Midwest is responsible for our pumpkins, squash, cranberries and turkeys. The west, meanwhile, produces most of our potatoes.
California does it all. While the Golden State isn't the top producer of any one Thanksgiving dish, it is near the top for many. More than 10% of all sweet potatoes, squash, green beans and pumpkins come from Cali.
We're hungry. Researching and writing this has made us quite hungry. Is it Thanksgiving yet?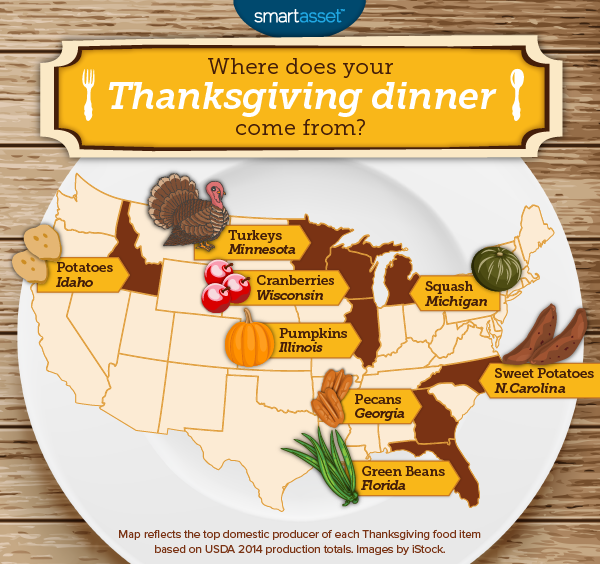 Dinner
Turkey
According to the National Turkey Federation, the U.S. as a whole eats about 46 million turkeys on Thanksgiving. That's a truly staggering number of birds and a small handful of states is responsible for raising most of them. Minnesota leads the rafter, producing 22% of domestic turkeys. Arkansas and North Carolina each produce 14%. Indiana, Missouri and Virginia all account for about 9% of American turkeys.
Potatoes
According to the USDA, potatoes are the largest U.S. vegetable crop, accounting for 15% of all vegetable sales. Per capita U.S. potato consumption is about 128 pounds per year, but less than half of that tuber takedown is the type of potato you'll likely be eating with your Thanksgiving meal.
Fresh potatoes – the ones you have to peel – account for just a third of total potato consumption. Frozen potatoes (think McDonalds French fries) constitute about 43% of consumption.
Thinking about buying a home? Find mortgage rates here.
The Pacific Northwest is the country's potato basket. Idaho grew 30% of the 44.2 billion pounds of potatoes the U.S. produced in 2014, while Washington State chipped in another 23%. Even though other parts of the world also produce significant quantities of taters, the U.S. is currently a net potato exporter.
Green Beans
Every child's least-favorite Thanksgiving dish (or was it just me), green beans can help bring balance to a Thanksgiving dinner table otherwise dominated by deliciously unhealthy items. The Sunshine State is the top U.S. producer of green beans, churning out 133 million pounds of them in 2014. That's 30% of the total U.S. crop. Other leaders are New York, which grew nearly 70 million pounds, and California, which produced 46 million pounds.
Squash
The squash is type of gourd that is native to the Americas. They are typically subdivided into summer and winter varieties. The former has a short shelf life and must be eaten fresh, while the latter has a hard rind and can be stored through the winter.
Depending on how you measure it, either Michigan or Florida is the country's top producer of squash. Michigan, which largely grows winter squash, produces the largest physical quantity of the vegetable – 120 million pounds in 2014 or 21% of the nation's total.
Florida, however, specializes in pricier varieties of summer squash and therefore yields a higher dollar value crop. Floridian squash was worth some $40.6 million total in 2014.
Sweet Potatoes
Despite their physical resemblance, sweet potatoes and regular potatoes are not closely related. In fact, sweet potatoes are not even true tubers – they're swollen roots – which is why they lack eyes.
Dishes such as sweet potato puree and roasted sweet potatoes with beets (a.k.a. roasted beets 'n' sweets) are a great way to get your Thanksgiving dinner started. If you're feeling adventurous, sweet potato-marshmallow casserole is an oddly popular use of this otherwise respectable vegetable.
When it comes to U.S. sweet potato production, one state stands above the rest. North Carolina produced 1.5 billion pounds of sweet potatoes in 2014 or 54% of the domestic crop. So if there are sweet potatoes on your Thanksgiving dinner table, remember to add the Tar Heel State to your list of things for which you're grateful.
Cranberries
Cranberry sauce: you either love it or you hate it. We know how they feel about these bitter berries in Wisconsin. The Badger State produces some 60% of U.S. cranberries, 5 million barrels out of 8.2 million for the entire country.
To put that in perspective, Wisconsin is responsible for just 25% of U.S. cheese production. (Though that is admittedly a much larger market overall.)
The next-largest U.S. cranberry producer is Massachusetts, responsible for a little over 2 million barrels in 2014. New Jersey, Oregon and Washington State are the only other states to produce significant crops of cranberries, which require a cool, fairly damp climate.
Beverages
Cider
There is not really a single Thanksgiving beverage, but there are a number of traditional fall drinks that can help you wash down all of that grub. Apple cider comes in a number of varieties: hot, cold, fresh, treated and "hard." Although cider is the state drink of New Hampshire (which is also the setting of the book and movie "Cider House Rules") Washington State is the nation's leading producer of apples and apple cider.
Beer
Beer is another popular choice (especially if you're sitting next to that one uncle who won't stop talking about his fantasy football team). In recent years, craft beer has seen a surge in market share. Many craft breweries offer fall seasonals like the Harvest Pumpkin Ale from Sam Adams. California makes the most beer overall, but the vast majority of hops comes from Washington.
Coffee
Lastly, if you're feeling drowsy after the meal (or from listening to that uncle), a cup of coffee can act as the perfect pick-me-up. However, unlike the rest of the items on this Thanksgiving menu, the beans that go into your cup of joe probably aren't grown in the United States. Only one state – Hawaii – has the climate and soil to support coffee plants. Even popular U.S. brands like Folgers and Maxwell House source most of their beans abroad.
Dessert
Pumpkins
Time for desert! Pumpkin is the ultimate autumn vegetable. Come October and November, it can be found in our coffee, on our doorsteps and as an ingredient in all kinds of dishes – ravioli, soup, butter. But pumpkin pie remains the classic pumpkin product (and, arguably, the best).
Illinois is the country's top producer of pumpkins by a mile. The Land of Lincoln grew some 745.8 million pounds of pumpkin in 2014, good for 57% of total U.S. production. California 's pumpkin patches produced the second largest haul at 192.2 million pounds.
Pecans
Not a fan of pumpkin pie? Pecan pie is a common and equally delicious alternative served at many Thanksgiving dinner tables, especially in the south. The top three producers of pecans are Georgia, New Mexico and Texas. Each accounts for more than 60 million of the 264.1 million pounds of pecans the U.S. harvests annually.

Questions about our study? Contact us at blog@smartasset.com.
Photo credit: ©iStock.com/mphillips007