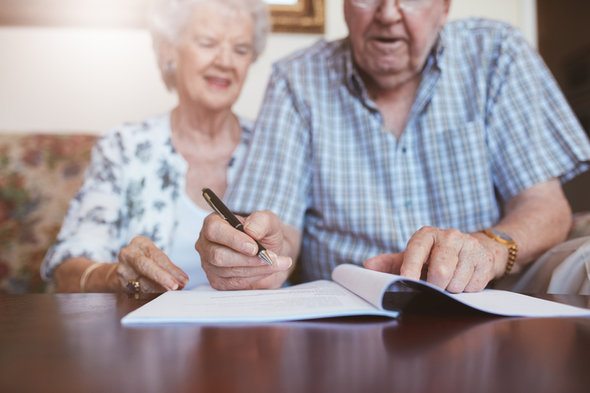 Retirees on a tight budget may want to consider taking out a reverse mortgage. By applying for a reverse mortgage loan, seniors can avoid downsizing and going through the hassle of purchasing a new home. Plus, they can use their loan as a source of income. Is a reverse mortgage right for you? Let's look at some of the advantages of taking on this type of loan.
Find out now: How much do I need to save for retirement?
No More Monthly Payments
Having to shell out hundreds (or thousands) of dollars for mortgage payments can be burdensome for retirees. But those who can take out a reverse mortgage can eliminate their monthly mortgage bills.
Reverse mortgages allow retirees to tap into their home equity. They can receive money from their loan in a lump sum or through monthly installments.
Retirees with reverse mortgages can also access their home equity through a line of credit. What's great about this option is that the credit line can increase over time. But how much it grows depends on how much retirees borrow. The less money they take out upfront, the more they can borrow in the future.
Protecting Your Assets
Without monthly mortgage payments, retirees with reverse mortgages can save money. What's more, they can protect their savings and assets. Since a reverse mortgage provides a steady stream of income, retirees can hold off on dipping into their retirement funds and selling off their investments.
As you create a plan for withdrawing your assets in retirement, it's important to consider whether you'll need to take out a reverse mortgage. This kind of loan could be helpful for seniors who are worried about running out of money.
Is a Reverse Mortgage Right For Me?
While there are many benefits to taking out a reverse mortgage, there are also some drawbacks. A reverse mortgage is a loan that seniors must pay back once they move. If they die, their heirs will be responsible for paying off their loan. Reverse mortgages also tend to come with high fees and interest rates. You'll need to shop around to find the best rates and loan terms.
Before deciding whether you should take out a reverse mortgage, it's also important to consider whether you can pay for things like property taxes and homeowners insurance premiums. If you fall behind on those payments, you could face foreclosure.
Bottom Line
Reverse mortgages offer qualifying seniors some financial relief. Programs such as the Home Equity Conversion Mortgage (HECM) program can wipe out retirees' monthly mortgage payments, supplement their income and protect their savings and assets. But reverse mortgages aren't for everyone. Before applying for one, it's best to consider how the loan may affect your finances and your family members.
Photo credit: ©iStock.com/jacoblund, ©iStock.com/tiero, ©iStock.com/gmast3r