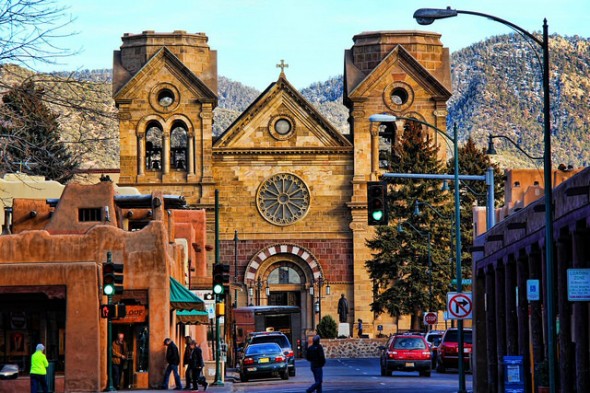 When we think of the oldest cities in the United States, we tend to imagine places on the East Coast: New York, Boston, Charleston and the like. But although all of those cities are centuries old, Santa Fe, New Mexico has been around quite a long time too – it's actually both the oldest and the highest-elevation state capital in the country. Santa Fe is home to unique architectural styles owing to its Spanish and Native American heritage, a number of scientific institutes of international importance and a thriving community of artists.
The architecture of new buildings in Santa Fe was required by law to be fitting with the established, Adobe and Spanish Revival, styles for decades. As a result, the city has something of a unified appearance, unlike almost anywhere else in the country.
Santa Fe is known for its large number of outdoor public sculptures, on subjects from dinosaurs to Roman Catholic saints made in styles from classical to postmodern. The Palace of the Governors, built for the Spanish colonial authorities in 1610, may be the oldest building in the United States that is still used for government functions.
Santa Fe has also, in the past century, been important to the infrastructure of Los Alamos National Laboratory, which was integral to twentieth-century nuclear physics and the development of atomic bombs, as well as another association of scientific labs, the Santa Fe Institute.
Zillow says Santa Fe home values are relatively expensive, at $328,300 median figures, but they seem to have peaked and should fall in the coming years, so it may soon be possible to get a good bargain on a Santa Fe house. Here are some examples of what $350,000 buys:
Want to take in the Santa Fe heat? Our home affordability calculator may be able to help.
Photo Credit: flickr