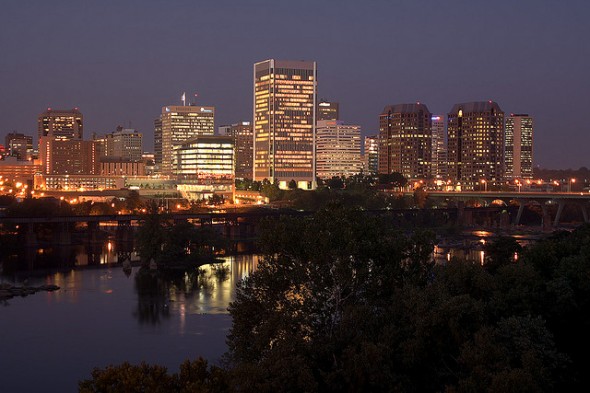 Situated on the James River between the Tidewater and the Blue Ridge Mountains, Richmond is Virginia's capital. The city bore witness to some of the most important events of the American Revolution and recovered quickly from the war. In the decades following the war, Richmond became an important industrial city, a hub of thriving businesses owned by freed ex-slaves and their descendants and finally a center for law, finance, and advertising with importance to the region and the country.
Because of its age (the present Richmond came from some of the earliest British towns built during the colonization of North America), Richmond has some unique examples of architecture from centuries ago. Examples include the "Egyptian Building," one of the few Egyptian Revival-style edifices remaining in the country, as well as the second-greatest amount of cast iron architectural features in the United States, after New Orleans.
Richmond was the site of Patrick Henry's endlessly-quoted "Give me liberty or give me death" speech in 1775, and a century later, boasted one of the first electric streetcar systems in the world.
Two Fortune 500 companies are headquartered in the Richmond city limits: Regional energy firm Dominion Resources and packaging company MeadWestvaco. The United Network for Organ Sharing, the non-profit that maintains the national organ transplant waiting list, is also based in Richmond.
Famous people born or raised in Richmond include the late GWAR frontman and heavy metal legend Dave Brockie, ousted congress member and ex-House majority leader Eric Cantor, three-time tennis Grand Slam winner Arthur Ashe and singer-songwriter Aimee Mann.
Zillow categorizes Richmond's housing market as "cold," but over the past year, home values rose 4.8 percent and are expected to rise another 1.8 percent in the coming year. Here's what $350,000 buys you in Richmond:
Thinking of settling down in Richmond? Our home affordability calculator might be able to help you. If you want some financial advice before making the leap, these are the top 10 Richmond financial advisor firms.
Photo Credit: flickr