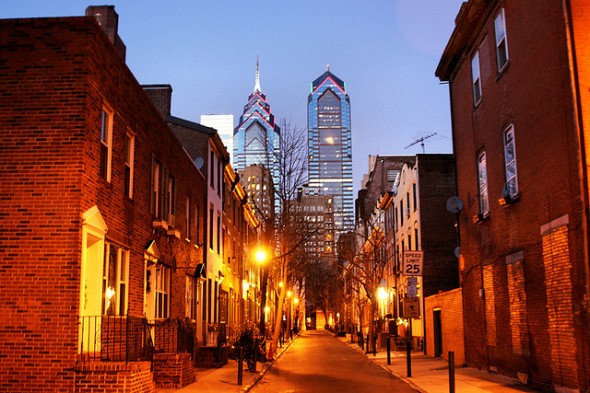 As the cradle of American independence, Philadelphia has secured a pretty iconic and stereotyped place in pop culture. But there's more to Philly than cheesesteaks, rowdy Eagles and Flyers fans, and the Liberty Bell. Philadelphia is an Ivy League college town with its own stock exchange, with four Fortune 500 company headquarters and home to a large part of the United States legal and telecom industries.
Find out now: How much house can I afford?
Philadelphia's residences have been largely comprised of terraced houses throughout its history, and this was considered so typical in the 19th century that houses of this type elsewhere in the country were called "Philadelphia rows."
Philadelphia is justly famous for its food. Philly residents have made many a contribution to both popular and haute cuisine. The Philly cheesesteak was codified in the 1930s by Italian-American sandwich vendors the Olivieri Brothers, and thus began the endless debates – provolone or cheese sauce? Wit' or wit'out onions? Peppers or mushrooms? And most contentiously, Pat's or Geno's? Other Philly food must-haves include a fancy meal at celebrity chef Masaharu Morimoto's restaurant, a Pennsylvania Dutch-style pretzel and Italian ice for dessert.
Places to Live If You're Young, Broke and Single in the North
The most famous college in Philadelphia is the University of Pennsylvania, that venerable Ivy institution with 25,000 students founded by the all-time most famous Philadelphian, Ben Franklin. But Drexel University and Temple University are also nationally noteworthy and have tens of thousands of students. All three colleges have major medical programs, and Philly is considered one of the top spots in the country for training doctors.
Philadelphia's Fortune 500 companies include the largest cable and internet provider in the US, Comcast; energy supplier Sunoco; and food service giant Aramark.
Other than Ol' Ben, about whose legacy Philadelphia residents are justly proud, famous people from Philly include artistic family the Wyeths, the world's-most-famous-linguist Noam Chomsky, mogul, art collector and museum namesake Solomon Guggenheim, and comedy legend-slash-Jello Puddin' Pops lover Bill Cosby.
Zillow says Philadelphia's housing market is cool, if on a slight upswing, so now could be a good time for those looking to move there. Here's what $350,000 buys in the City of Brotherly Love:
Thinking of getting your own slice of Philly? Our home affordability calculator could help.
Photo Credit: flickr