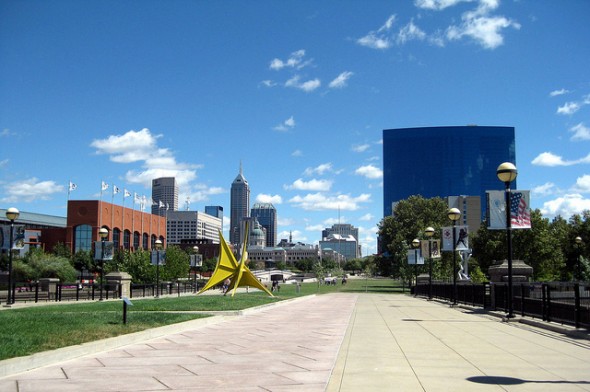 The name of Indianapolis, Indiana's capital and largest city, is usually associated with one of the world's most notable auto races (alongside Le Mans and the Monegasque Grand Prix), the Indianapolis 500. But more people than just all-time heroes of racing like Mario Andretti and Helio Castroneves have found success in Indy – the city is also home to the headquarters of major pharmaceutical manufacturer Eli Lilly, favorite regional burger chain Steak 'n Shake, and numerous other large companies, as well as two nationally known universities.
Indianapolis is home to two professional sports franchises with championship traditions: The NFL's 2006 Super Bowl winning Colts, and the NBA's Pacers, who had a remarkable run of three league championships in the 1970s. And the aforementioned Indy 500 has been held every Memorial Day for about a century.
The Indianapolis International Airport isn't just a big deal because of the number of people who fly through it – the delivery company FedEx uses it as one of its primary hubs to ship goods through the U.S. and around the world. Indianapolis is also a regional rail transit center for passengers to Chicago, Philadelphia, Washington DC and New York.
Indianapolis's universities of higher education include the large state college Indiana University, which has more than 30,000 students at its Indianapolis campus, and the smaller, private Butler University, which is the smallest college ever to make it to the NCAA men's basketball (March Madness) finals.
The Best (and Worst) College Towns To Live In
Notable people from Indianapolis include America's first self-made woman millionaire, Madam C.J. Walker, mummy-hunter Brendan Fraser (those films were documentaries, right?), wild-haired comedic author Kurt Vonnegut, and late night host David Letterman.
Zillow says Indianapolis homes have a pretty low median price per square foot – so you can buy a well-appointed home in the Speed City for relatively cheap. Here's what $350,000 gets you:
Thinking of living the fast life in Indianapolis? Our home affordability calculator could help.
Photo Credit: flickr