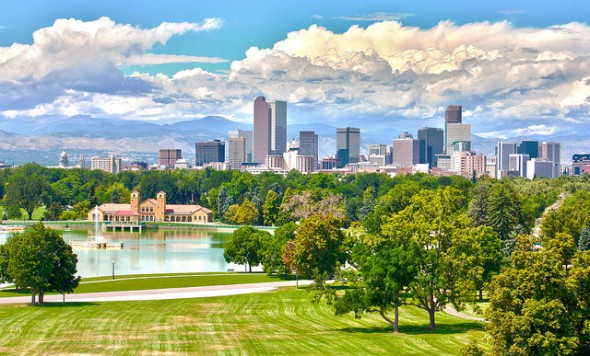 Denver, the Mile High City and pride of the Rocky Mountains, is one of the biggest cities in the west. An ex-mining town, Denver benefited immensely when railroad companies built tracks through it during the gold boom. That transport infrastructure allowed Denver to become a major city for business and trade, although mining and energy are still important to its economy today. The climate is lovely and the people are welcoming – but visitors need to beware of how thin the air actually is at 5,280 feet above sea level!
As a city that was basically constructed all at once, Denver has a logically planned layout throughout. It, like midtown Manhattan, is on a north-south and east-west grid, and almost all of the streets have bicycle lanes. There are also more than 800 square miles of paved off-road bicycle paths within Denver, which contributes to the city's reputation as one of the most bike-friendly in the country.
Denver has an unusually high number of professional sports franchises for a city its size – five, in fact, one for each of the major US pro sports – the NFL's Broncos, the MLB's Rockies, the NHL's Avalanche, the NBA's Nuggets and the MLS's Rapids. They have five total championships between them since the 1960s, and local fans are very passionate and turn out in droves to see the teams.
Top Ten Best Cities to Be a Real Estate Agent
Denver became famous in the late 2000s for being the first major US city to decriminalize the recreational possession and use of marijuana, which inspired many jokes on the phrase "Mile High City," and turned out to be an omen of statewide legalization in 2014.
Zillow says home prices in Denver shot up 10.2 percent last year, but their rise is slowing, and it's now considered to be a market in which buyers have a slight edge. Here's what a prospective buyer could get for $350,000:
Thinking of rising up in Denver? Our home affordability calculator may help.
Photo Credit: flickr