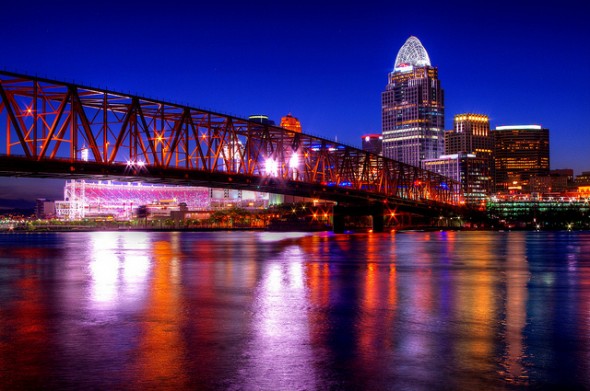 Cincinnati, alias Cinci and Porkopolis and one of the many "Cities of Seven Hills" in the world, has long been one of the most important metropolises in the Midwest. Cincinnati is important to America's baseball heritage, and, nowadays, to the national retail and personal care industries.
Find out now: How Much House Can I Afford?
After Cincinnati was first built, the initial major immigrant population to settle there was mostly German. The German immigrant district, Over-the-Rhine, is now a national historic site, one of the largest such places in area. German influence continues to permeate Cincinnati, as foods like Bavarian schnitzel are local specialties and Cincinattians use German words offhandedly much like New Yorkers sometimes do Yiddish.
Most notably among the major corporations headquartered in Cincinnati are department store giant Macy's, manufacturer of toiletries Procter and Gamble, and regionally dominant grocery store company Kroger. Cincinnati is also home to the University of Cincinnati, a public college with more than 43,000 students.
The most famous food associated with Cincinnati is Cinci chili, thinner than the usual type of American stew-like chili, seasoned with cloves and cocoa powder, and usually used as a sauce or condiment for pasta or hot dogs (and always, always topped with shredded cheddar). But Cincinnatians also consume goetta (an oatmeal and ground meat dish) for breakfast in huge quantities.
Cinci boasts the oldest professional baseball team in the nation, the Reds – formerly the Red Stockings – which went pro in 1869. In the team's first season it had the best record of any pro team ever recorded. Besides that, Cincinnati also had the first professional fire department in the United States.
Famous Cincinnatians past and present include President and Chief Justice William H. Taft, House Speaker John Boehner, star of the silent screen Theda Bara and controversial comedian Katt Williams. Talkbox guitar god Peter Frampton, though English-born, lives in Cincinnati.
Zillow characterizes Cincinnati's real estate market as cold, but prices are rising. The city is a promising place for young professionals due to its affordability, and the city has a wealth of financial advisor firms that can further guide you on your financial decisions. Here's what $350,000 nets you:
Thinking of grabbing your piece of Cincinnati? Our home affordability calculator could help.
Photo Credit: flickr